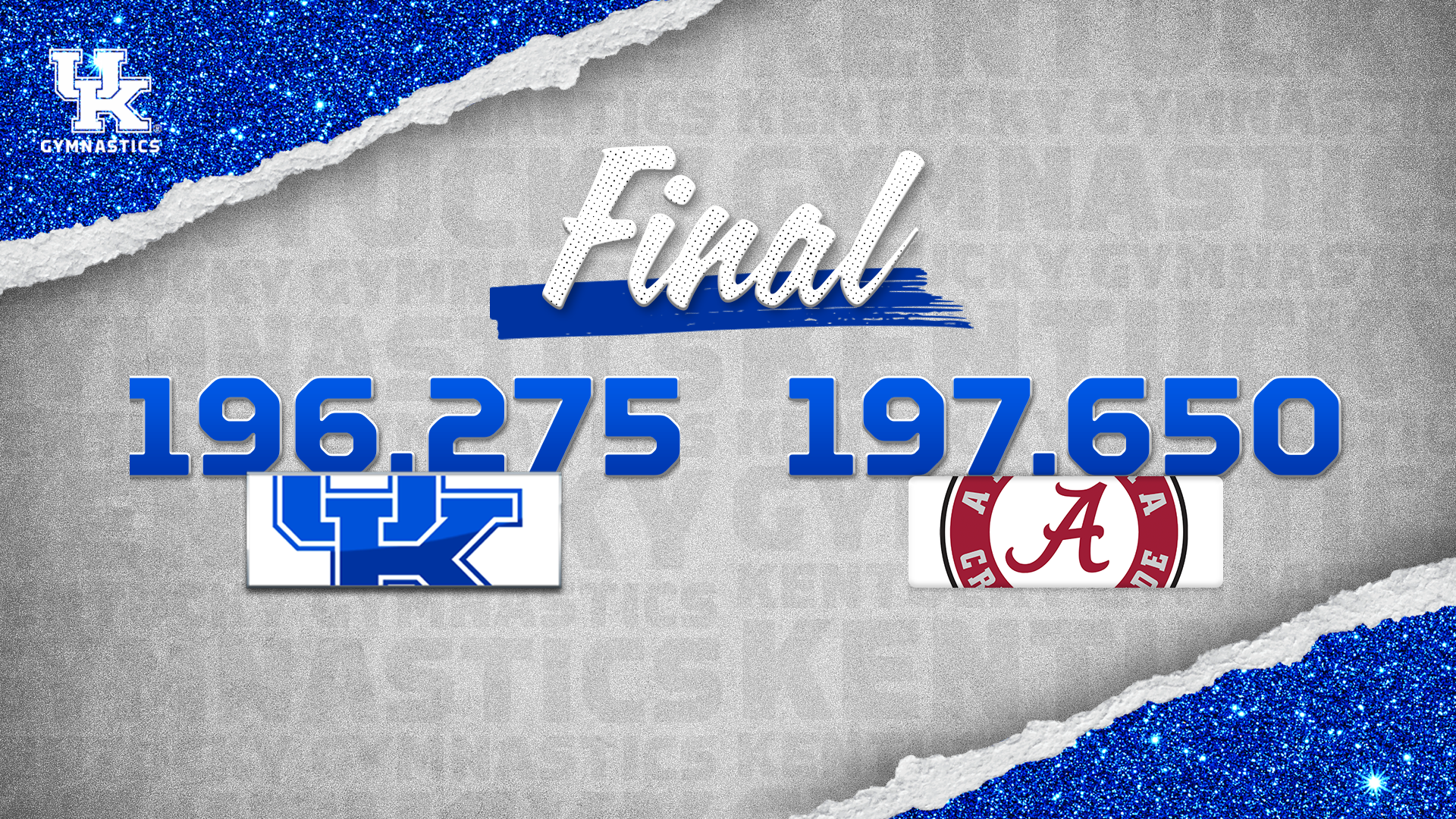 January 21, 2022 - 10:11 PM
Raena Worley Wins All-Around as Kentucky Scores 196.275
TUSCALOOSA, Ala. – Kentucky gymnast Raena Worley won the all-around for the second-straight week Friday night as the UK gymnastics team posted a 196.275 in its road opener at Coleman Coliseum in Tuscaloosa, Alabama.
 
The Wildcats got a 9.925 on floor from Worley, her strongest score on the night, coupling that with 9.9's on vault and beam and scoring a 9.875 on bars in Kentucky's lead-off event of the night. Worley scored a 39.600 in the all-around to win for the second-straight weekend.
 
"We ran into a team that competed harder than us tonight and they deserved to win," UK head coach Tim Garrison said. "We had some solid routines, but not the top to bottom performance that we needed to win on the road."
 
UK's strongest event of the night was floor, in which the Wildcats posted a 49.325, its best mark for a single rotation this season through two meets. Both Anna Haigis and Raena Worley scored a 9.925 on floor in addition to Isabella Magnelli – who's 9.925 in the three spot in the order was key to the rotation.
 
Kentucky started the night on bars with a 49.100 with Worley's 9.875 leading the way for Kentucky. Both Cally Nixon and Bailey Bunn scored above a 9.8 as UK punched in three scores above the 9.8 mark to score above a 49.
 
Cally Nixon on vault posted a 9.875 as the Wildcats' third routine pushed UK into the 9.8's on vault for the first time in the rotation and then UK finished strong with a 9.8 from Magnelli, 9.850 out of Arianna Patterson and all-around champion Worley closed with a team-best 9.9.
 
The Wildcats scored a 48.575 on its final rotation at the balance beam. Worley in the fifth spot pulled out a show-stopping 9.9 for UK with Josie Angeny closing out the night with a 9.850 to finish strong.
 
Kentucky hosts Missouri next Saturday afternoon at Memorial Coliseum in Lexington. The meet will start at 4 p.m. ET and televised live on the SEC Network, ESPN3 and the ESPN app. Tickets are available at UKathletics.com/tickets.
 
Follow along with the Wildcats on Twitter, Facebook and Instagram, and on the web at UKathletics.com.