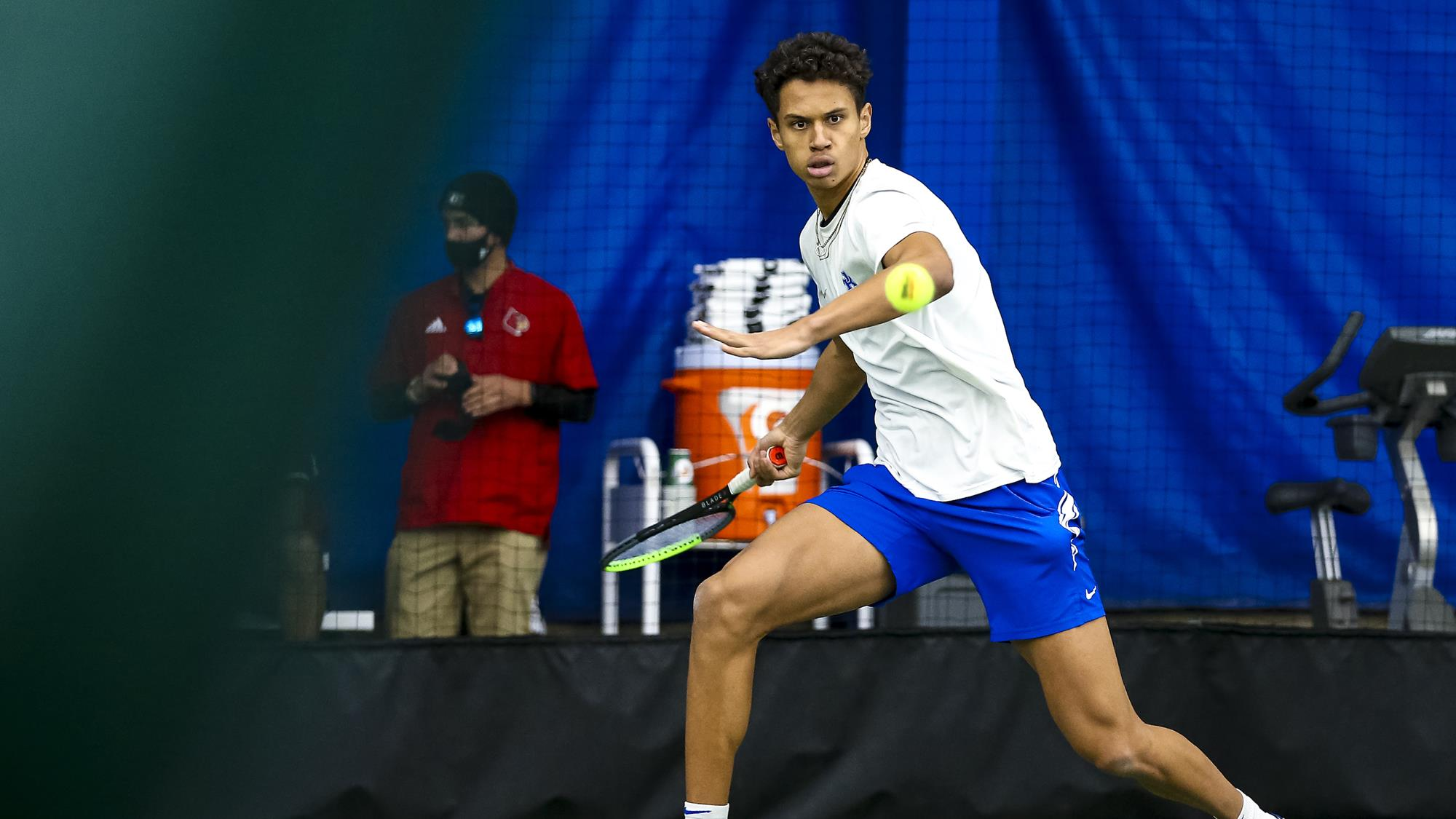 January 21, 2022 - 08:00 PM
No. 11 Kentucky Remains Perfect on Season and Against Louisville
LEXINGTON, Ky. – No. 11 Kentucky (3-0) swept in-state rival Louisville (2-1), 4-0, in a gritty match that saw two singles matches go into the third set on Friday afternoon at the Hilary J. Boone Tennis Complex. 
 
With the win, the Wildcats now move to 44-3-1 all-time against the Cardinals since the teams first played in 1925, including a perfect 27-0 mark since Louisville's inaugural varsity season in 1982-83. Friday's match also marked the first time the two foes faced off in Lexington since the second round of the NCAA Championship Tournament in May 2011.
 
Kentucky had a strong showing in doubles, with the 34th-ranked doubles pair of JJ Mercer and Joshua Lapadat winning 6-1 and Francois Musitelli and Yasha Zemel following with a 6-4 victory of their own. 
 
After being swept in the first set of his match against Etienne Donnet, reigning Intercollegiate Tennis Association Player of the Year Liam Draxl bounced back and won the match 0-6, 6-3, 6-2 to earn his second win of the year. 
 
Captain Millen Hurrion earned his sixth match-clinching point in his Kentucky career, taking down Josh Howard-Tripp 6-4, 2-6, 6-2 to confirm the sweep. Rounding out the singles victories for the Wildcats was 45th-ranked singles player Musitelli, who defeated Natan Rodrigues 6-2, 7-6(3). Both Hurrion and Musitelli move to 2-0 on the season in singles. 
 
All three singles points were won in rapid succession. After Musitelli won the first point for UK, Draxl and Hurrion followed within minutes to complete the sweep. 
 
The Wildcats will head up to Crestview Hills, Kentucky, on Saturday, Jan. 22 to take on another Bluegrass foe in Northern Kentucky (1-0). UK will face off against the Norse at 2:30 p.m. ET at the Five Seasons Sports Club. While originally scheduled as a doubleheader, the teams will now play just one match instead. 
 
Admission to all home matches for Kentucky Tennis is free of charge to the public. For any indoor match held on UK's campus, masks for all attendees are required in conjunction with the University of Kentucky's indoor mask mandate currently in place. Doors to the Boone Tennis Complex will open one hour prior to the start of each match.
 
Kentucky 4, Louisville 0
 
Singles
1. Liam Draxl (UK) def. Etienne Donnet (LOU) 0-6, 6-3, 6-2
2. Millen Hurrion (UK) def. Josh Howard-Tripp (LOU) 6-4, 2-6, 6-2 
3. No. 4 Gabriel Diallo (UK) vs. Tin Chen (LOU) 6-1, 6-7 (5-7), unfinished 
4. No. 45 Francois Musitelli (UK) def. Natan Rodrigues (LOU) 6-2, 7-6 (7-3)
5. No. 90 Joshua Lapadat (UK) vs. Sergio Hernandez (LOU) unfinished
6. No. 122 Yasha Zemel (UK) vs. David Mizrahi (LOU) unfinished
Order of finish: 4, 1, 2*
 
Doubles
1. Liam Draxl/Millen Hurrion (UK) vs. Natan Rodrigues/Etienne Donnet (LOU) unfinished 
2. No. 34 JJ Mercer/Joshua Lapadat (UK) def. Sergio Hernandez/Alex Wesbrooks (LOU) 6-1
3. Francois Musitelli/Yasha Zemel (UK) def. Josh Howard-Tripp/Tin Chen (LOU) 6-4
Order of finish: 2, 3*
 
For the latest on the Kentucky men's tennis team, follow @UKMensTennis on Twitter and Facebook, @kentuckymenstennis on Instagram, and on the web at UKAthletics.com.
 
– GO CATS –
For more information contact:
Ryan Cullinane (rrcu222@uky.edu) – (859) 257-8309