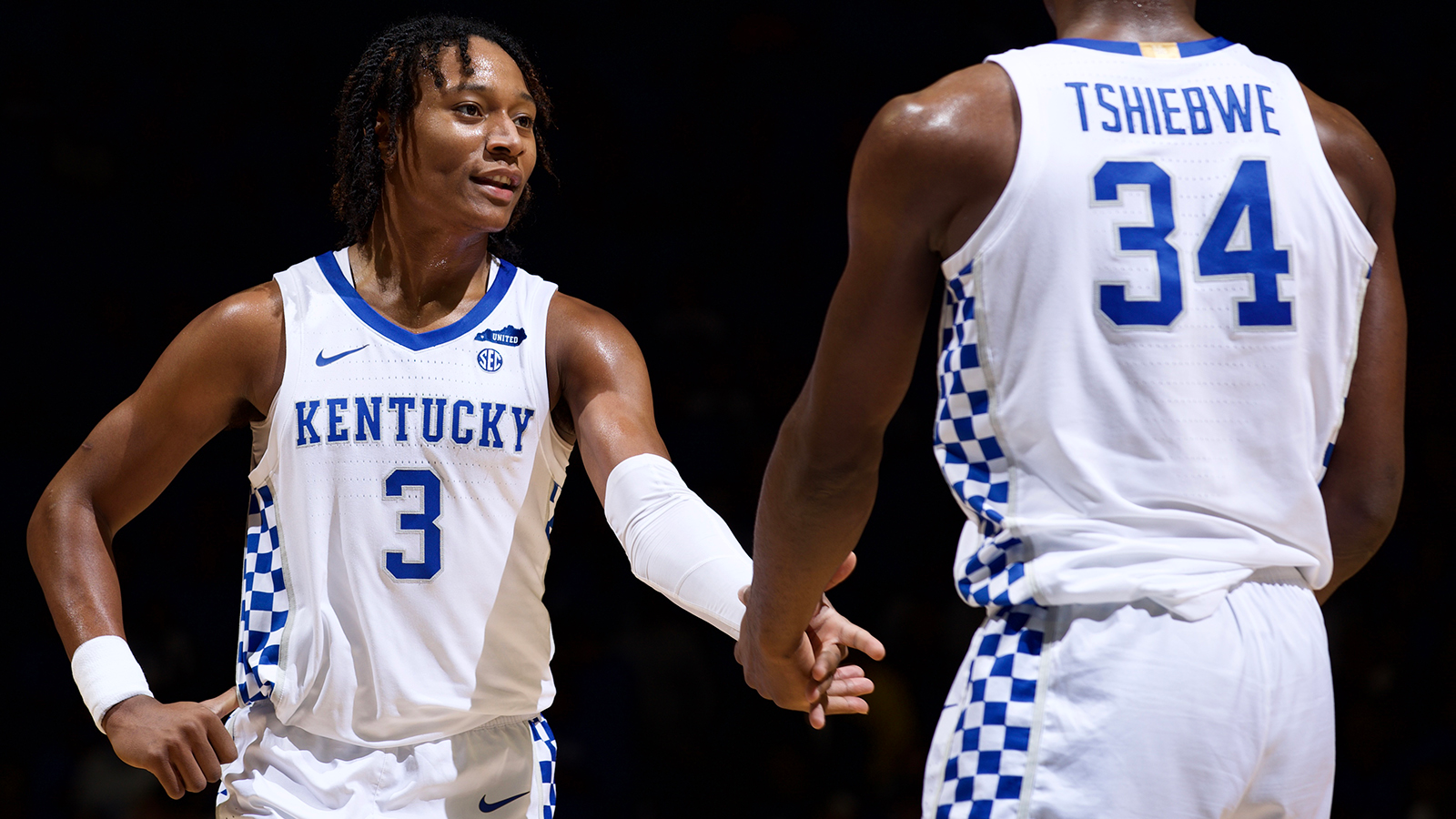 December 31, 2021 - 03:28 PM
Washington Does Exactly What UK Needs on Friday
TyTy Washington Jr. has been a reliable scorer for Kentucky all season. The freshman from Phoenix has been in double figures in all but three games so far during the 2021-22 campaign.
But in Friday's UK win over High Point, the Cats needed Washington to take on another role. With starting point guard Sahvir Wheeler struggling early, Washington was asked to take on the role of distributor. And distribute he did.
Washington recorded a career high in assists, with nine, as Kentucky rolled past High Point 92-48.
For Washington, his assists were just a product of how the game transpired.
 "It's really just my teammates making shots," Washington said. "Making the right basketball play always. If the role was reversed, I know they're going to pass it to me. Our guards were making jump shots, Keion was playing aggressive. Once I made a few shots and they were guarding me tighter, I knew it would open up things for my teammates."
UK head coach John Calipari liked how Washington went about his business on Friday.
"TyTy, he's like the silent assassin," Calipari said. "Quietly, he tiptoes in and gets 15 points and nine assists, and if you ask me how he played, you — some of you may not have watched the game but if you did, you would probably say, he played okay. 15 and nine, defended his butt off. He does it quietly."
Washington added 15 points, hitting six of nine from the floor, including three of five from behind the arc. He had two rebounds and a steal and, perhaps more importantly, just one turnover.
Washington's previous career high in assists came just nine days ago, when he had six in UK's win over Western Kentucky. His nine assists were the fourth-highest total by a UK player this season (Wheeler has had games of 14, 12 and 10).
In the first half, Washington's performance was crucial to the Cats' offensive attack. He assisted on six of Kentucky's 18 field goals in the half while also scoring 10 points as UK built a 43-25 lead at the break.
With the help of Washington and the hot shooting of Kellan Grady, Kentucky won in blowout fashion for the fourth straight game. UK beat North Carolina by 29, Western Kentucky by 35 and Missouri by 27 prior to Friday's 44-point win. In that stretch of games, the Cats have averaged 92 points per game.
Calipari likes how this team is coming together as a unit.
"I'm enjoying this team, because they want to be coached," Calipari said. "They are pushing away the clutter that comes at them."
Grady, who led the Cats in scoring on Friday, agrees with his head coach that this team is coming together.
"It's hard to pinpoint. We're just a cohesive group both as you can see, on and off the court," Grady said. "We understand each other and it's just what you expect for a team where you have a bunch of guys that are close. Everyone appreciates each other, everyone has their own unique traits both on the court and off the court. It's been a joy to be a part of."
Washington and the Cats are having fun and accepting whatever roles they need to fill for the team.