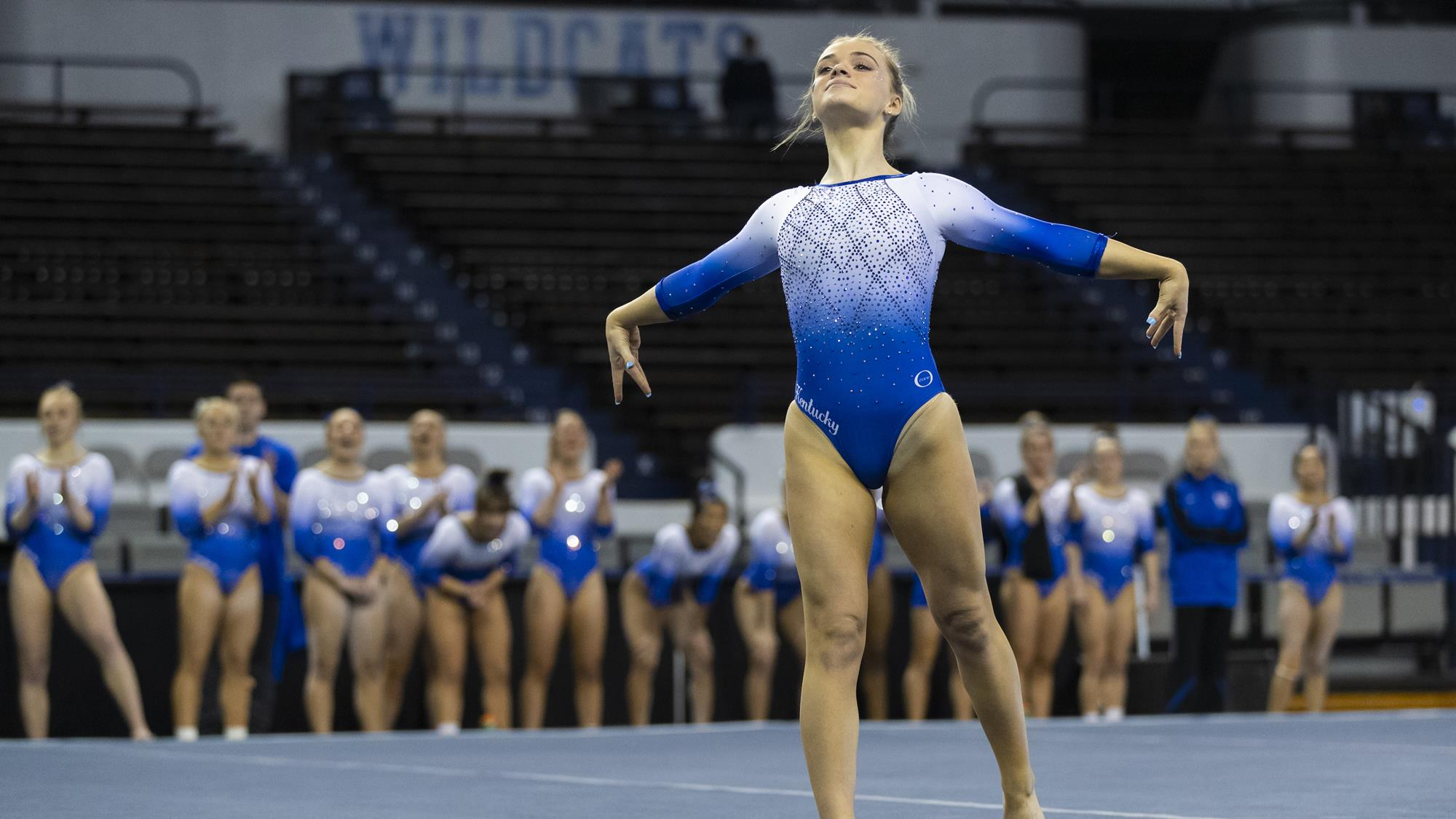 December 12, 2021 - 05:36 PM
UK Gymnastics Wraps Up Blue-White Exhibition
LEXINGTON, Ky. – The University of Kentucky gymnastics team provided fans a sneak peak of the 2022 season with the Blue-White Meet on Sunday at Memorial Coliseum.
 
Eighteen Wildcats performed a combined 43 routines at the annual intrasquad exhibition.
 
Bailey Bunn and Raena Worley—who competed as individuals at the 2021 NCAA Championships—made appearances on all four events on Sunday, while freshmen Jillian Procasky, Annie Riegert, Lila Smith and Makenzie Wilson each made their unofficial collegiate debut.
 
Anchored by Worley—a 2021 Women's Collegiate Gymnastics Association Regular Season All-American—and fellow 2021 All-Southeastern Conference honorees Bunn, Josie Angeny, Anna Haigis and Arianna Patterson, Kentucky returns all 24 routines from last year's season finale that tied the program scoring record with a 197.600 in the NCAA Salt Lake City Regional final.
 
The Wildcats will open the 2022 regular season at Arizona State, whose 2021 season ended in a tie with Kentucky at that same regional final, on Wednesday, Jan. 5, at 9 p.m. ET.
 
2022 season tickets to all five Kentucky gymnastics regular season home meets are on sale now through the UK Athletics Ticket Office. Single-meet tickets will go on sale next Tuesday.
 
For the latest on the Kentucky gymnastics team, follow @UKGymnastics on Twitter, Facebook and Instagram, as well as on the web at UKAthletics.com.