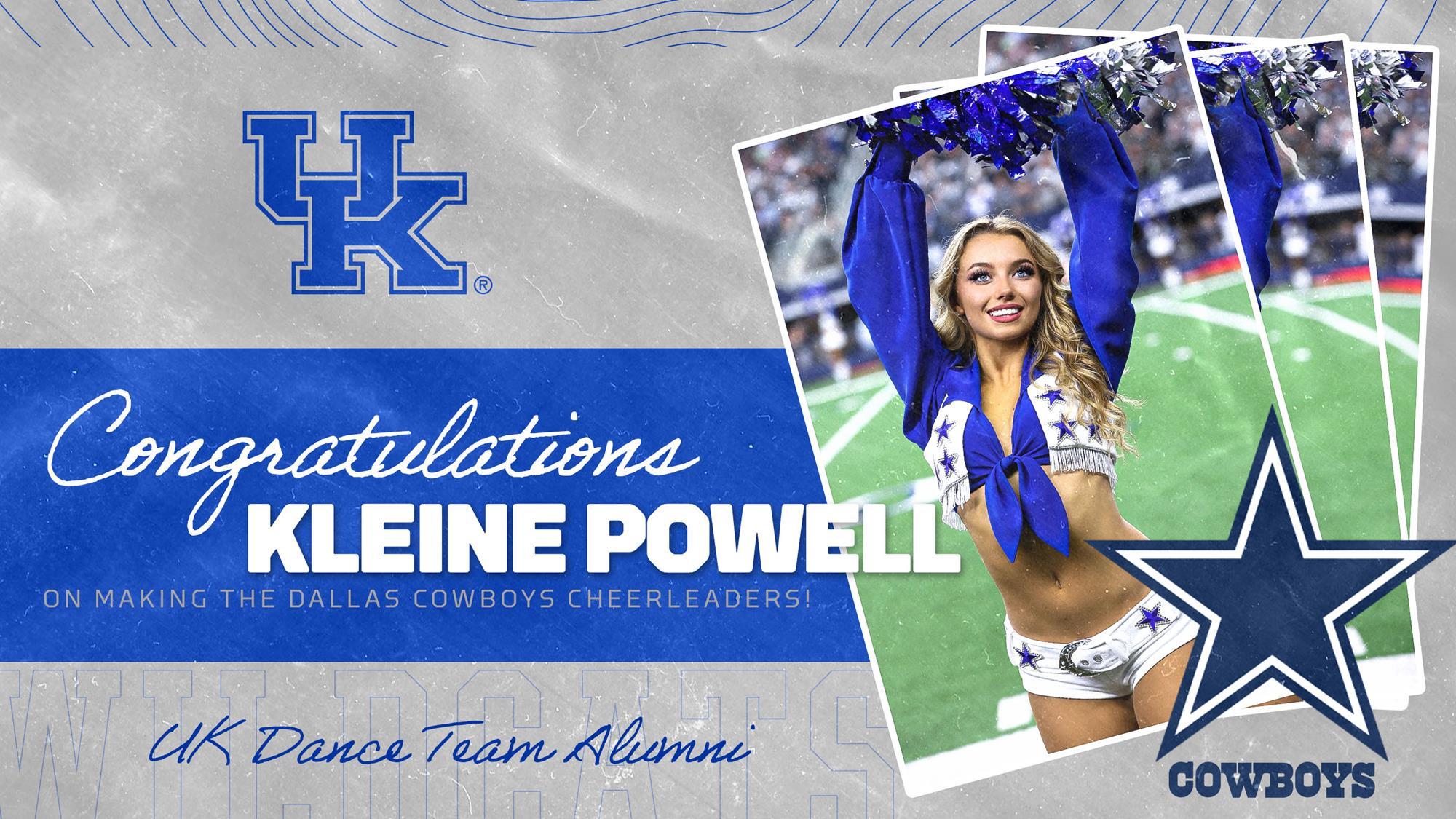 December 1, 2021 - 01:12 PM
UK Dance Team Alum Kleine Powell Makes Dallas Cowboys Cheerleaders
When Kleine Powell graduated from the University of Kentucky in May, she could not have anticipated the number of changes her life was about to endure. Six months later, despite all of the differences, Powell would not change a thing.
Her original plan, upon graduation, was to go overseas for a study abroad trip. However, the COVID-19 pandemic did not allow that to happen.
"I was so set on going to Japan and doing design," Powell said. "But, because of COVID, my study abroad got cancelled and I was kind of lost."
Powell, who was a member of the UK Dance Team during her time in Lexington, decided that her dance career was not quite over yet.
"Because of COVID, (the dance season) was going on longer than expected," Powell said. "Once April rolled around and we were having nationals, I had a month to myself and I realized that I was not done dancing. I wanted to keep going."
And, she figured, if she was going to continue her career, why not try to be on the most famous squad in the world.
"I had wanted to try out for the Dallas Cowboys Cheerleaders since I was a little girl," Powell said. "I feel like every little girl wants to be a Dallas Cowboys Cheerleader. So, I said why not? Why not try out for the best and give it a shot and see how far I can go."
She kept advancing in the tryouts/competition and, at one point, she knew that this dream could actually become a reality.
"I just kept making it through the (tryout) rounds," Powell said. "When I made it to training camp, I burst into tears because I realized that I could really (make the team)."
Powell made it through the rigorous DCC tryout process, including being featured on the television program "Dallas Cowboys Cheerleaders – Making the Team" which aired during the fall. At the end of the show, it was announced the Powell had, indeed, made the team.
It was not an easy process. Powell and the other dancers had to learn numerous routines and had to learn to adapt their style to the DCC way of doing things.
"The whole process is about trying to find your specific dance style while meshing with the veterans," Powell said. "They want to take every person's style and mesh it into a group. It's kind of like modeling while you're dancing, which I've never done."
The bottom line is, the tryout process was difficult.
"Having all of that, then remembering the 30-some dances we have to remember, you do a lot of overthinking," Powell said. "But at the end of the day, you have to have enough trust in yourself and your personal growth in your dancing, in your personality and the way you carry yourself and go through the process and not be a big ball of anxiety. That's a long way of saying it was hard."
Deciding to try out for the DCC put into motion a whirlwind six months that would see Powell's life change in several ways. She moved from the Central Kentucky area (Powell grew up in Richmond) to Dallas to pursue her dream. She was thrust into the spotlight on a television show. She made the world's most recognizable cheerleading team. And she got engaged. Those are some serious life changes in a very short period of time.
"It is a lot. I have not had time to stop and think about it," Powell said. "Every day, I'm just going toward the next thing. It's definitely been a whirlwind but I wouldn't change it for the world. My life six months ago and my life now are two completely different lives but I love both of them."
Powell is truly enjoying her first season with the DCC because of the opportunities the team has provided for her.
"Making DCC has allowed me to have a lot more personal growth. When you're in a position where you're in the limelight a lot, people will talk a lot," Powell said. "But I can be happy for myself and I can be happy for others and it doesn't matter what people say about me. It's allowed me to have a bigger sense of who I am and where I stand in the world."
There is a certain celebrity status that comes with being just one of the 36 Dallas Cowboys Cheerleaders. That's something that is still new to Powell.
"I will never think of myself as a celebrity," Powell said. "My mom said that and it was weird, coming from my mom."
However, Powell does plan to use her celebrity status as an ambassador to the team to promote positivity in the world.
"I want to spread positivity and joy with this new platform," Powell said. "I wouldn't want to be famous for any other reason than being a positive light or showing somebody kindness that they wouldn't be shown that day. I'm glad that I have this new platform. Hopefully, I can be some sort of inspiration to little boys and girls. I want to make a conscious effort to be a light for someone."
She also knows that, in her position, there will be people looking up to her, something she enjoys very much.
"That is my favorite part. Being somebody that somebody else looks up to, that's what I've always dreamt of being," Powell said. "That just makes you feel warm inside. And I know that my family is so proud of me. I can't believe that I get to live this life."
Powell remembers the first time she put on her iconic Dallas Cowboys Cheerleader uniform.
"I never wanted to take it off," she said. "I said, this is my outfit for the rest of my life! It was surreal. We always say that we feel like Superwoman putting on our super suit. That memory will always stay with me. When you get to wear it, you feel like the prettiest person alive."
Her boots almost did not come off the first time she put them on.
"I remember putting my boots on for the first time, because we have to break them in," Powell said. "I kept those boots on for three hours and I fell asleep in them. When I woke up, my feet were so sore but it was worth it."
As for the other team members, Powell has developed some great relationships already.
"The girls on the team are some of the kindest people I've ever met," she said. "They're all so funny and they could all be Miss USA."
Powell gives a lot of credit for her success to UK Dance Team head coach Dawn Walters.
"Dawn has truly been one of my biggest supporters," Powell said. "I will never forget her kindness during all of this. She would text me two or three times a week, just to check on me."
Like many young girls, Kleine Powell dreamed of one day being a Dallas Cowboys Cheerleader. Unlike most girls, Powell is actually living out that dream at this very moment.