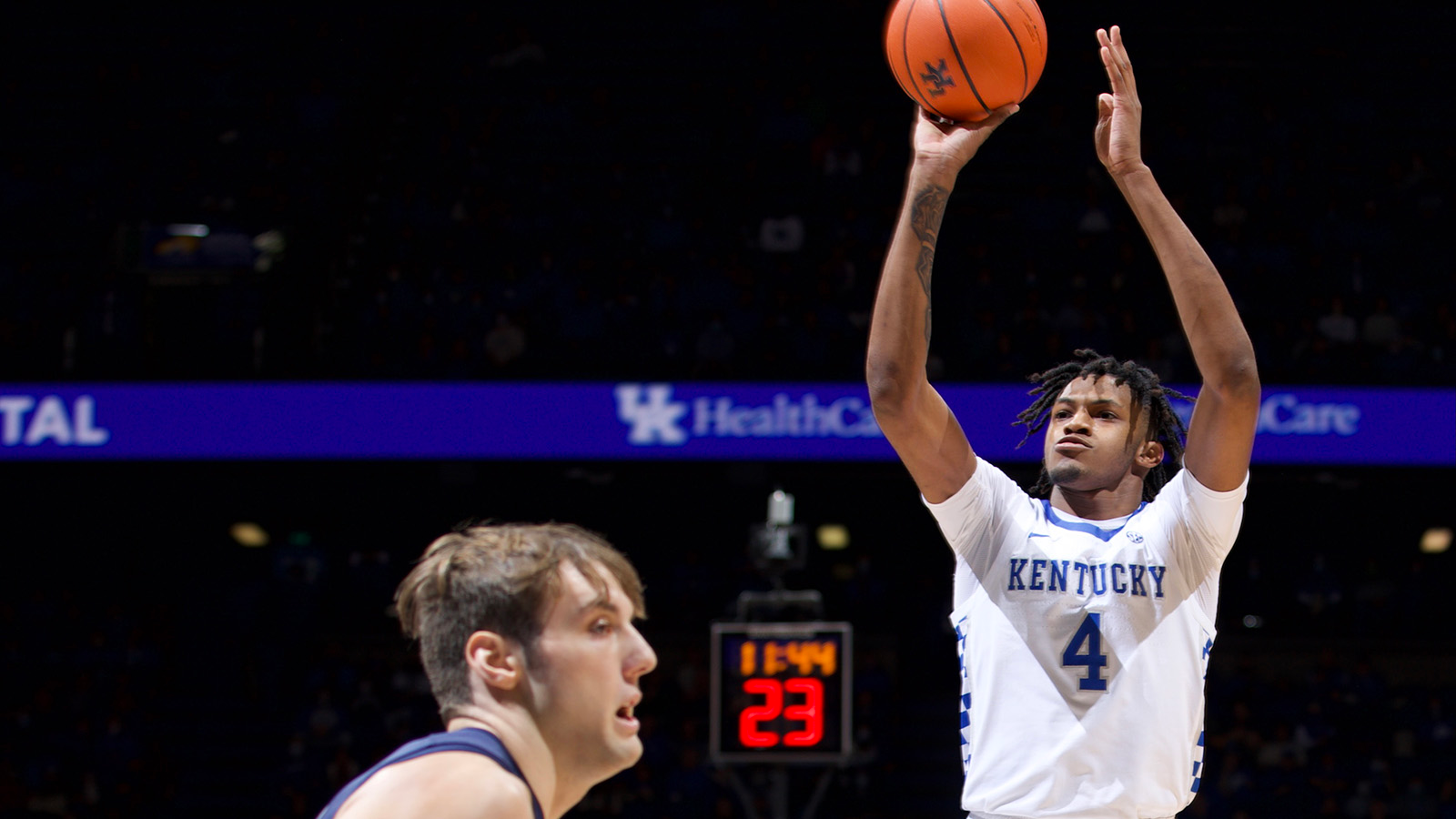 November 26, 2021 - 10:45 PM
Daimion Collins Responds Well in First Career Start
It's almost always difficult to predict how a player, especially a young player, will respond when getting their first start. Kentucky head coach John Calipari got to experiment with that exact situation on Friday night.
With Keion Brooks Jr. not playing against North Florida due to illness, Calipari inserted freshman Daimion Collins into the lineup. And the freshman from Atlanta, Texas, responded.
Collins played well in the first half, making four of his six shots to score eight points, while grabbing four rebounds and blocking a shot. In the second half, Collins made two of four from the floor and pulled down two more rebounds. That gave him 12 points and six rebounds in the game.
After the game, Collins was pleased, overall, with his game on Friday.
"I feel like I played good but I could've done better," Collins said. "But overall, I played good and helped the team bring out the win."
North Florida head coach Matthew Driscoll liked what Collins gave to the Cats in Friday's contest.
"Collins came in and gave them great minutes tonight," said Driscoll.
UK head coach John Calipari thought that Collins started well, but soon veered from his path.
"I loved how Daimion started the game, but then he starts shooting step-back threes," Calipari said. "What are you doing? Block shots, rebound, go dunk some, and every once in a while, make a jumper or two. But you're not playing for that."
Calipari also can see how much of an effect Collins can have on the game.
"He hadn't played that much. But what's the impact he has on the game?," Calipari said. "You see the impact."
Collins came up just short of his career high of 14 points, which he set against Robert Morris earlier this month. The six rebounds tied his career high which also came against Robert Morris.
However, since the RMU game, Collins had scored two (Mount St. Mary's), two (Ohio) and six (Albany) points in the previous three games.
His ability to play both inside and outside makes him tough to guard, something that Collins tries to use to his advantage.
"I'm pretty comfortable with both because in high school I played outside and inside so you know being able to play with that versatility feels real good."
Collins' athletic ability was on display on one particular play in Friday's game. He ran the floor and caught a lob pass from Dontaie Allen, dunked the ball and jumped over UK big man Oscar Tshiebwe in the process. Tshiebwe was not really sure what happened on the play.
"I did not even see him coming to be honest," Tshiebwe said. "Like come on man, you can't do that to me!"
On Friday, Collins showed flashes of what he can bring to this Kentucky team. For the freshman, starting might have motivated him even a little bit more.