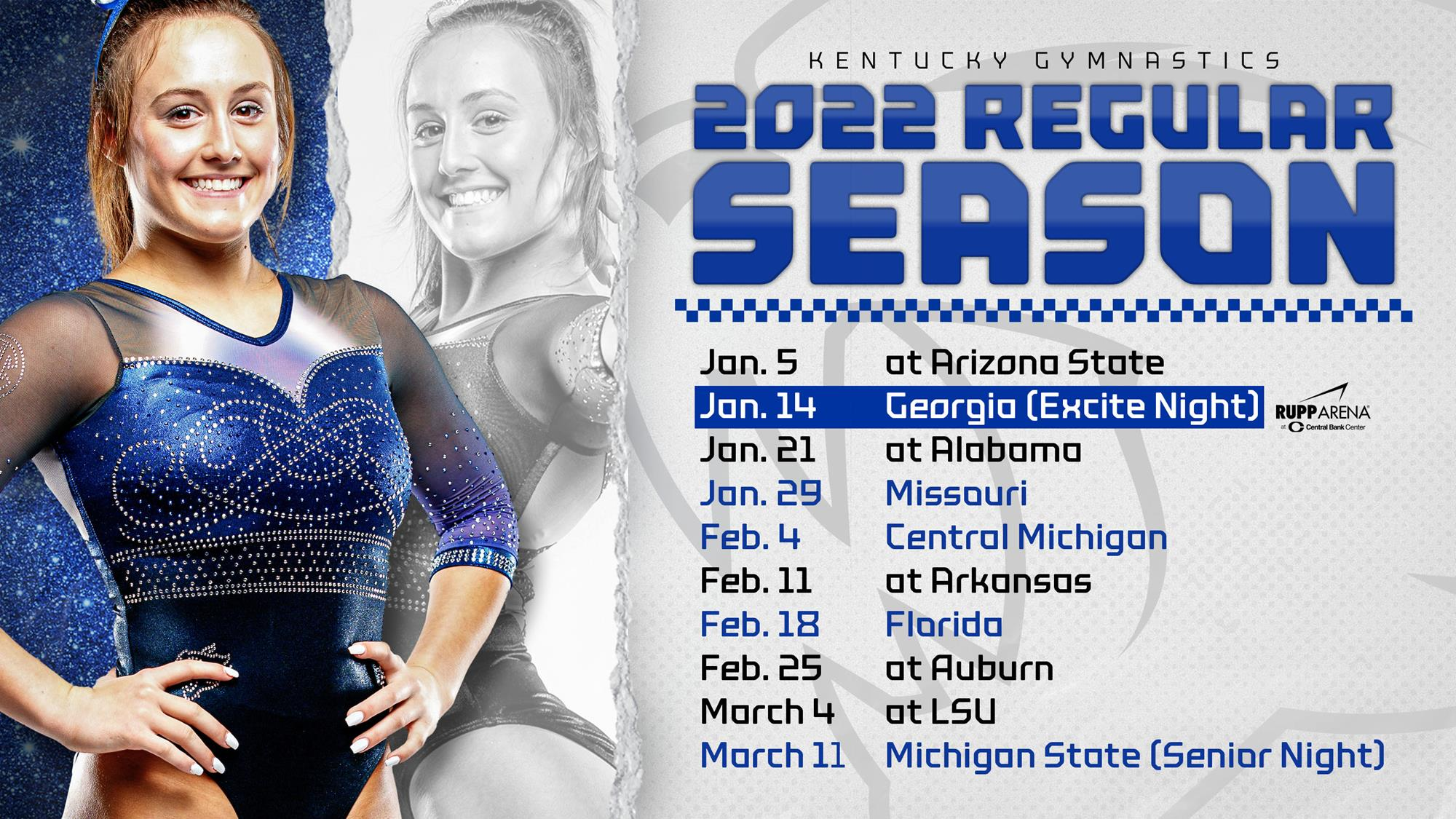 November 18, 2021 - 06:16 PM
UK Gymnastics Unveils Full 2022 Schedule
LEXINGTON, Ky. – After announcing its five-meet home slate last month, the University of Kentucky gymnastics program unveiled its full 2022 competition schedule and accompanying broadcast information on Thursday.
 
The Wildcats will appear on SEC Network five times throughout the regular season.
 
In addition to home dual meets again Georgia (Jan. 14), Missouri (Jan. 29), Central Michigan (Feb. 4), Florida (Feb. 18) and Michigan State (March 11), Kentucky will face Arizona State (Jan. 5), Alabama (Jan. 21), Arkansas (Feb. 11), Auburn (Feb. 25) and LSU (March 4) on the road.
 
The Wildcats' home opener against Southeastern Conference powerhouse Georgia will be broadcast on SEC Network on Friday, Jan. 14, at 7 p.m. ET. The contest will mark the return of Kentucky's Excite Night meet inside Rupp Arena at Central Bank Center following a one-year hiatus due to the COVID-19 pandemic.
 
Kentucky's SEC road opener will be shown on SEC Network, as well, when the Cats travel to Tuscaloosa, Alabama, for a battle with the reigning conference champion Crimson Tide on Friday, Jan. 21, at 7:30 p.m.
 
Kentucky's Memorial Coliseum debut versus Missouri is scheduled for Saturday, Jan. 29, at 4 p.m. on SEC Network. The Wildcats will return to linear broadcast on Friday, Feb. 18, at 6 p.m. against Florida at home and appear on SEC Network one final time in the regular season at Auburn on Friday, Feb. 25, at 7:30 p.m.
 
The 2022 SEC Championships will take place Saturday, March 19, in Birmingham, Alabama, with both quad meets broadcast on SEC Network.
 
NCAA Regional competition will be broadcast on either ESPN3 or ESPN+ at various locations from March 30 to April 2, while both semifinal rounds of the NCAA Championships will be shown on ESPN2 on Thursday, April 14 in Fort Worth, Texas. The NCAA Championship final will take place Saturday, April 16, at 1 p.m. on ABC.
 
2022 season tickets to all five Kentucky gymnastics home meets are now on sale through the UK Athletics Ticket Office.
 
For the latest on the Kentucky gymnastics team, follow @UKGymnastics on Twitter, Facebook and Instagram, as well as on the web at UKAthletics.com.