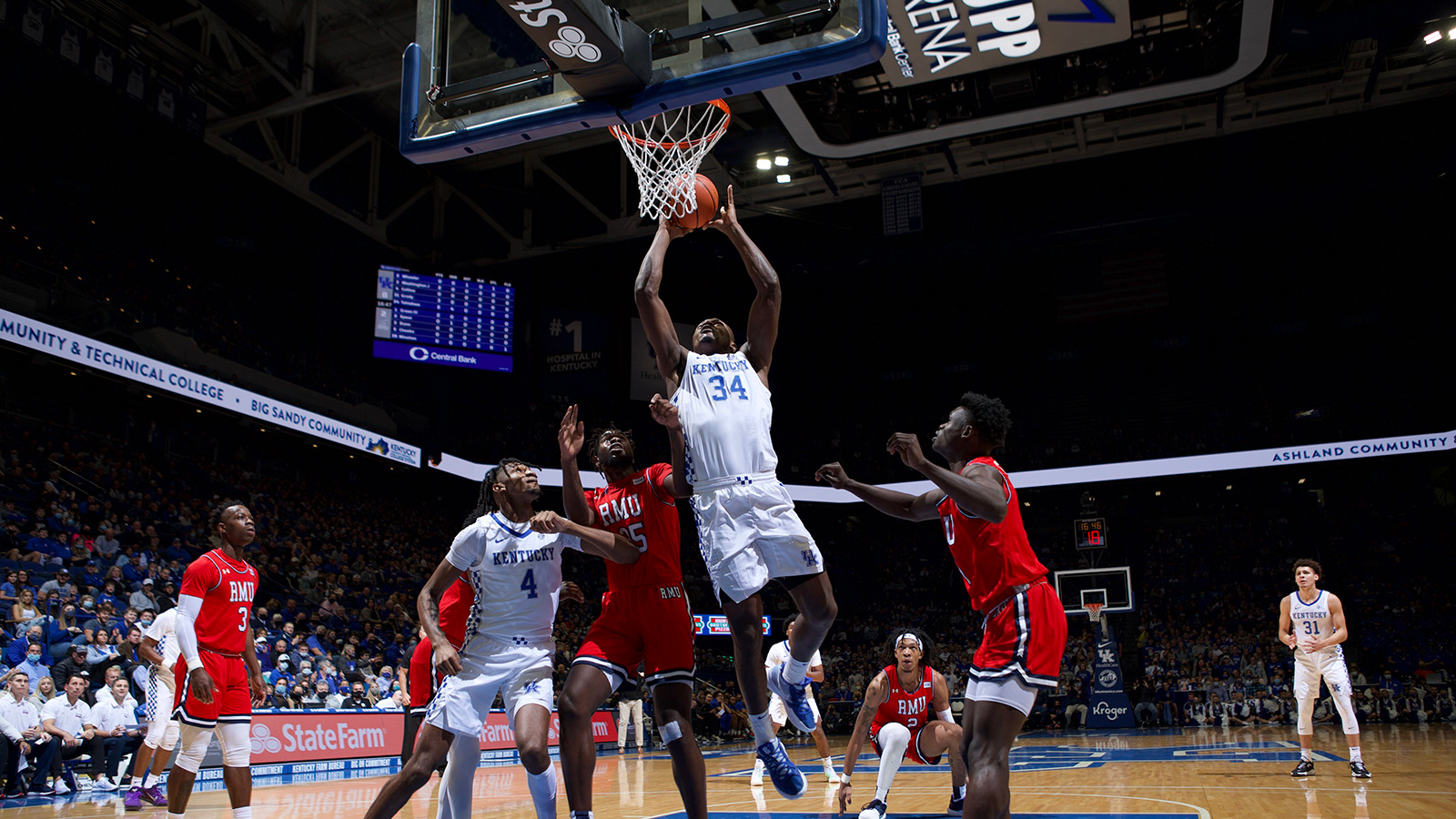 November 12, 2021 - 10:53 PM
'Relentless' Oscar Tshiebwe Setting Rebonding Records
During the media blitz prior to the 2021-22 men's basketball season, Kentucky forward Oscar Tshiebwe had some big goals. He spoke of doing things that had never been done in the history of the storied UK basketball program.
Tshiebwe openly said that he wanted to average 20 rebounds per game. That was a lofty goal, especially considering a couple of historical items.
First, in the last 36 years, only two players have managed to average double figures in rebounds for the Cats. National Player of the Year Anthony Davis averaged 10.4 rebounds during the 2011-12 national championship season. And Julius Randle averaged 10.4 boards per contest, with his coming in the 2013-14 national runner-up season.
Taking it one step further, in the last 48 years, only three Wildcats have posted double digit rebounding averages. In addition to Davis and Randle, Kenny Walker grabbed 10.2 rebounds per game in 1984-85.
The record for most rebounds per game in UK history is 17.7, held by Bob Burrow who achieved that feat in 1954-55.
Tshiebwe started his season exactly where he wants to be. In Tuesday's season-opening loss against Duke, the big man had exactly 20 rebounds.
On Friday night against Robert Morris, Tshiebwe looked like he might be on a record-setting pace early in the contest. He pulled down five of the first six rebounds in the game and six of the first eight. By halftime, he had nine.
In the second half, Tshiebwe had his sights set on the Rupp Arena record for rebounds. That number is 21, set by Shaquille O'Neal in 1990. The Rupp Arena record for a Kentucky player is 20, which was accomplished by Chris Mills in 1988 and Jared Prickett in 1994.
Tshiebwe continued his assault on the boards but eventually went out of the game just short, with 19 rebounds. However, UK head coach John Calipari brought him back in late and the big man was able to block a shot and grab his record-tying 20th rebound with 2:58 to play. He would exit the game 33 seconds later.
Tshiebwe admitted that he asked to come back in the game.
"Yeah, I told him 'I have 19 coach, I told you I need 20. I'm going to have 20. You have to put me back in again so I can get one more.'"
Tshiebwe's rebounding philosophy is pretty simple.
"Rebounding can help your team to win the game. You give one more chance to your team," Tshiebwe said. "Since I figured it out, if I have to fight, I have to work for the rebound, I'm going to fight for that rebound like no one believes. I have to know where the ball's going. I have to know my guy's boxing me out. I got to do a lot of work. I got to be in a position where I'm going to take the ball."
Robert Morris head coach Andrew Toole was very impressed with Tshiebwe.
"Well, he goes every time. The best rebounders go all the time and he goes all the time," Toole said. "He usually doesn't leave the paint for the entire possession so he's already there, which makes it hard when you can't move him anywhere."
Toole continued his praise of Tshiebwe.
"He's relentless in his pursuit," Toole said. "He has great instincts when the ball comes off the rim. Really, anything that touches his hands becomes his. It's incredible to see him work with that kind of consistency on every shot."
While he did not get the Rupp Arena record, Tshiebwe did break another UK record, one that was previously held by a legend. With 40 rebounds in his first two games as a Wildcat, Tsheibwe broke Dan Issel's previous record of 39. That's lofty company.
Tshiebwe has set a lofty goal for himself this season. Through two games, he's been able to live up to that and, in the process, to go where no Wildcat before him has ever gone.