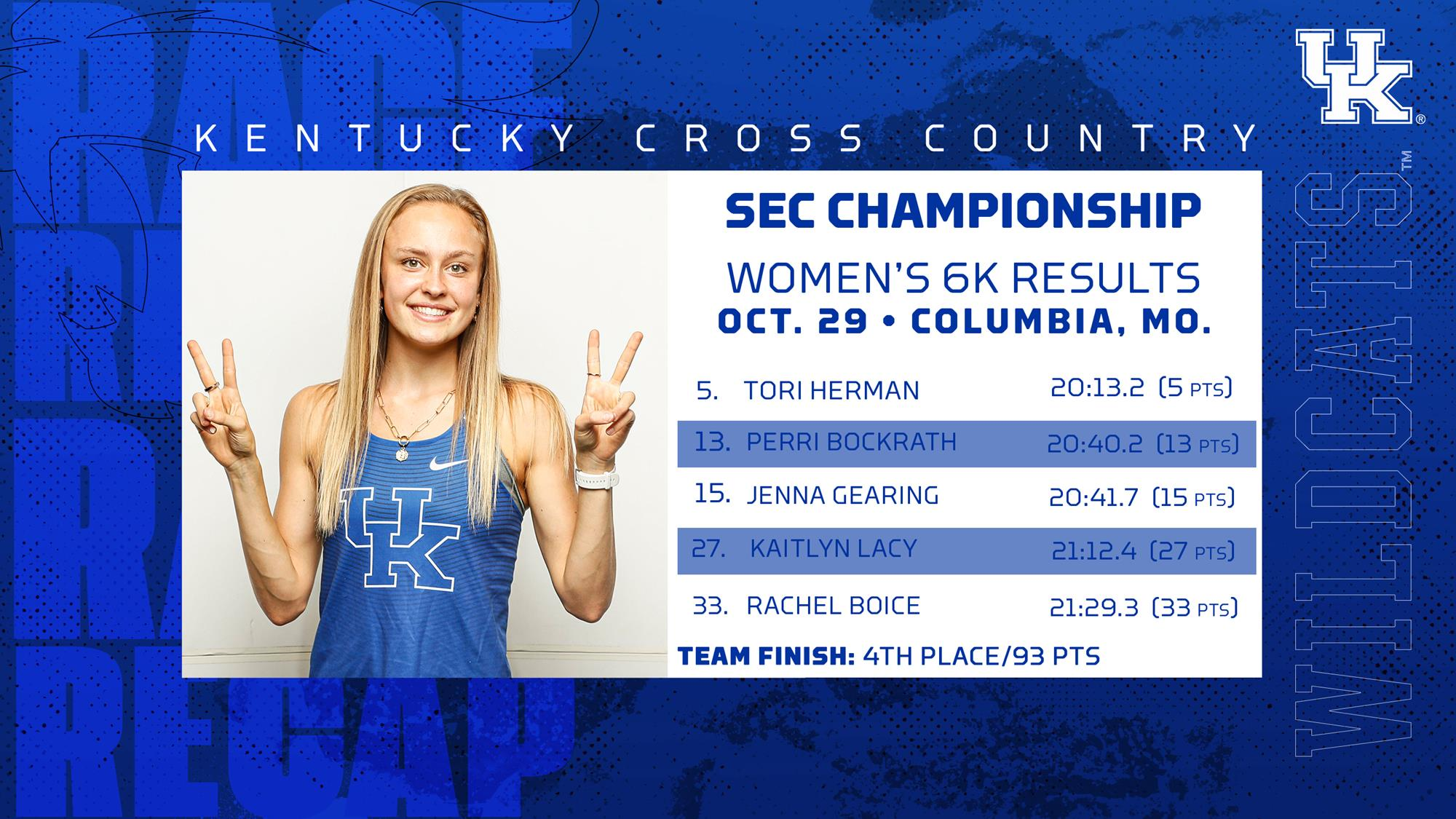 October 29, 2021 - 03:07 PM
Kentucky Women Finish Fourth, Men Finish Sixth at SEC Championships
COLUMBIA, Mo. — The University of Kentucky women's cross country team ran for a fourth-place finish while the men's team finished in sixth at the 2021 Southeastern Conference Cross Country Championship hosted by the University of Missouri on Friday, October 29. 
The women scored 93 points in their fourth-place finish in the 6K race, only two points behind third-place finisher Alabama. The men's team scored 183 points in the 8K race. 
Ninety three points is the lowest score total for the Kentucky women in Coach Hakon DeVries nine years with the team. 
Top Finishers (Men): 
Ethan Kern—24:02.2, 16th 
Aaron Withrow—24:42.3, 34th 
Matt Duvall—24:50.3, 41st 
Jake Allen—25:00.9, 48th 
Harper Moore—25:08.0, 54th 
Top Finishers (Women): 
Tori Herman—20:13.2, 5th 
Perri Bockrath—20:40.2, 13th 
Jenna Gearing—20:41.7, 15th 
Kaitlyn Lacy—21:12.4, 27th 
Rachel Boice—21:29.3, 33rd 
Herman highlighted the women's performances with a personal best time and fifth-place finish (20:13.2). Herman's run earns her a spot on the 2021 All-SEC First Team. She improved upon a 19th place finish at 2020 SEC Championships where she won SEC All-Freshman honors. 
The sophomore from South Carolina has now led the women's team at all four meets she has competed in this season. 
After Herman, two more UKXC women finished in the top 15. Bockrath finished 13th (20:40.2) and Gearing, the 2020 SEC Cross Country Silver Medalist, finished 15th (20:41.7). 
Bockrath's run earns her a spot on the 2021 All-SEC Second Team. 
Rounding out the scoring runners for the women's team were Lacy and Boice, who finished 27th (21:12.4) and 33th (21:29.3), respectively. 
Kern was the top finisher for the men, placing 16th (24:02.2). He improved upon his 18th-place finish from 2020 SEC Championships where he earned SEC All-Freshman honors. 
Next for the men was Aaron Withrow, who finished 34th (24:42.3), followed by 2020 SEC Cross Country Freshman of the Year, Matt Duvall, who finished 41st (24:50.3). 
Jake Allen and Harper Moore were Kentucky's fourth- and fifth-fastest runners, running for 48th (25:00.9) and 54th (25:08.0), respectively. 
The women's team placed fourth behind three ranked teams; No. 15 Arkansas, No. 11 Ole Miss and No. 5 Alabama. 
The Wildcats have had an exemplary season so far, with the women's team being ranked in the United States Track & Field and Cross Country Coaches Association Top 30 at 27 for the first time in the poll's modern history. The women achieved this ranking after an eighth-place team finish at the Notre Dame Joe Piane Invitational. 
At the 2020 SEC Cross Country Championship, the women's team finished fourth and the men's team finished fifth. 
Next Up 
UKXC will compete next at the NCCA Southeast Regional meet hosted by the Wildcats at Tom Sawyer Park in Anchorage, Kentucky on Friday, November 12. 
Follow Kentucky Track and Field and Cross Country on Facebook, Instagram, Twitter and at UKathletics.com.