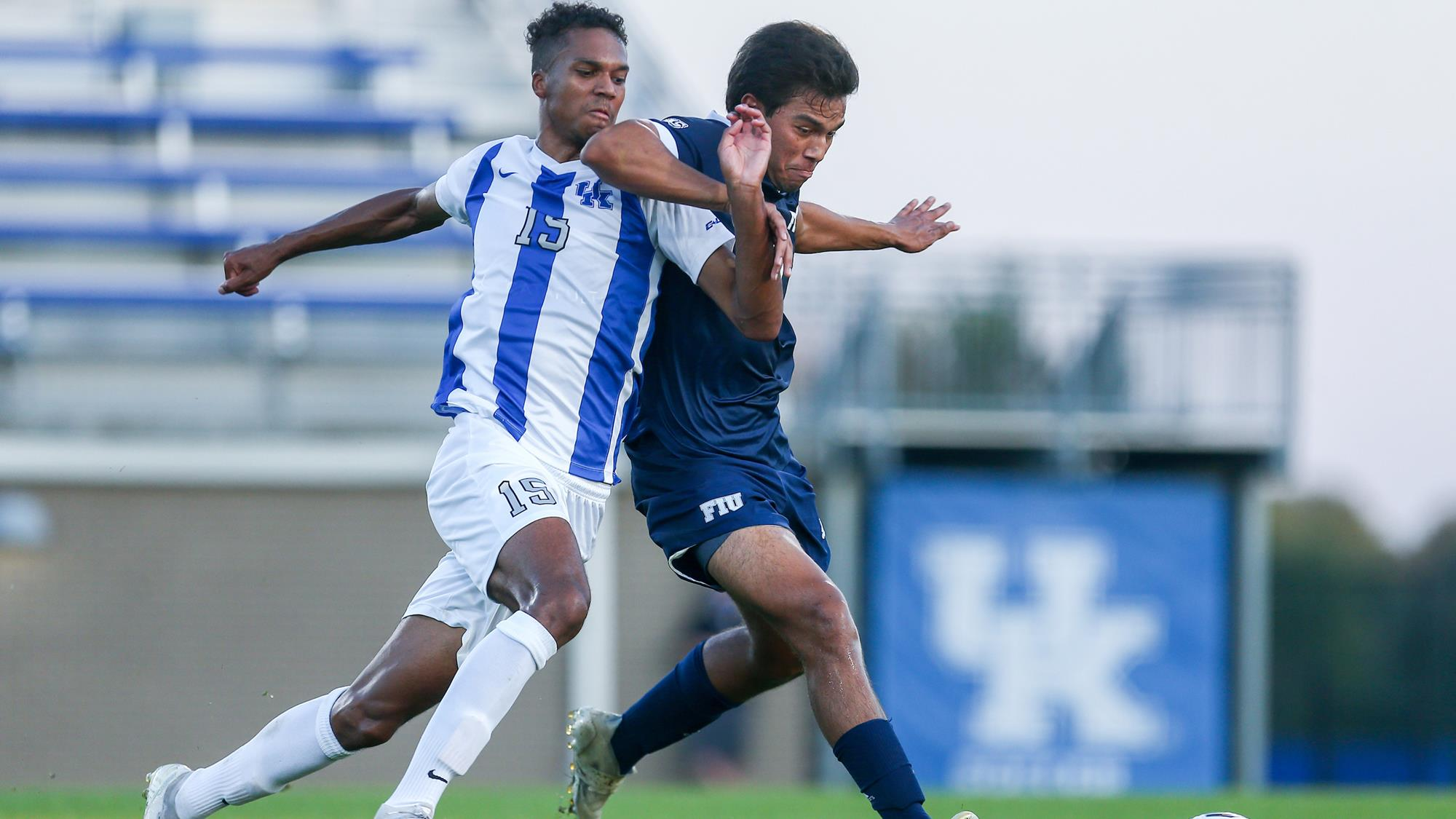 October 18, 2021 - 02:20 PM
No. 6 Kentucky to Host No. 21 West Virginia on Tuesday
LEXINGTON, Ky. – No. 6 Kentucky is set to welcome another top-25 opponent to Wendell & Vickie Bell Soccer Complex, hosting No. 21 West Virginia on Tuesday at 7 p.m. ET on ESPN+.
 
With a record of 8-0-3, Kentucky enters Tuesday undefeated through the season's opening 11 games for the first time in program history. West Virginia, which spent five consecutive weeks in the top five of the United Soccer Coaches Top 25 before experiencing its first loss on Oct. 9, visits Lexington at 7-1-4.
 
The Wildcats are fresh off a 2-0 win at Old Dominion last Friday, breaking a 167-minute scoring drought that dated back to the end of a 3-1 win over UAB on Oct. 3. Both Luis Grassow and Enzo Mauriz scored the first goals of their careers in the second half of the victory over the Monarchs. Robert Screen was credited with assists on both goals, while Martin Soereide was involved in the assist that set up Mauriz in the 74th minute.
 
The Mountaineers earned their first win in four tries with a 2-1 victory at Western Michigan last Saturday. Kentucky defeated that same Western Michigan team 1-0 at home on Sept. 19, while West Virginia and Kentucky each posted wins over Dayton and draws with reigning national champion Marshall.
 
Tuesday marks Kentucky's penultimate non-conference matchup of the season, though West Virginia is set to become Conference USA's 10th men's soccer affiliate in 2022.
 
As well as free admission to Tuesday's match, all fans will have the opportunity to receive a ticket to Friday's Kentucky men's basketball Blue-White Game inside Rupp Arena at Central Bank Center. Select fans will also receive free match posters and Kentucky soccer scarves, while students will be given free pizza and free t-shirts inside the Blue reBELLion student section.
                                                           
Admission to all 2021 UK soccer matches at Wendell & Vickie Bell Soccer Complex is free to the public. For the latest on the Kentucky men's soccer team, follow @UKMensSoccer on Twitter, Facebook and Instagram, as well as on the web at UKAthletics.com.