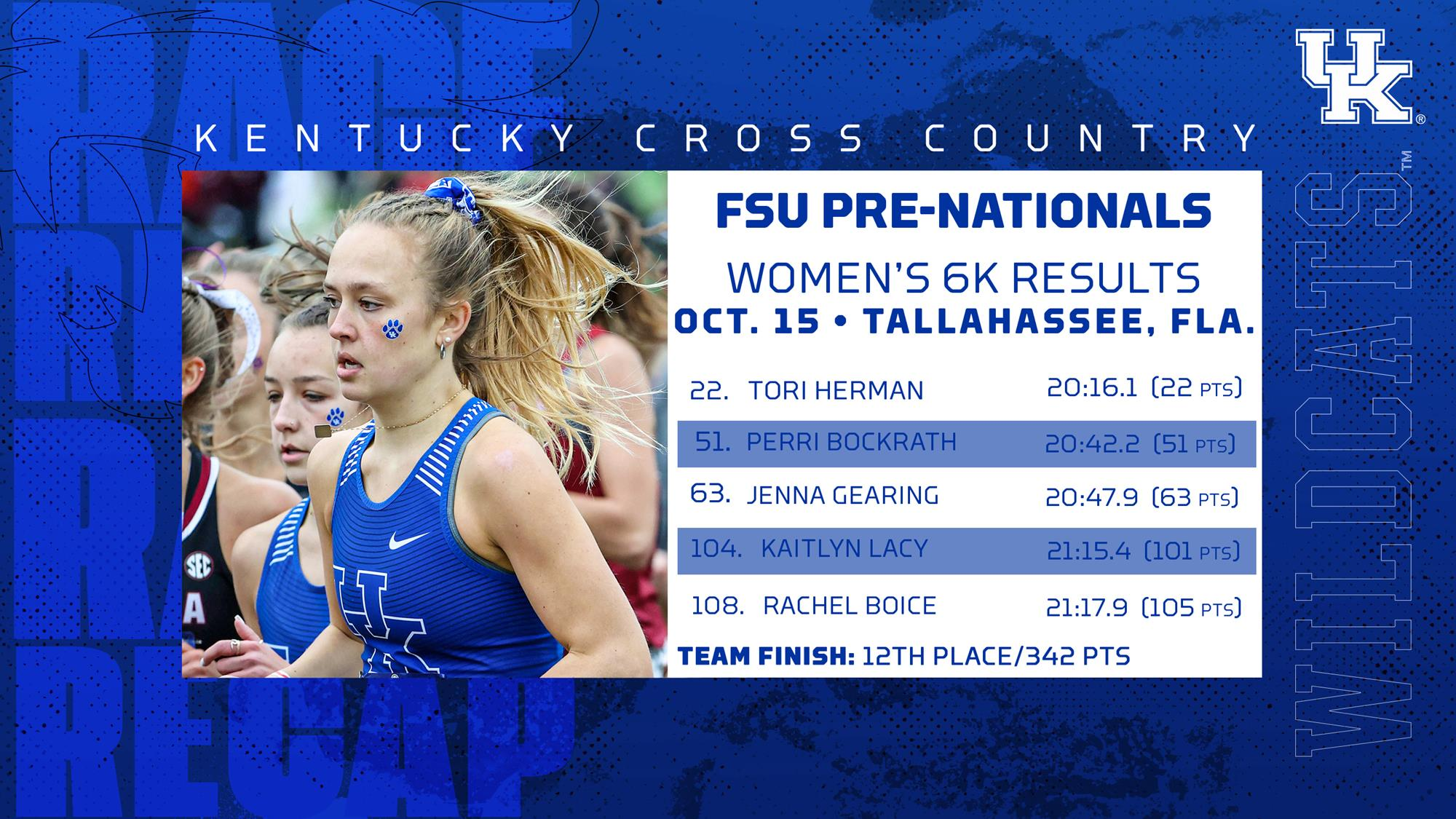 October 15, 2021 - 10:38 AM
Herman Leads UKXC at FSU Pre-Nationals
TALAHASSEE, Fla. — The No. 27 University of Kentucky women's cross country team and the men's cross country team concluded the Florida State University Pre-Nationals meet with a solid 22nd-place finish from Tori Herman in the women's Garnet 6K on Friday. The women's team finished 12th and the men's team finished 18th in the men's Garnet 6K. 
Women's Races 
Herman ran the 6K in 20:16.1 for a personal best 6K time. She has now placed in the top 25 in all three meets she has run this season, including a win at the Commodore Classic and 21st-place finish at Notre Dame. 
The women's team finished 12th out of 33 teams with all five scoring runners placing in the top 110 runners out of 243. 
The next couple finishers for the women were Perri Bockrath and Jenna Gearing. Bockrath has had an impressive season so far, consistently finishing as second-fastest for the Cats. She placed 51st (20:42.2) and had a similar finish at Notre Dame where she finished 52nd. 
In Gearing's second meet of the season, she clocked a 20:47.9 time and finished in 63rd place.  
Rounding out the top five for the women were Kaitlyn Lacy and Rachel Boice, who finished in 104th and 108th, respectively. 
Sophie Carrier was UKXC's first finisher in the women's open 6K with a 21st-place finish and time of 21:36.1. 
Men's Races 
Ethan Kern led the men's team for the third meet in a row with an 80th-place finish in the men's 8K, clocking a time of 24:06.2. 
Matt Duvall immediately followed Kern with an 84th-place finish (24:09.1). 
Jake Allen finished next, placing 99th (24:15.5). 
The men's team concluded the race in 18th place with three runners in the top 100. Forty teams and 304 runners competed in the race, and this was the third meet of the season where Kern, Duvall and Allen finished first, second, and third for the Cats. 
Concluding the top five for the men were Aaron Withrow and Jacob Brizendine, finishing 134th (24:29.9) and 160th (24:41.8), respectively. 
Theo Bachmann led UK in the men's open 8K, running for 40th place (25:06.8). 
Next Up 
Kentucky cross country will head to Columbia, Missouri for the 2021 SEC Cross Country Championships on Friday, October 29. 
Follow Kentucky Track and Field and Cross Country on Facebook, Instagram, Twitter and at UKathletics.com.