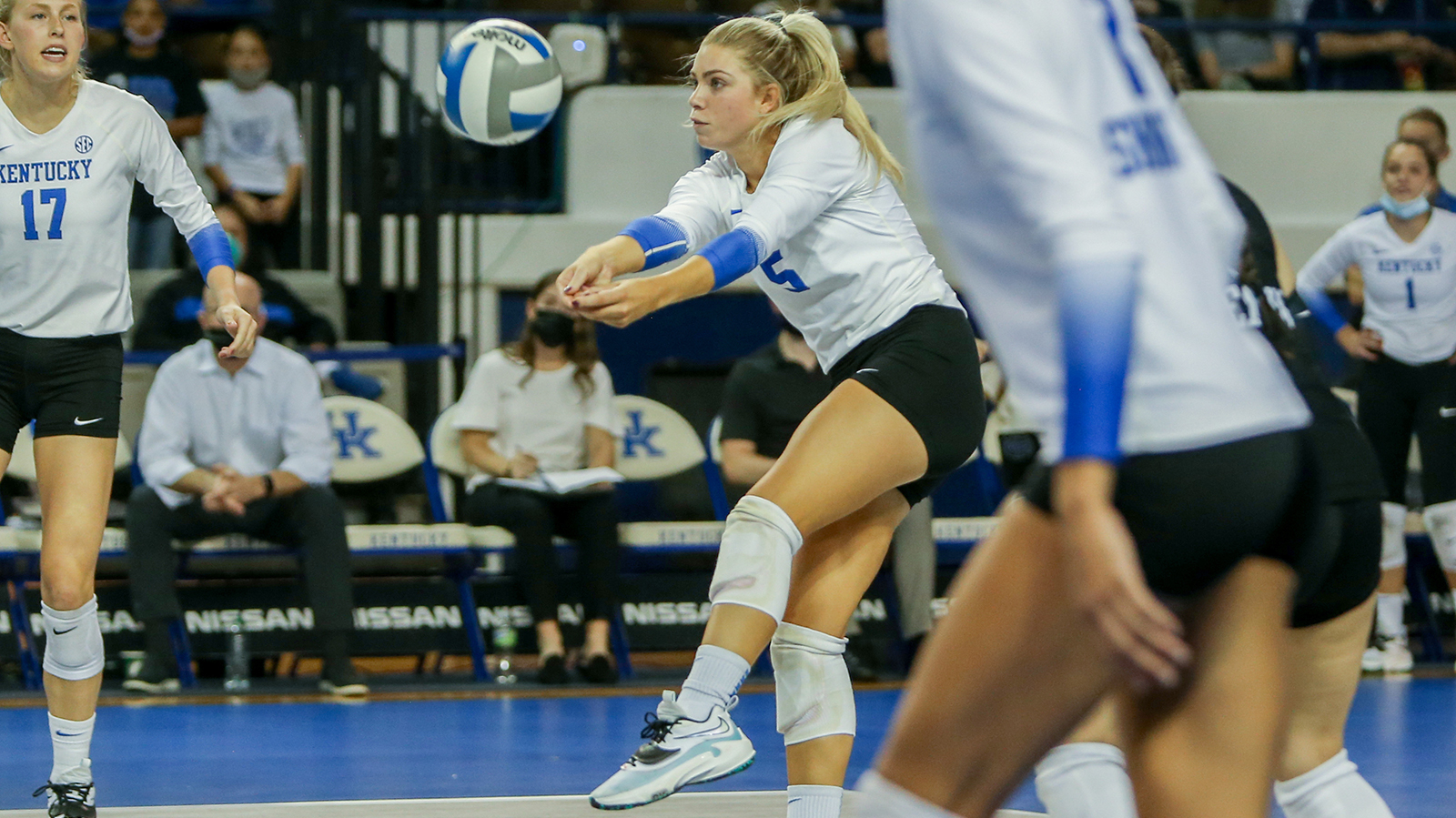 October 6, 2021 - 10:21 PM
Toughness Built in Non-Conference Paying Off for Volleyball Cats
The Kentucky volleyball team has faced a number of big challenges this season. And with each of those, the Cats have grown both individually and as a team.
UK head coach Craig Skinner put his team through a tough gauntlet during the non-conference schedule so that his Cats would be ready when Southeastern Conference play rolled around. Kentucky has faced a number of the nation's best teams so far, including road matches at No. 3 Louisville and No. 4 Wisconsin.
The mental toughness that Kentucky built while playing the likes of Wisconsin, Louisville and Stanford has paid off lately. Kentucky won in five sets at previously undefeated Ole Miss last Wednesday. Exactly one week later, the Cats found themselves down a set against a Mississippi State team that has already upset Florida this season.
But the Cats called upon that mental toughness to rally and win 3-1 on Wednesday night at Memorial Coliseum.
Senior Lauren Tharp knows that the experiences from earlier this season are paying off for the Cats now.
"I think our preseason has definitely prepared us for moments like this," Tharp said. "I think there's a lot of trust that's been built within the team. Playing tough opponents with big crowds, we didn't have that last year. We didn't have a preseason. Just being able to have that under our belt and to play under pressure, it makes times like this second nature."
Skinner thinks that his team has also learned something else this season.
"I think that we're learning that you can't just win on talent," Skinner said. "Obviously, we have talent but everybody does. When you're younger, you can just win by showing up and using talent to win. Here, you have to have the same consistent mentality on every point, whether you're down or up. You can play with emotion but you can't play emotional. Our freshmen and sophomores are understanding how important that is. Because if we didn't do that in the second set, it could have gone the other direction."
After losing the first set, Kentucky found itself trailing Mississippi State 11-7 in set two. But from there, UK rallied, outscoring MSU 18-10 to even the match and one set apiece. Skinner was pleased with his team's response to adversity.
"Proud of the way we responded," Skinner said. "We made some changes, we call them game-changing plays in the second set to give us some momentum. Proud of the way the team responded when we needed to."
Tharp and her fellow upperclassmen continue to try to build the confidence of the many younger players who are playing huge roles on this year's team. They did so again in Wednesday's match.
"I think just giving them confidence," Tharp said. "There are times when you're down, just looking each other in the eyes and saying 'hey, you've got this', we have all of the confidence in the world in you. So I think that's been huge for us."
That confidence was built as the Cats made their way through a difficult non-conference schedule. That slate is paying dividends now in SEC play.