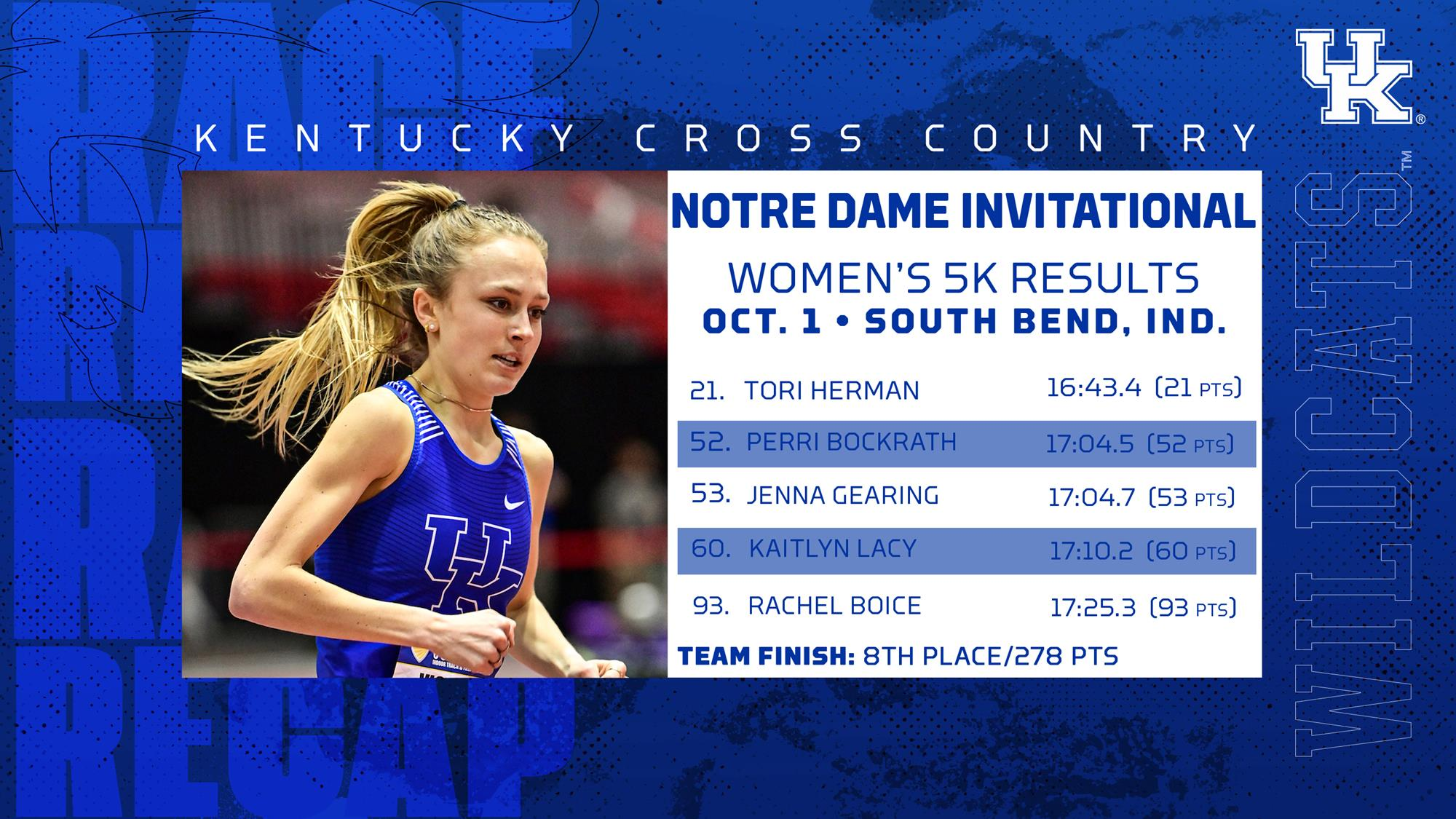 October 1, 2021 - 02:46 PM
UKXC Women Finish Eighth at Notre Dame Invitational
SOUTH BEND, Ind. — University of Kentucky cross country impressed at the Joe Piane Notre Dame Invitational at the Burke Golf Course hosted by the University of Notre Dame on Friday with an eighth-place finish for the women and 15th for the men in the blue races. 
Tori Herman had another impressive showing for the Cats, earning a personal-best time and leading the women with a 21st-place finish (16:43.4). Ethan Kern led the men, finishing 46th (24:48.1). 
All five of the women's team's scorers finished in the top 100 out of nearly 200 runners and 17 ranked teams, and four of the five female scorers ran their fastest cross country 5K ever. 
Perri Bockrath ran well, finishing 52nd (17:04.6) overall and second for the Cats. 
In her season debut, Jenna Gearing crossed the finish line immediately after Bockrath, placing 53rd (17:04.7). This was Gearing's first competition after an injury during the indoor track & field season and her first cross country race since winning the 2020 SEC Cross Country silver medal. 
Also in Kentucky's top five were Kaitlyn Lacy in 60th (17:10.2) and Rachel Boice in 93rd (17:25.3). 
For the men, Matt Duvall closely followed Kern in 47th place (24:29.7). 
Jake Allen, Harper Moore and Aaron Withrow closed out Kentucky's top five, finishing in 62nd, 86th and 104th, respectively. 
Kelli Walsh finished 22nd (18:04.0) and first for Kentucky in the women's open 5K, and freshman Jackson Watts led the men's open five mile with a 16th (25:36.0) place finish. 
Up next, the Wildcats will travel to Tallahassee, Florida for Pre-Nationals/Florida State Invitational on Friday, October 15. 
Follow Kentucky Track and Field and Cross Country on Facebook, Instagram, Twitter and at UKathletics.com.