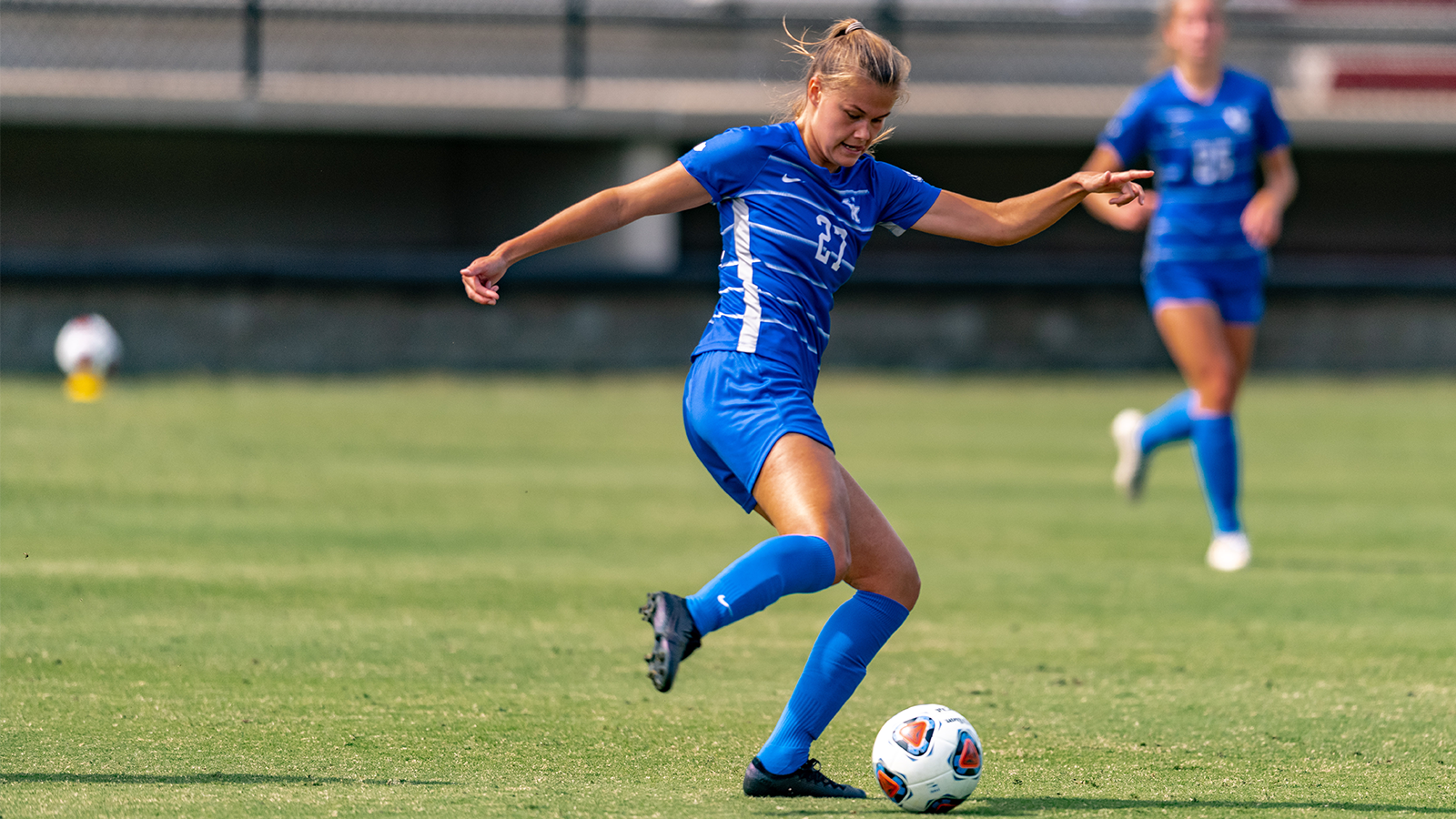 September 30, 2021 - 09:30 PM
Early Goal Pushes Mississippi State Past Kentucky, 1-0
STARKVILLE, Miss. – Unable to overcome an early deficit, the University of Kentucky women's soccer team ultimately dropped a 1-0 decision at Mississippi State on Thursday night in Starkville.
Following the loss, the Wildcats fall to 6-5-2 (0-4) on the season while the Bulldogs move to 3-4-3 (1-2-1). 
The Wildcats had a good opportunity to take an early lead in the fifth minute, but the attempt from Jordyn Rhodes to the bottom center was denied by Bulldog goalkeeper Maddy Anderson. Mississippi State struck first soon after, as Alyssa D'Aloise scored off a rebound on a corner in the ninth minute.
Rhodes recorded another shot on target in the 18th minute in effort to quickly erase the home team's one-goal lead, but her chance was again stopped by Anderson.
Kentucky continued to press coming out of the break in search of the equalizer but could not convert despite a good look from Hannah Richardson in the 62nd minute. Laura Nielsen prevented Mississippi State from doubling its lead late in the second frame, but the Bulldogs' early strike proved to be the game winner. 
It was a physical match between the two teams as the Bulldogs were issued six yellow cards during the contest. Kentucky held a slight 9-8 advantage over Mississippi State in shots at the final whistle while both UK and MSU had six corners. 
In net, Nielsen concluded the match with four saves and Anderson made three.
The Wildcats have a week off before returning to the Wendell and Vickie Bell Soccer Complex on Thursday, Oct. 7 to host defending SEC champion Vanderbilt at 7 p.m. ET. 
For the latest on the Kentucky women's soccer program, follow @UKWomensSoccer on Twitter and on Instagram, on Facebook, and on the web at UKathletics.com.