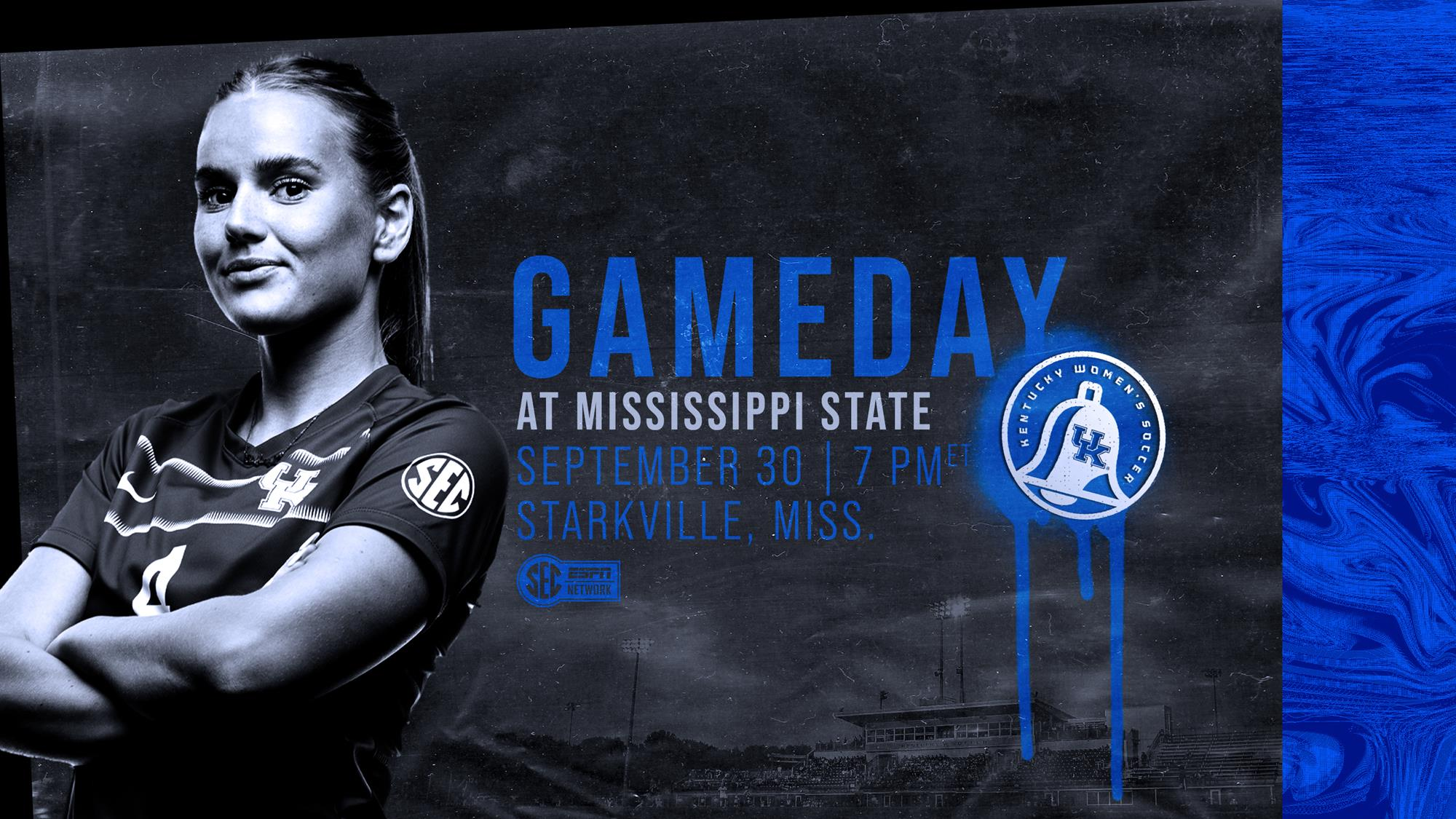 September 29, 2021 - 09:00 AM
UK Women's Soccer Heads to Mississippi State on Thursday
LEXINGTON, Ky. – Seeking its first Southeastern Conference win of the season, the University of Kentucky women's soccer team hits the road to play at Mississippi State on Thursday, Sept. 30. Kickoff is slated for 7 p.m. ET at the MSU Soccer Complex in Starkville, Mississippi.  
This will be the first of two nationally televised games for the Wildcats, as Thursday's match will be carried on SEC Network with Mike Watts and Lori Lindsey on the call. 
Kentucky will arrive in Starkville with a 6-4-2 record on the year, which includes a 0-3 mark in conference play. The Wildcats dropped a 2-1 decision to South Carolina on Sunday in their latest appearance despite Jordyn Rhodes netting her ninth goal of the season on a converted penalty kick in the 31st minute.
Rhodes continues to lead the Wildcats in several categories: goals (9), assists (5), points (23), shots (41), and shots on goal (19). Her nine goals and 23 points thus far both rank second in the conference, while her 41 shots and 1.91 points per game sit in third. She also is tied for the fourth-most goals scored in the NCAA so far this year.
Hannah Richardson is right behind Rhodes with eight goals — good enough to be tied for third in the league and fifth in the nation — and paves the way for UK with a trio of two-goal games on the year. The dynamic duo of Rhodes and Richardson have combined for 17 goals so far this season, which ranks fourth nationally for top scoring duos.
Between the posts, Laura Nielsen has recorded 47 saves and owns a .797 save percentage to rank second and third, respectively, in league standings. Kentucky is tied for fourth in the SEC with 12 goals allowed, with Julia Grosso, Sara Makoben-Blessing, Marie Lynge Olesen, and Peyton Rimko starting every match as staples on the Wildcats' back line. 
Mississippi State enters Thursday's match with a 2-4-3 mark on the season, including a 0-2-1 record in SEC action. The Bulldogs fell to both LSU, 0-2, and Florida, 2-1, while playing Georgia to a 2-2 draw. The team is led by head coach James Armstrong, who has amassed a 16-16-9 record in his three years at the helm.
Onyi Echegini, Hailey Farrington-Bentil, and Minigo Karnley pace the Bulldogs with two goals apiece, and Echegini has a team-high two assists, six points, 28 shots, and 12 shots on goal. Maddy Anderson has played every minute in net, registering 36 saves for a .783 save percentage. Following a career-high 13 saves at Iowa earlier this month, Anderson was named the SEC Defensive Player of the Week on Sept. 7.
Kentucky will seek to extend its all-time series record of 14-5 against Mississippi State, which includes a 7-3 mark on the road. The last meeting between the two teams was on Sept. 29, 2019, in Lexington with the Bulldogs winning, 2-1, despite an early goal from Richardson in the 17th minute.
The Wildcats were victorious the last time they traveled to Starkville, posting a 1-0 shutout on Oct. 8, 2017, behind the game-winning goal by Miranda Jimenez.  
For the latest on the Kentucky women's soccer program, follow @UKWomensSoccer on Twitter and on Instagram, on Facebook, and on the web at UKathletics.com.