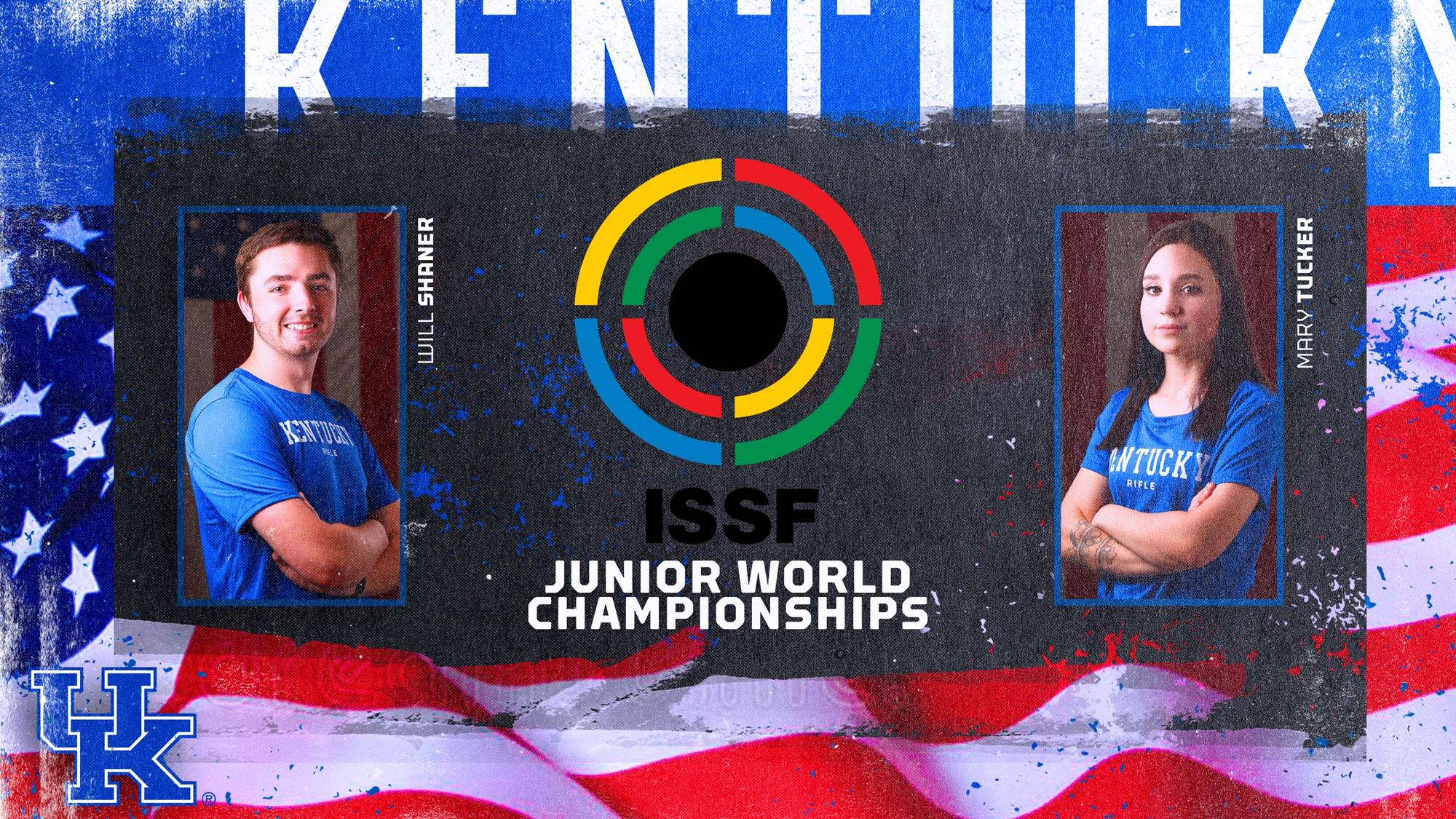 LEXINGTON, Ky. – University of Kentucky rifle stars Mary Tucker and Will Shaner performed well on day one of the ISSF Junior World Championships in Lima, Peru on Wednesday. Both finished near or at the top of their respective events and qualified for the final round of the air rifle 10m men's and women's competitions.
 
The 2021 ISFF Junior World Championships featuring rifle, pistol and shotgun events, are taking place September 27 through October 10 in Lima, Peru. A complete schedule of events, including live results and a broadcast schedule is available online at ISSF-sports.org.
 
Tucker and Shaner competed in air rifle 10m Wednesday with Tucker finishing second in the women's qualifying event while Shaner was first in men's qualifying. Both advanced to Thursday's final with Shaner in the men's final at 5:15 a.m. ET while Tucker will be in the women's final at 6:15 a.m. ET. Both finals will stream on ISSF-sports.org.
 
Tucker posted an impressive score of 632.1 in qualifying, which was the second-highest score of the day. The Olympic silver medalist shot six 10-shot series and scored a 105.2 or higher in five series. She finished with impressive 105.8s in each of the last two series. Tucker enters the final just 0.5 points behind Oceanne Muller from France.
 
Shaner posted a 630.7 overall in qualifying to sit first out of 41 competitors. The Olympic Gold medalist set the tone early in his round with a 105.9 in the first series and 105.7 in the second series. Shaner will go into Thursday's final with a 0.5 lead over Rudrankksh Balasaheb Patil.
 
Both scores also counted towards the air rifle team events with the USA men's team finishing second, while the women's team was fourth. The air rifle 10m men's and women's team final will be later this week.
 
International competition is nothing new to Shaner nor Tucker, who both qualified for the United States to compete in the 2020 Tokyo Olympics and brought home medals. Shaner became the first American male to bring home gold in the 10m air rifle event, while Tucker won silver in the mixed team air rifle event and finished sixth in women's 10m air rifle. Shaner finished sixth in the mixed team event. Both stars have been consensus first-team All-America honorees each of the last two years with Shaner also carrying that same title as a freshman. Tucker was the smallbore, air rifle and overall NCAA national champion last season, while Shaner finished second in air rifle. The two have combined to win the last three CRCA Athlete of the Year award with Shaner taking it in 2019 while Tucker won the title in 2020 and 2021.
 
Shaner and Tucker both helped Kentucky claim its third national championship in 2021 and the Wildcats will begin the 2021-22 season ranked No. 1 in the CRCA Preseason Top 20. The 2021-22 season begins Oct. 9 with UK traveling to Morehead State for a dual match. UK's home opener will be Nov. 6 against Ole Miss, who is No. 2 in the CRCA Preseason Top 20.
 
For more information on the Kentucky rifle team, visit UKathletics.com or follow UKRifle on Twitter, Instagram and Facebook.