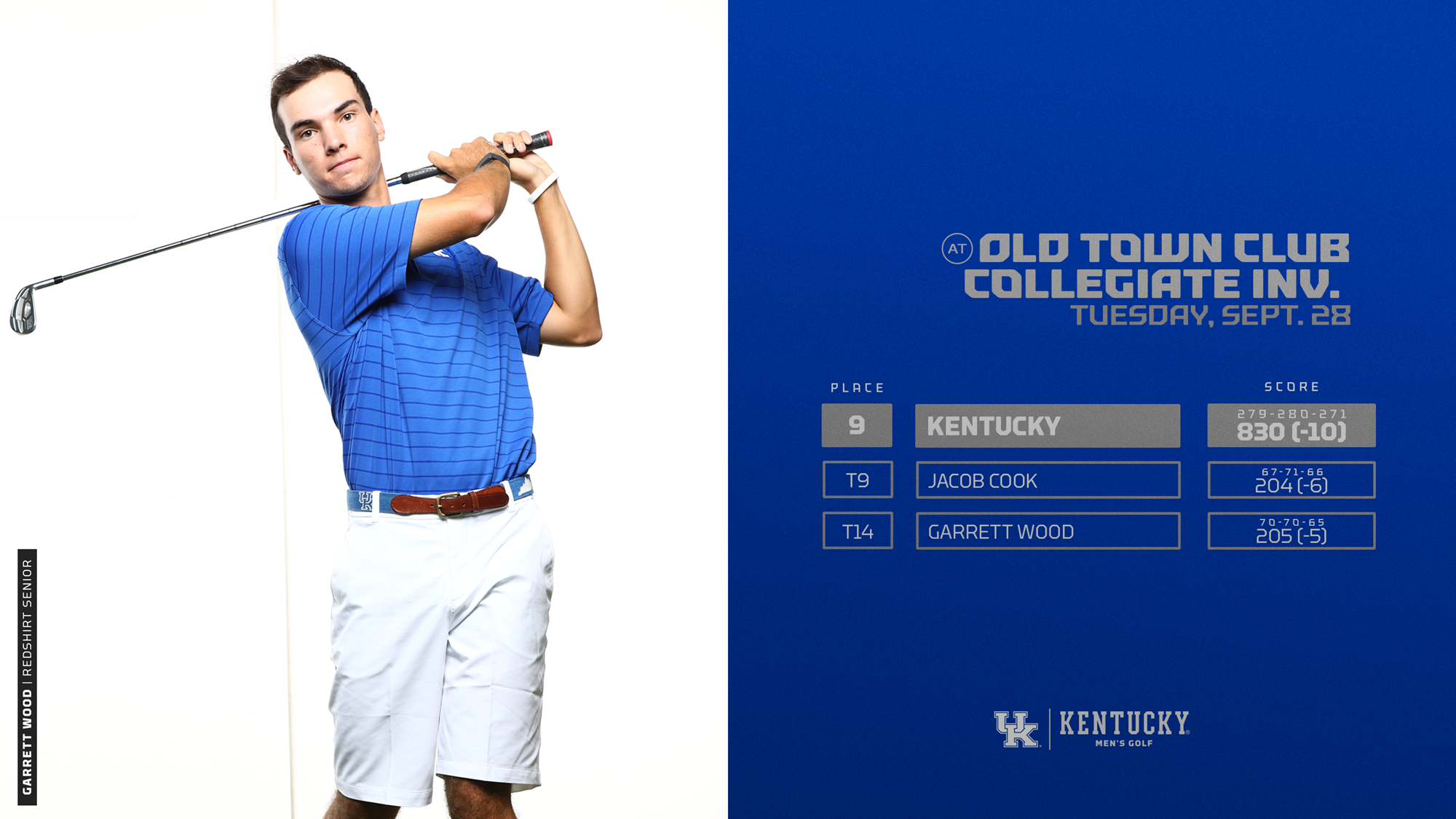 September 28, 2021 - 03:56 PM
Garrett Wood, Jacob Cook Shine as UK Shoots 9-Under Par
WINSTON-SALEM, North Carolina – If Monday was described as a day full of missed opportunities, Tuesday's round for the Kentucky men's golf team was all about the potential this team possesses. The Wildcats carded a 9-under round, the second best on the course, during the final day of action at the Old Town Club Collegiate Invitational to finish ninth overall. Kentucky was aided by historic performances from Garrett Wood and Jacob Cook who logged record-setting rounds of 65 (-5) and 66 (-4), respectively.
 
"Today was much more indicative of the ability of this team," UK head coach Brian Craig said. "We had a rough day yesterday with our putting, but today was much improved. I am especially proud of Jacob Cook and Garrett Wood. Garrett's 65 today was stellar, and Jacob's 66 was fabulous. We will get back home and take a short rest and then get back to work preparing for the inaugural SEC Match Play Championship."
 
UK's round of 271 (-9) is the second-lowest score in Craig's 21-year tenure. The 830 combined team score ranks third overall under Craig.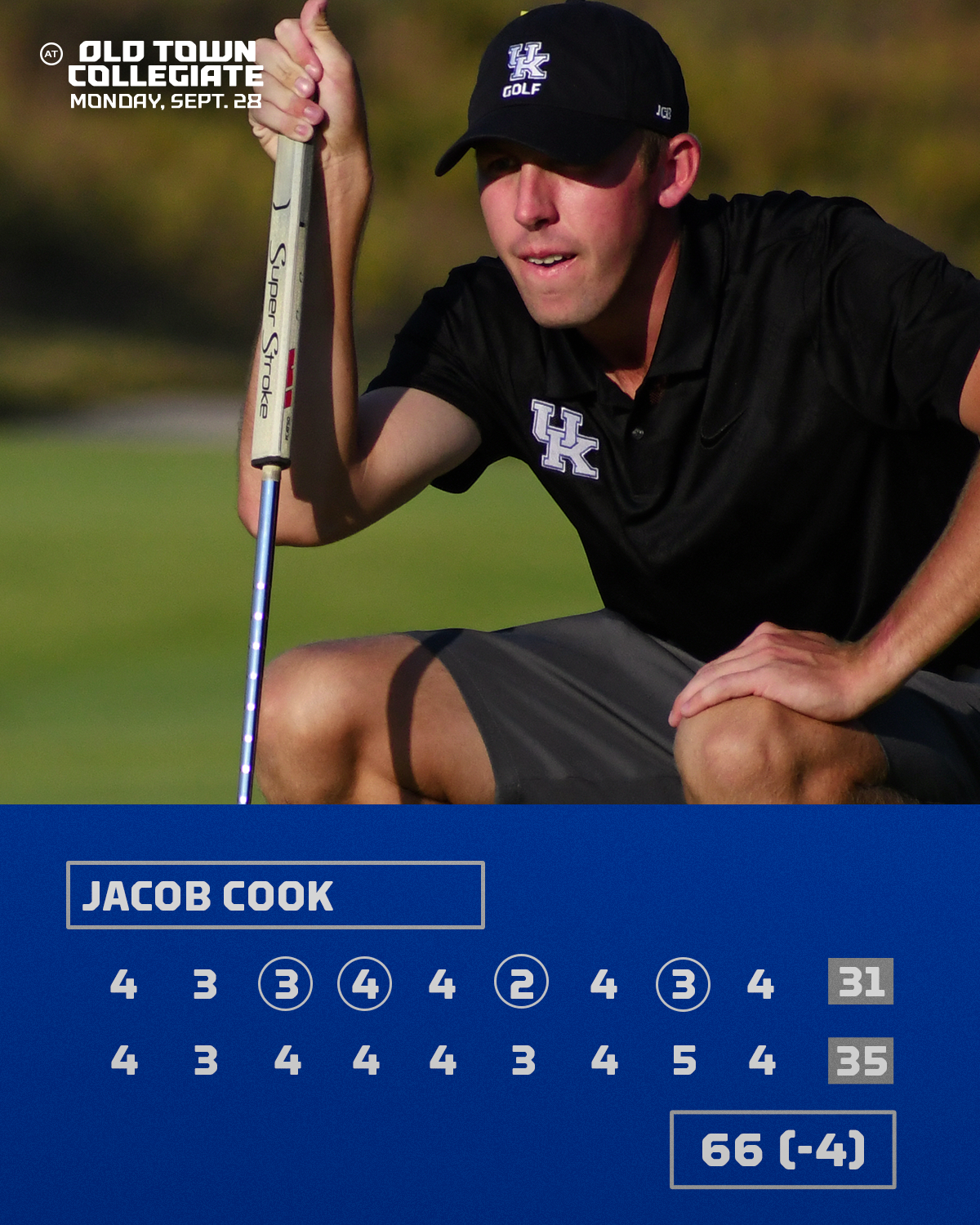 Wood and Cook both produced career-low scores. Wood's 65 is tied for the fourth lowest under Craig, while Cook's 66 is tied for 18th. Furthermore, Cook's 204 combined scorecard is the fifth-lowest score in Craig's tenure, while Wood's 205 is tied for the sixth lowest.
 
Wake Forest won the event with a 35-under total. Southern Miss was second at 21-under, while Virginia Tech was third at 19-under. Kentucky placed in ninth at 10-under, but only SMU's round of 12-under par was better than Kentucky's during the final round on Tuesday. The Wildcats ascended the leaderboard by two spots on Tuesday.
 
UK will return to the course on Oct. 10 at the inaugural Southeastern Conference Match Play Championship which will feature both stroke play and match play at the Shoal Creek Club in Birmingham, Alabama. All 14 programs are slated to appear in the three-day event.
 
Cook led the Wildcats with a tie for ninth on the individual standings board. It is his second straight top-10 finish after also placing in a tie for seventh at the Island Resort Intercollegiate to open the season. The Frankfort, Kentucky, native logged rounds of 67-71-66 for a 6-under scorecard. His final round 66 and 204 tournament score are both career-low marks. 
 
Kentucky opened play on Tuesday off the No. 10 tee. He played mistake-free golf for the entirety of the round, beginning action with 11 straight pars. Cook's round picked up with back-to-back birdies at the par-four third and the par-five fourth. He then finished the ro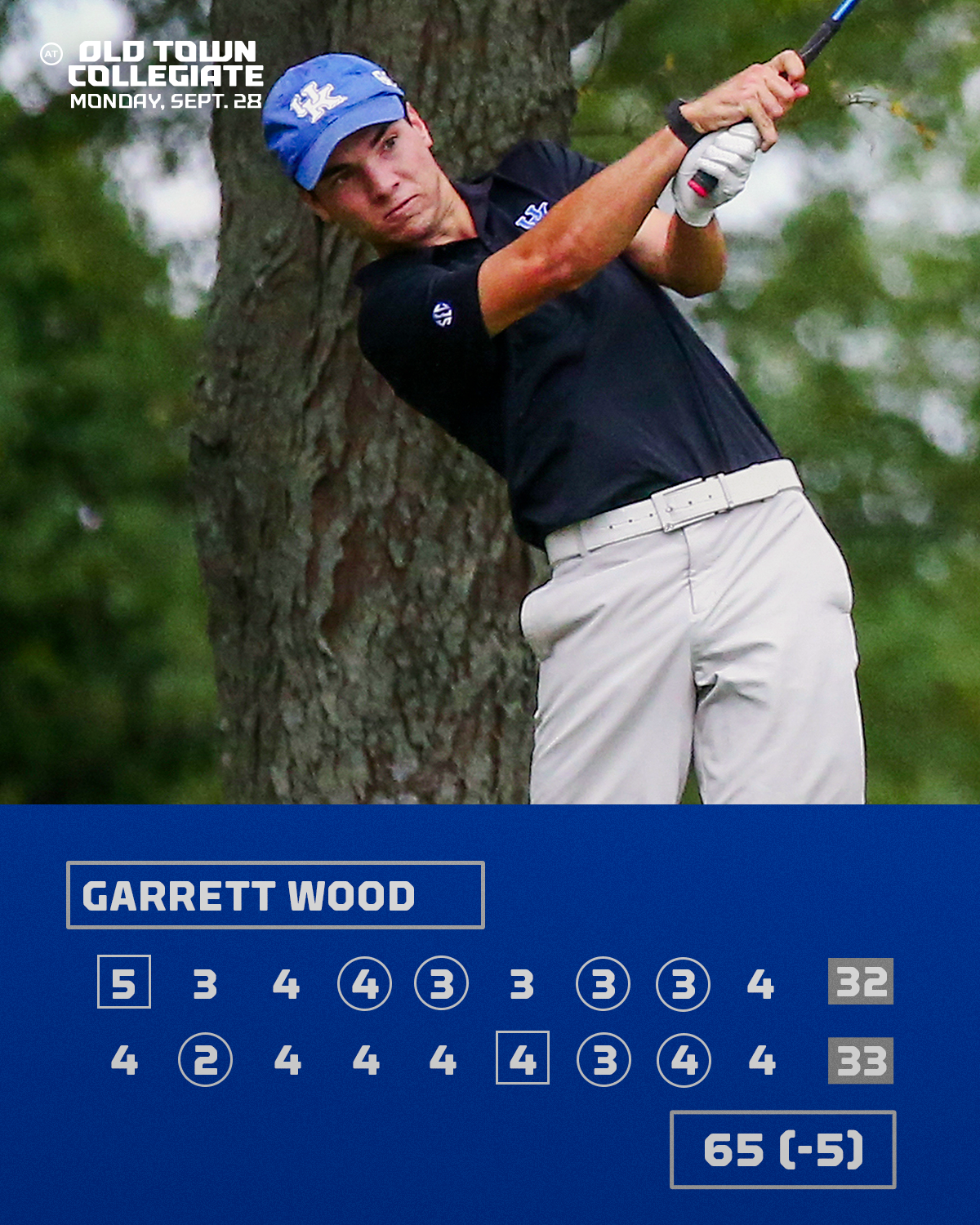 und with birdies at the par-three sixth and the par-four eighth for his final tally of 66. He shot a 31 on the course's front nine to conclude his tournament.
 
Wood generated his 11th career top-20 finish with a tie for 14th behind a career-low-tying 65 during Tuesday's final round. The Mason, Ohio, native totaled a pair of even-par 70s during Monday's two-round day before generating the best round of his career in the Blue and White.
 
A birdie at the par-three 11th got his round started. He yielded the shot back at the 15th, but quickly responded with consecutive birdies at the 16th and 17th to make the turn at 2-under par. A bogey at the first was offset with birdies at the fourth, fifth, seventh and eighth holes. He went 4-under over his final six holes.
 
Junior Alex Goff tied for 44th with a final round of even-par 70. He combated a 2-over-par opening nine with a 2-under par back nine. Senior Zach Norris logged a 2-over 72 and finished in a tie for 48th overall. Sophomore Hugo Archer tied for 54th following an even-par round, the best of his tournament, for the Rennes, France, native. Archer had three birdies over his final nine holes and played 1-under to get to a 70 scorecard.
 
Junior Cooper Parks, playing as an individual, had a round of 73 and finished the week tied for 59th.
 
For the latest on the Kentucky men's golf team, follow us on Twitter, Facebook, Instagram and on the web at UKathletics.com. 
 
AGATE
9 – Kentucky (279, 280, 271 – 830, -10)
T9 – Jacob Cook (67, 71, 66 – 204, -6)
T14 – Garrett Wood (70, 70, 65 – 205, -5)
T44 – Alex Goff (70, 71, 70 – 211, +1)
T48 – Zach Norris (72, 68, 72 – 212, +2)
T54 – Hugo Archer (72, 72, 70  – 214, +4)
 
Individual
T59 – Cooper Parks (71, 72, 73 – 216, +6)