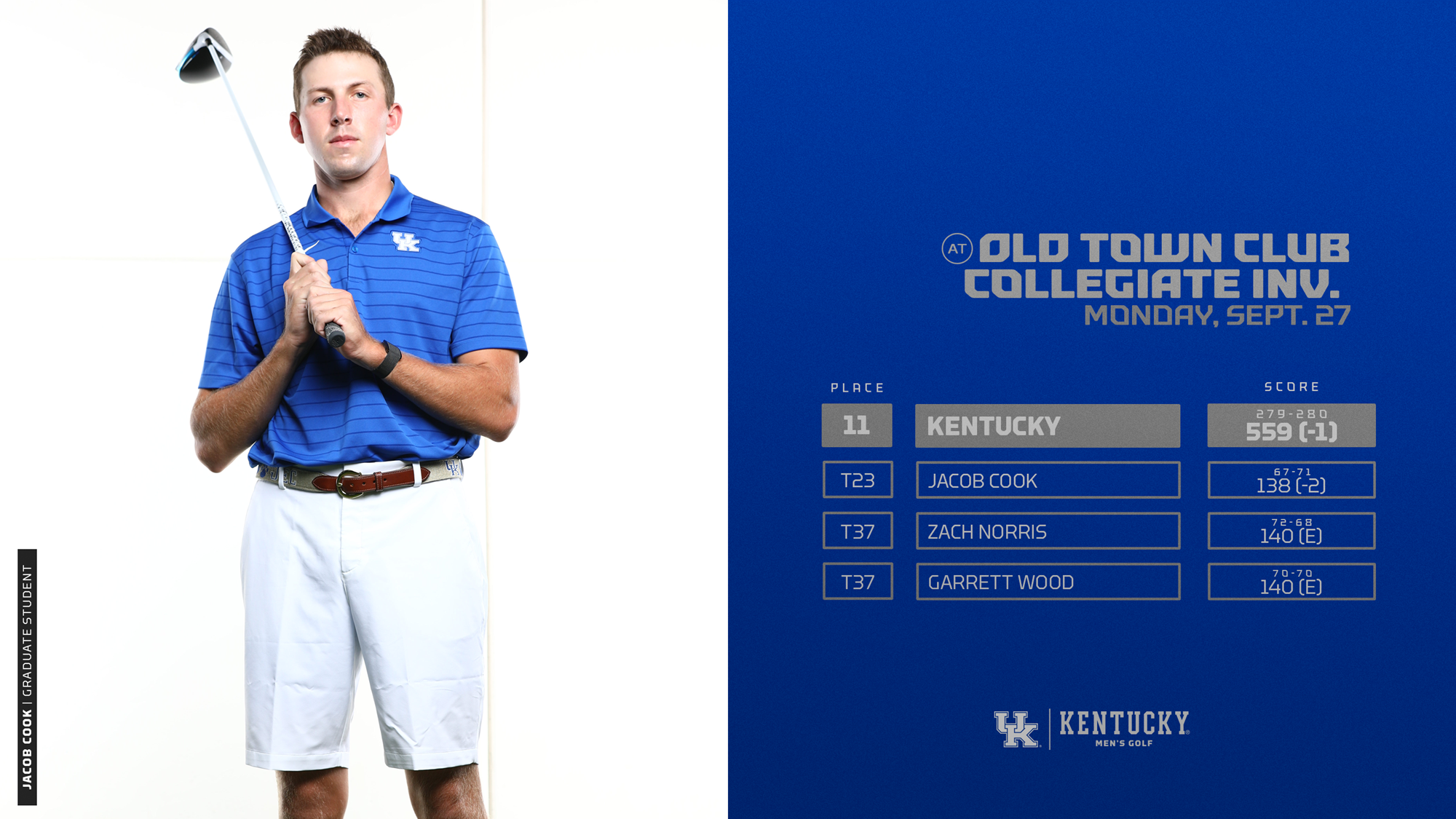 September 27, 2021 - 07:40 PM
Kentucky in 11th After Opening Two Rounds at Old Town
WINSTON-SALEM, N.C. – The Kentucky men's golf team shot a combined 1-under par through the opening two rounds of the Old Town Collegiate Invitational on Monday but finished the day in 11th overall. Graduate student Jacob Cook led all UK players and capped the day in a tie for 23rd which was bolstered by a 3-under-par 67 during the opening 18.
 
The field will finish the tournament with a final round on Tuesday. Kentucky tees off from the No. 10 tee box at 8 a.m. ET alongside Rutgers and Loyola (Md.). Live stats are available via golfstat.com.
 
The host Wake Forest Demon Deacons lead the field at 28-under par. Duke sits eight shots back and Southern Miss is in third at 19-under par heading into the final round.
 
All five of UK's starters played steadily, with no player shooting higher than a 72. Cook and senior Zach Norris produced sub-70 scores and UK's opening round of 279 is tied for the 25th-lowest round in Brian Craig's 21-year tenure.
But there were opportunities on the golf course, and the Wildcats just could not capitalize consistently.
 
Cook's round of 67 is a collegiate best. He opened the day with a bogey on the first hole but rebounded with a birdie at the par-four third. The Frankfort, Kentucky, native made the turn at 2-under with birdies at the seventh and ninth. Birdies at the 11th and 14th offset a setback at the 12th to finish the first 18 holes at 3-under par.
 
During the second round, Cook got off to a fast start with a birdie at the second. He lost a shot with a double-bogey at the third but combated the mistake with a birdie at the sixth. Cook bogeyed the ninth, but then played par the rest of the way for a 1-over 71. He's tied for 23rd overall with a 2-under score. He's in search of his third career top-20 finish and second straight.
 
Norris opened the day with a 72 but fired back with a 68 during the second round. That score matches a career low for the McKee, Kentucky, native. Norris played beautifully over the opening nine holes of the second 18. He had birdies at the par-three second and the par-five fourth to make the turn at 2-under. Norris yielded a shot at the 12th but was able to get it back with a birdie on the final hole of the day, the par-four 18th.
 
He, along with redshirt senior Garrett Wood, are tied for 37th overall. Wood posted two rounds of even-par 70.
 
Junior Alex Goff logged rounds of 70 and 71 and is tied for 48th on the individual leaderboard. Sophomore Hugo Archer, making his first career start, totaled a pair of 72s and is tied for 61st. Junior Cooper Parks, playing as an individual, totaled a 71 and a 72 and is tied for 55th.
 
For the latest on the Kentucky men's golf team, follow us on Twitter, Facebook, Instagram and on the web at UKathletics.com. 
 
AGATE
11 – Kentucky (279, 280 – 559, -1)
T23 – Jacob Cook (67, 71 – 138, -2)
T37 – Zach Norris (72, 68 – 140, E)
T37- Garrett Wood (70, 70 – 140, E)
T61 – Hugo Archer (72, 72  – 144, +4)
 
Individual
T55 – Cooper Parks (71, 72 – 143, +3)