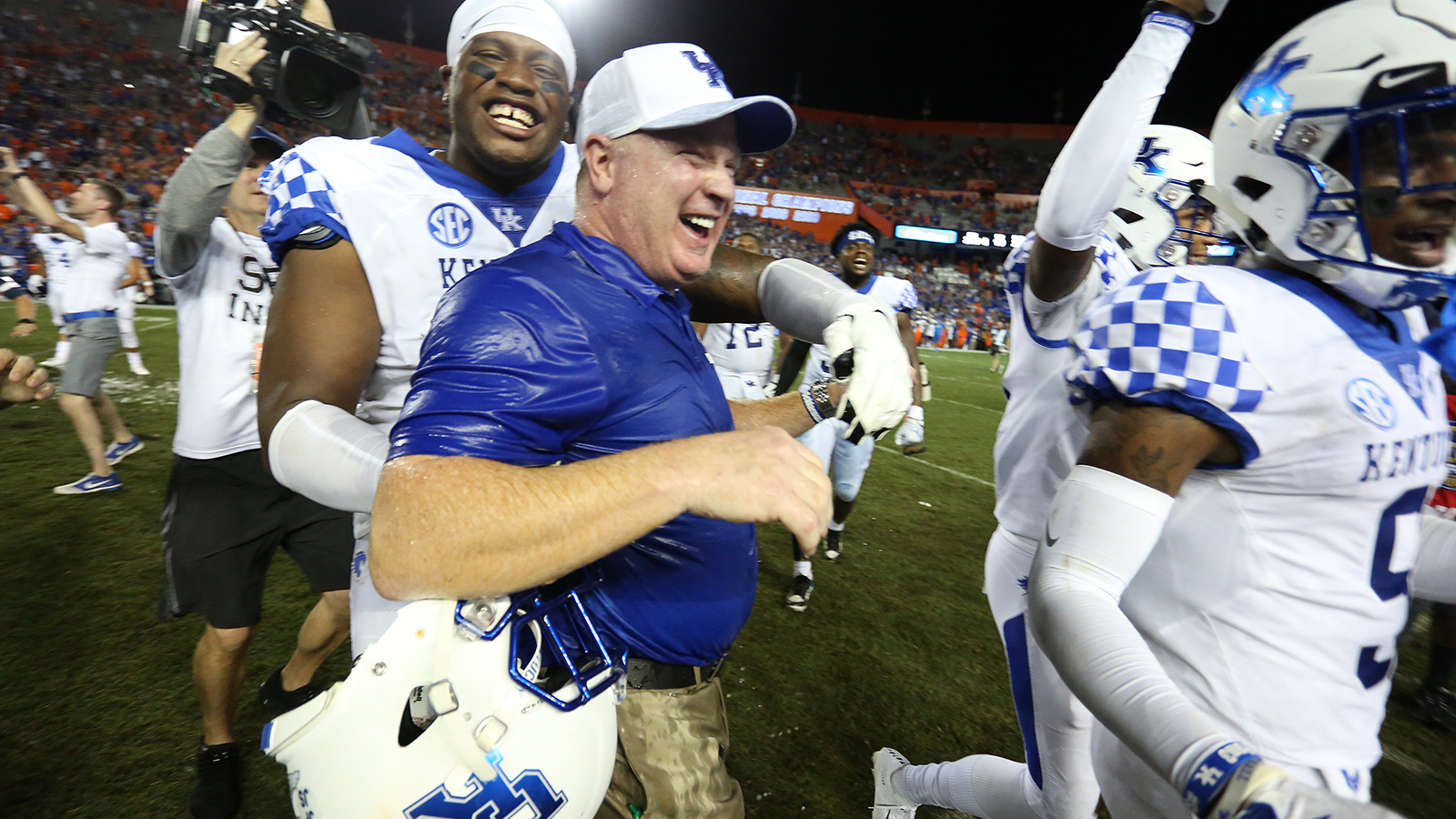 Kentucky head coach Mark Stoops knows all about it. He's heard it ever since he's been in Lexington. About how Florida has dominated Kentucky in football since well before Stoops was coaching the Cats.
But Stoops also knows that, since he arrived at UK nine years ago, the gap between the two programs has nearly disappeared. Stoops is 1-7 against Florida but that number could easily be at .500 or better. If a handful of plays over the years had gone the other way, the discussion about the rivalry between the SEC East foes would be entirely different.
Consider this:
In 2019 against Florida, Kentucky had a field goal attempt with 58 seconds to play that would have given the Cats the lead. It missed wide right.
In 2017 against the Gators, UK attempted a 57-yard field goal as the final horn sounded. That attempt came up just short and Florida prevailed 28-27.
In 2015 against UF, the Cats had two possessions late with a chance to win against the Gators, only to come up short in a 14-9 loss.
And in 2014, Florida needed triple overtime, and perhaps a favorable call from the officiating crew, to top the Cats in Gainesville, 36-30.
While the losses are frustrating, Stoops also knows that his team can take some solace in defeat.
"I think our players know that we can play with anybody if we play well," Stoops said. "That's the point where we've gotten to as a program. But we still have to do that. We have to have a great week. We have to play well, we have to prepare well. We have to control what we can and execute at the highest level."
Stoops knows that the Big Blue Nation will be at Kroger Field on Saturday supporting him and his team.
"Excited to get going with a big opportunity with Florida coming into our place here this Saturday," Stoops said. "Looking forward to that challenge. Florida is always an extremely talented football team, very well-coached and we'll have our hands full. Really looking forward to having a great home atmosphere here this weekend."
Stoops knows that Florida head coach Dan Mullen and the weapons he has on both sides of the ball pose a serious threat.
"Dan Mullen, calling the plays offensively always is a great play caller," Stoops said. "Very talented players, as usual, very physical run game, rushing for over 300 yards a game is extremely impressive. Defensively, with Todd Grantham, does a wonderful job. A lot of respect for Todd and his defensive philosophies and how they play."
For the record, Florida has won 16 games in a row in Lexington. Kentucky's last win against the Gators at home came in 1986.
Kentucky did win at Florida in 2018, breaking a 31-game losing streak to the Gators in the process. Now, the 4-0 Wildcats welcome the 3-1 Gators, who are ranked 10th nationally, for a 6 p.m. kickoff on Saturday night.
Stoops knows the Cats have the talent to stay with the Gators. And he's also hoping that lady luck might finally turn in Kentucky's favor in this rivalry.
"Then maybe you do need a bounce here or a bounce there," Stoops said. "Or get a call at the end of the game."
Kentucky is hoping to get one of those bounces this weekend and to continue its ascension in the SEC East.