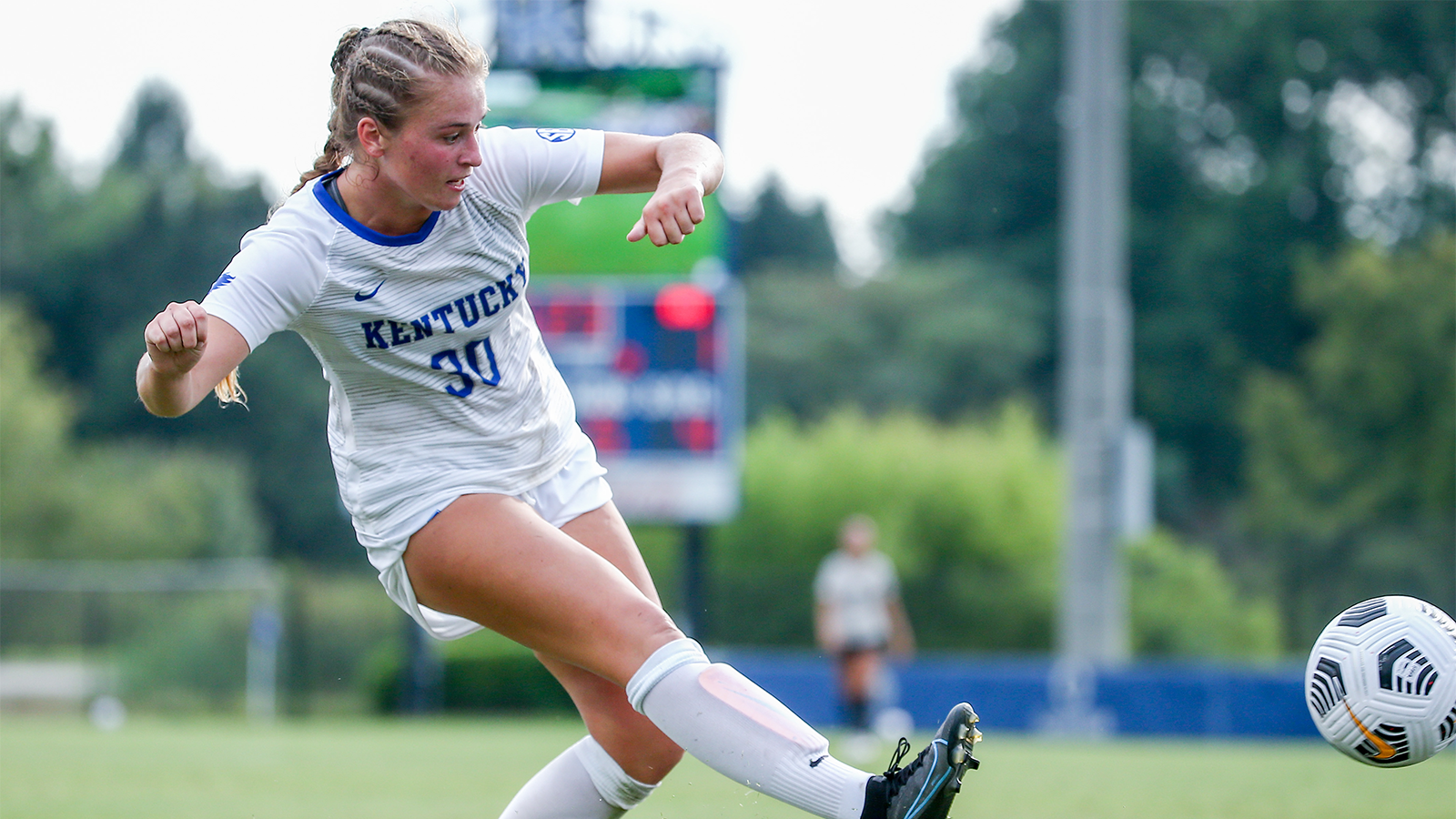 September 26, 2021 - 04:30 PM
Kentucky Falls to South Carolina, 2-1, on Sunday Afternoon
LEXINGTON, Ky. – Despite Jordyn Rhodes netting her ninth goal of the year, the University of Kentucky women's soccer team fell to South Carolina, 2-1, on Sunday afternoon at the Wendell and Vickie Bell Soccer Complex. 
With the loss, the Wildcats drop to 6-4-2 (0-3) on the season while the Gamecocks improve to 8-2 (3-0).
The Wildcats had a chance to jump out to an early lead, but the attempt from Rhodes less than a minute into the first half bounced off the crossbar. However, it was the Gamecocks who struck first in the 29th minute after a header from Jyllissa Harris. 
UK quickly found the equalizer in the 31st minute when a foul inside the box awarded the Wildcats a penalty kick. Rhodes converted the attempt with a shot to the lower left, marking her ninth goal of the season as the Wildcats and Gamecocks went into the break with one goal apiece.
Julia Grosso ripped a shot from nearly 25 yards out in the 60th minute, but her attempt to put the Wildcats in the lead was denied by Gamecock goalkeeper Heather Hinz. Rhodes had another good look for Kentucky from the left side which was again stopped by Hinz before Remi Swartz gave South Carolina the game-winner in the 78th minute. 
At the conclusion of the match, both the Wildcats and Gamecocks had 10 shots each while UK held a 6-5 advantage in corner kicks. Laura Nielsen finished with three saves between the posts and Hinz made two for South Carolina.
The Wildcats travel to Starkville, Mississippi, on Thursday, Sept. 30 to take on Mississippi State for an 8 p.m. ET match at the MSU Soccer Complex. 
For the latest on the Kentucky women's soccer program, follow @UKWomensSoccer on Twitter and on Instagram, on Facebook, and on the web at UKathletics.com.