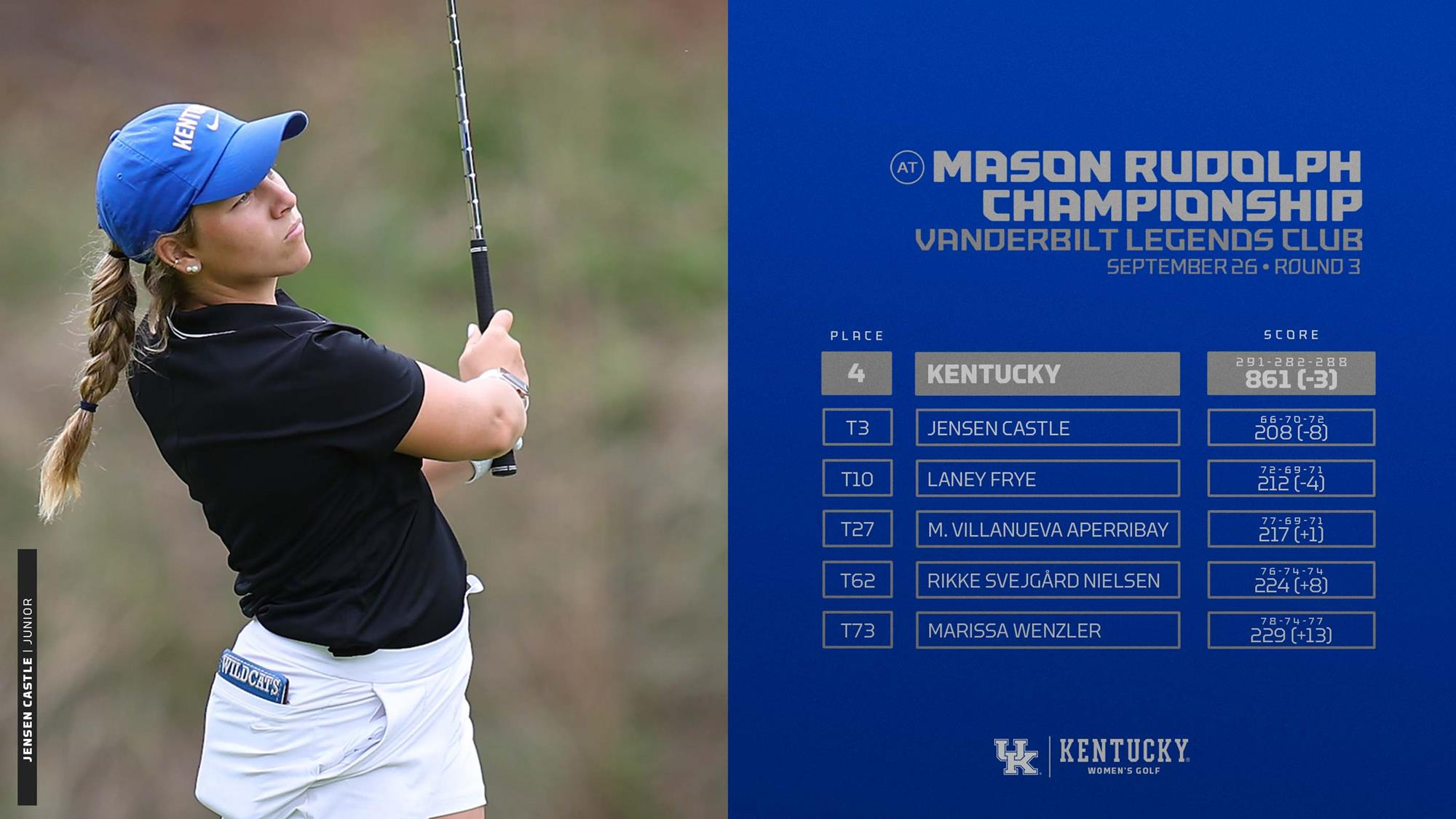 September 26, 2021 - 07:34 PM
Castle, Cats Complete One of Best Tournaments in School History
FRANKLIN, Tenn. – Jensen Castle and the Kentucky women's golf team finished off one of the best scoring performances in program history this weekend to place fourth at the Mason Rudolph Championship. Castle challenged for medalist honors and tied for third.
 
Led by Castle's 8-under-par 208 – tied for the second-best 54-hole round in school history – and Laney Frye's 4-under-par 212, the Wildcats shot 3-under par for the weekend (291-282-288=861), the third-best total ever by a Kentucky team and the lowest in opposing territory. The only two lower scores took place on UK's home course at the University Club of Kentucky at the 2018 (858) and 2019 (859) Bettie Lou Evans Invitational tournaments.
 
With solid performances from top to bottom of the Kentucky lineup, the Wildcats finished ahead of the likes of No. 11 Georgia, 17 Auburn and Vanderbilt on its home course at the Vanderbilt Legends Club's North Course (par 72, 6,475 yards) in Franklin, Tennessee.
 
No. 22 Oregon ran away with the title with a 14-stroke victory at 26-under par. No. 14 Alabama finished in second at 12-under and No. 10 Florida placed third at 11-under.
 
The Ducks' Hsin-Yu Lu fired a 65 in the final round to post a three-day score of 17-under par and win by six shots.
 
"I thought the effort was really good this weekend," UK head coach Golda Borst said. "I thought we played some resilient, really committed golf. We could have had some more putts drop and go our way, but overall a really solid week."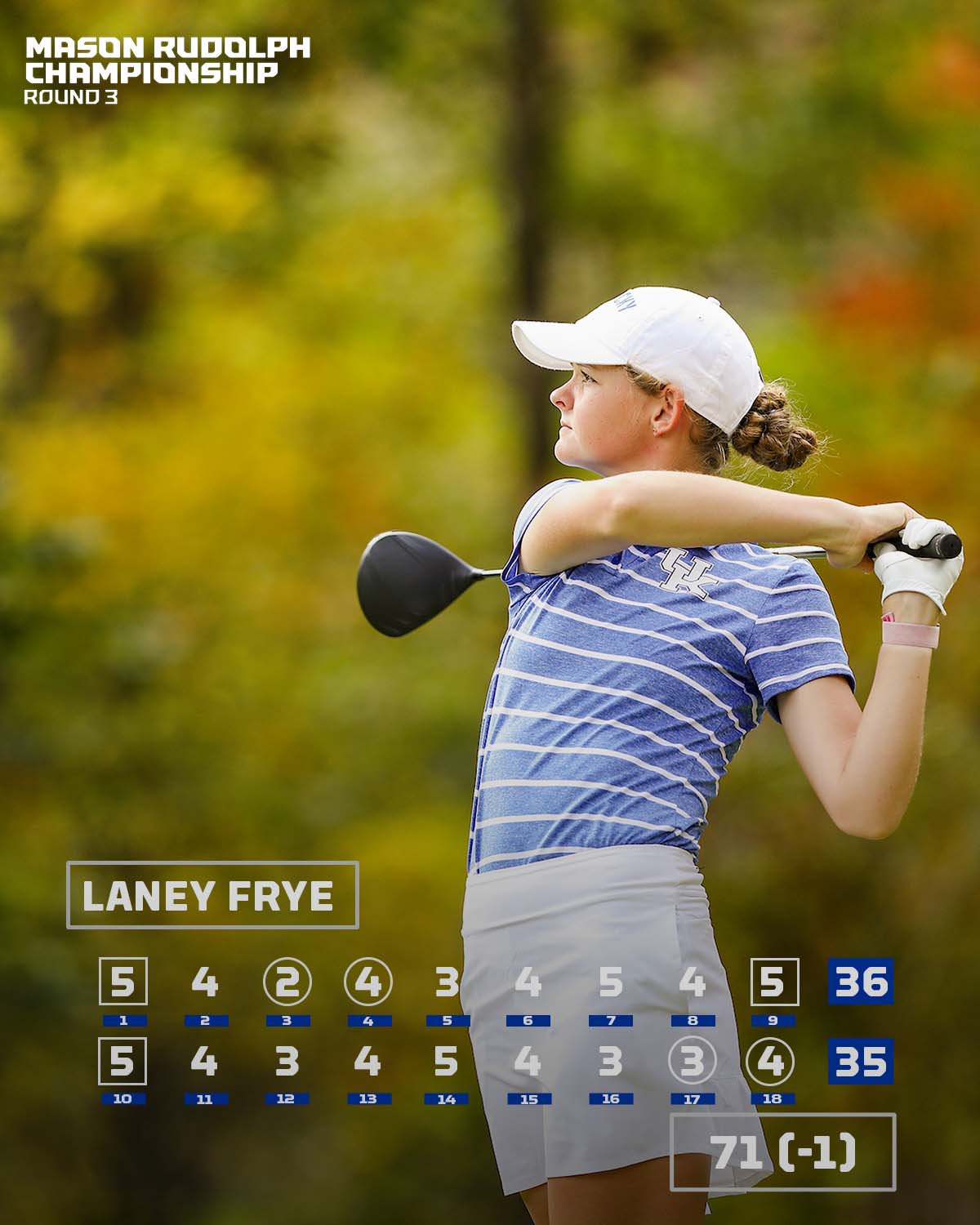 Castle tied her best finish and recorded her low 54-hole score as a Wildcat, Frye carded her low 54-hole total en route to a third career top-10 showing, and junior María Villanueva Aperribay finished just outside red numbers at 1-over par.
 
Facing some mid-round adversity with a slew of bogeys as the team made the final turn for the week, the Wildcats closed strong to secure the fourth-place finish. Every Wildcat recorded at least one birdie over the final three holes, three made two birdies and Villanueva Aperribay rolled in three straight to complete her week.
 
"So proud of their finish," Borst said. "That was unbelievable. I was a little worried there in the middle of the round, but they hung tough. (Holes) 16, 17 and 18 were definitely some birdie holes, and they executed so well."
 
Kentucky's performance this weekend underscores the high expectations for this experienced group. Coming off the first NCAA Championship Finals appearance in 29 years, UK returned all five players who qualified for the national championship stage in the spring. All five Wildcats were in action this weekend in Tennessee.
 
Although Kentucky got off to a slow start earlier this month with a ninth-place finish at the Wolverine Invitational, the Wildcats will enter the second half of their fall schedule with momentum after this showing.
 
"I believe that we're one of the best teams in the country," Borst said.
 
UK has one of the best players in the country leading the way in Castle, a junior. The 2021 U.S. Women's Amateur champion has continued the best stretch of her career with a third-place finish this weekend.
 
All three of Castle's rounds this weekend were par or better (66-70-72), including Sunday's even-par 72. She closed with two straight birdies to beat her 54-hole collegiate low by six strokes. It was her third collegiate top-10 finish and tied her third-place showing at the Minnesota Invitational during the 2019-20 year, the same season she set the school's single-season stroke average record.
 
Only Leonie Bettel, with a 205 at the 2018 Bettie Lou Evans Invitational, has recorded a better 54-hole score representing Kentucky. Castle's 208 tied Isabelle Johansson (February 2017 at the UCF Challenge) and Liz Breed (October 2013 at the Schooner Fall Classic) for the second-best scorecard in school history.
 
"When Jensen has her 'A' game, I think that just helps her teammates gain more confidence," Borst said. "Jensen is due to win a tournament. I think that's going to happen sooner rather than later. This was a great learning experience for her today."
 
Perhaps most encouraging for UK's prospects going forward is it's not just Castle moving up leaderboards. Not far behind Castle's near-record-setting score this weekend was Frye. Just a sophomore, the 2021 Southeastern Conference All-Freshman performance tied for 10th place at 4-under par.
 
Like Castle, all three of Frye's rounds this weekend were under par or better, including her 1-under-par 71 on Sunday. After an uncharacteristic 79 and 77 on a 36-hole opener at the Wolverine Invitational, Frye has answered with four straight rounds of par or better.
 
With the exception of a rough opening round, Villanueva Aperribay was at the same level as Castle and Frye. She rebounded from a 77 on Friday with a 69 in the second round and a 1-under-par 71 in the finale. The Spaniard posted a 33 on Sunday's back nine with three straight birdies to close out her weekend. Villanueva Aperribay tied for 27th at 1-over par.
 
Fifth-year senior Rikke Svejgård Nielsen contributed to the team score in all three rounds with a 76-74-74. The most experienced and decorated player on the Kentucky roster tied for 62nd at 8-over par.
 
Junior Marissa Wenzler finished the weekend with a 77 to post a 54-hole total of 13-over par. She tied for 73rd in her first appearance of the 2021-22 season.
 
Kentucky's next appearance will be in three weeks at the Ruth's Chris Tar Heel Invitational in Chapel Hill, North Carolina. That three-day tournament will begin Oct. 15.
 
For the latest on the Kentucky women's golf team, follow the team on Twitter, Facebook and Instagram, as well as on the web at UKathletics.com.