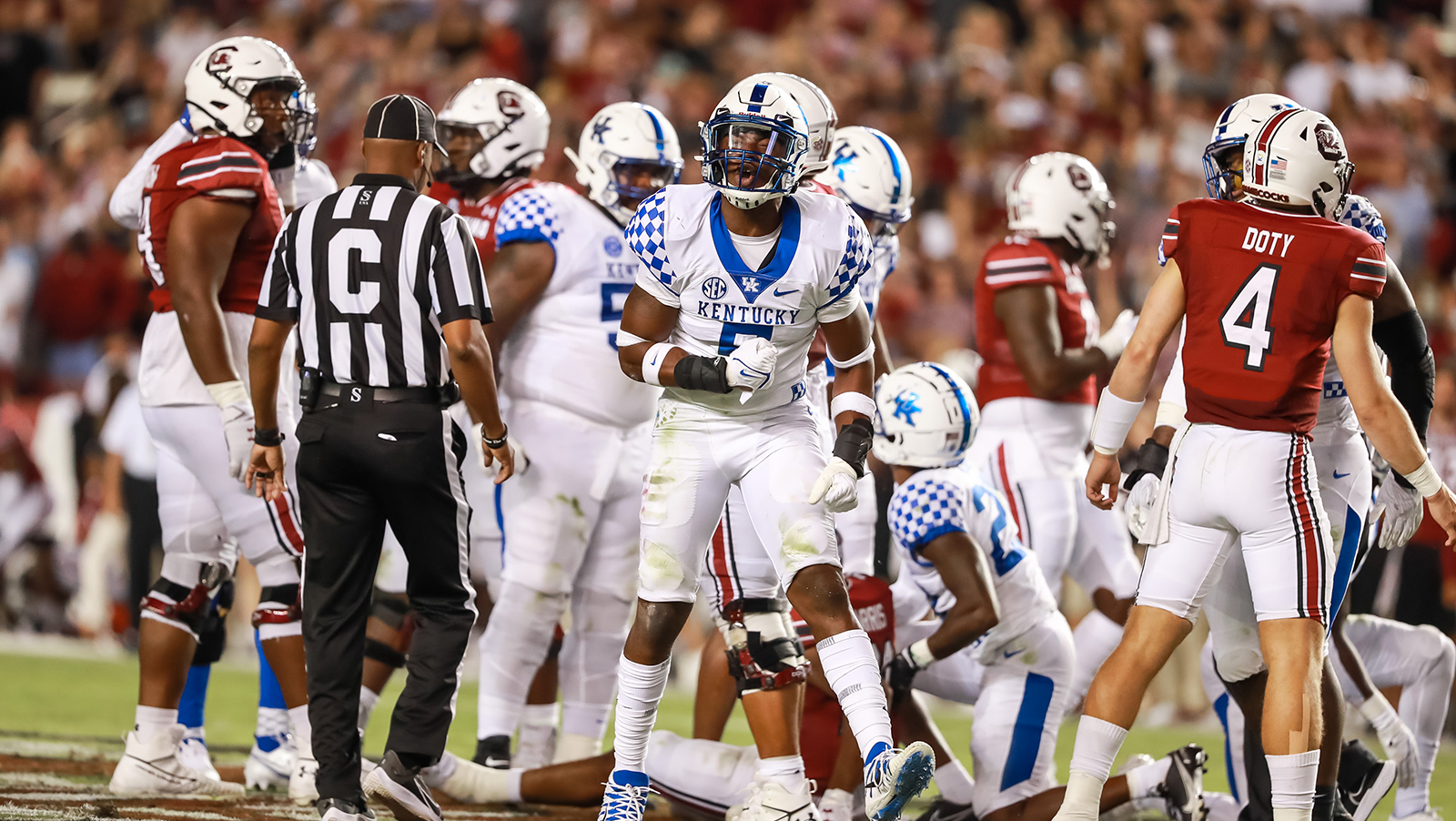 The Kentucky offense had its share of struggles on Saturday night at South Carolina. But their defensive teammates were there to more than pick up the slack.
Kentucky turned the ball over three times in the game, two on fumbles and one on an interception. That was the bad news. The good news was the UK allowed South Carolina zero points off of those turnovers.
UK head coach Mark Stoops, who has now won more SEC games (26) than any coach in school history, knows getting a win on the road in the SEC is always a tough task.
"Very good victory," Stoops said postgame. "Any time you win an SEC game on the road, it's a credit to our coaches and our team."
After shutting out the Gamecocks in the second half, the Kentucky defense may have been even better in the second half. That's because not once but twice, the UK defense was called upon to respond after the offense turned the ball over near midfield.
The first time, the UK defense came on the field with South Carolina starting at the UK 40 yard line. The Gamecocks were able to manage just 15 yards in five plays and, on fourth down, quarterback Luke Doty's pass intended for Jalen Brooks was broken up by Jalen Geirger.
Kentucky would fumble again just three plays later and South Carolina took over on the UK 47. This time, the UK defense forced a three-and-out, giving the ball back to the offense. Stoops was pleased with how his defense responded in those situations.
"It says a lot about the defense. They were excited to make those stops," Stoops said. "They didn't put their head down when they got put in that position. They didn't go out and mope. They buckled down and made stops. It doesn't surprise me. We've got really good leadership there, a lot of guys that have played a lot of football."
Linebacker DeAndre Square, who led the Cats with eight tackles, discussed his team's mindset in such situations.
"We always have the mentality that, if change happens, we say 'good'," Square said. "It's just a mentality that the whole defense has. When stuff like that (turnovers) happens, we get excited. Not because of the turnover, but we get a chance to go out and do what we do."
Stoops knows how important Square is to the UK defense.
"Been steady for years," Stoops said. "He's a leader right in the middle. I can't say enough about those guys gutting it out, having great hearts and making big stops when we have to."
Overall, Stoops was pleased with how his team played on Saturday.
"I love the way our team fought," Stoops said. "Any time you go on the road in this league, you're going to face some adversity. You've got to buck up and play the next play."
And Stoops credited his defensive players and coaches with big efforts on this night.
"Really have to give credit to Coach (Brad) White and defensive coaches and defensive players for stepping up time and time again," Stoops said. "The fourth down stops, after turnovers getting the ball back, only giving up 10 points to that team."
On a night when the Cats needed them, the defense stood tall time and time again, ensuring a fourth straight win to start the season.