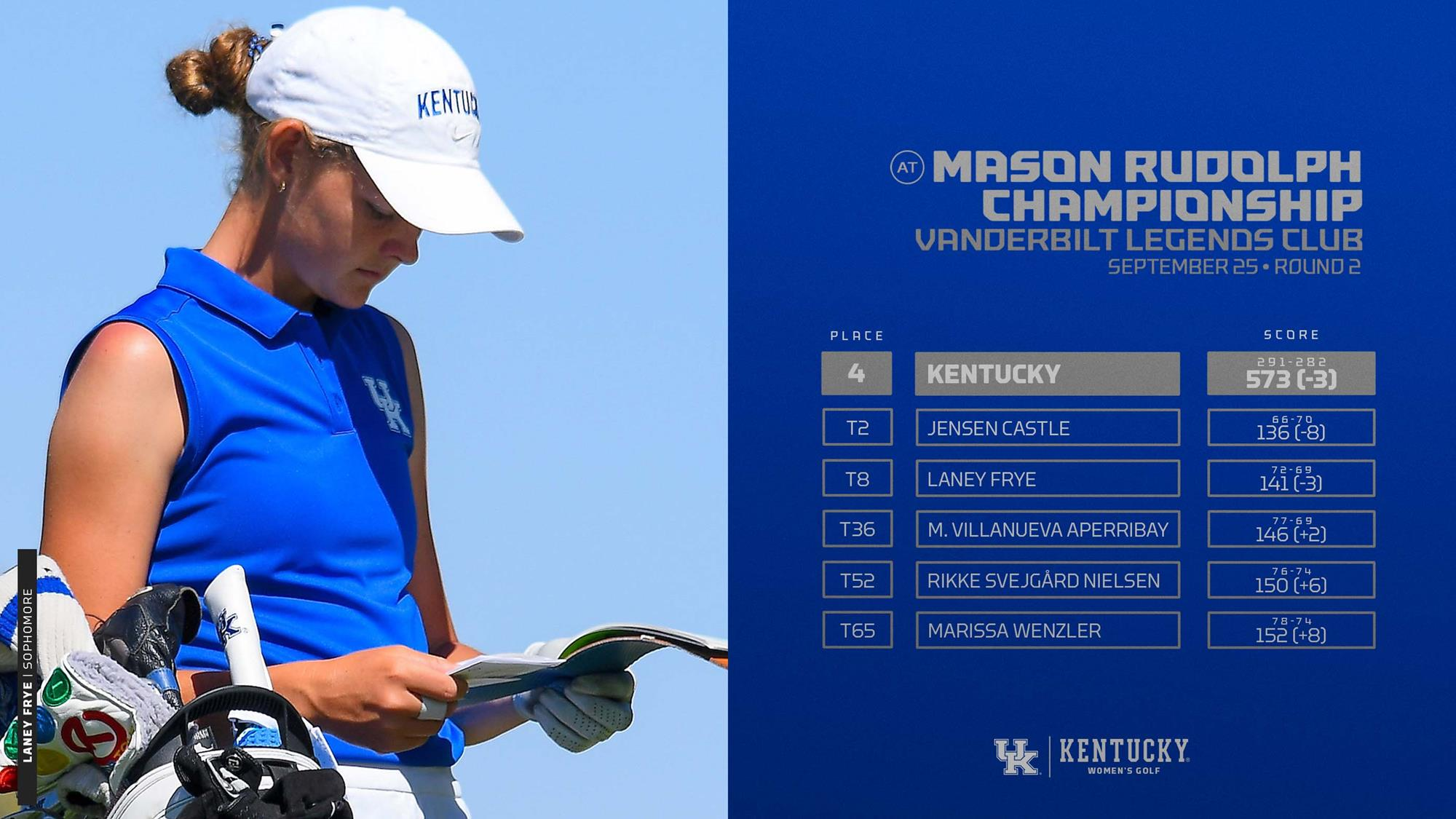 September 25, 2021 - 05:42 PM
Three Cats Card Under-Par Rounds on Day Two of Mason Rudolph
FRANKLIN, Tenn. – Jensen Castle is in the hunt for individual medalist honors, three Wildcats recorded under-par rounds and Kentucky moved into fourth place to headline a great second day for the UK women's golf team at the Mason Rudolph Championship.
 
Carding the best team round since October 2019, Kentucky put itself in the mix for a top-three finish at Sunday's finale at Vanderbilt Legends Club's North Course (par 72, 6,475 yards) in Franklin, Tennessee.
 
Castle enjoyed another solid performance with a 2-under-par 70 and is tied for second place, but even she was outdone Saturday by a pair of teammates, junior María Villanueva Aperribay and sophomore Laney Frye, who carded a pair of 69s – a reflection of a total team effort in the second round.
 
With that trio of Wildcats leading the way, Kentucky is at 3-under par overall after a 6-under 282 on Saturday. UK is just a shot behind No. 10 Florida for third place. Although it would take a spectacular round to catch first-place Oregon, the No. 22 Ducks, at 17-under par, haven't clinched the team title yet.
 
Sunday is shaping up to be an exciting day with Kentucky in the hunt, Castle just two strokes off the lead and Frye seeking her best 54-hole college score.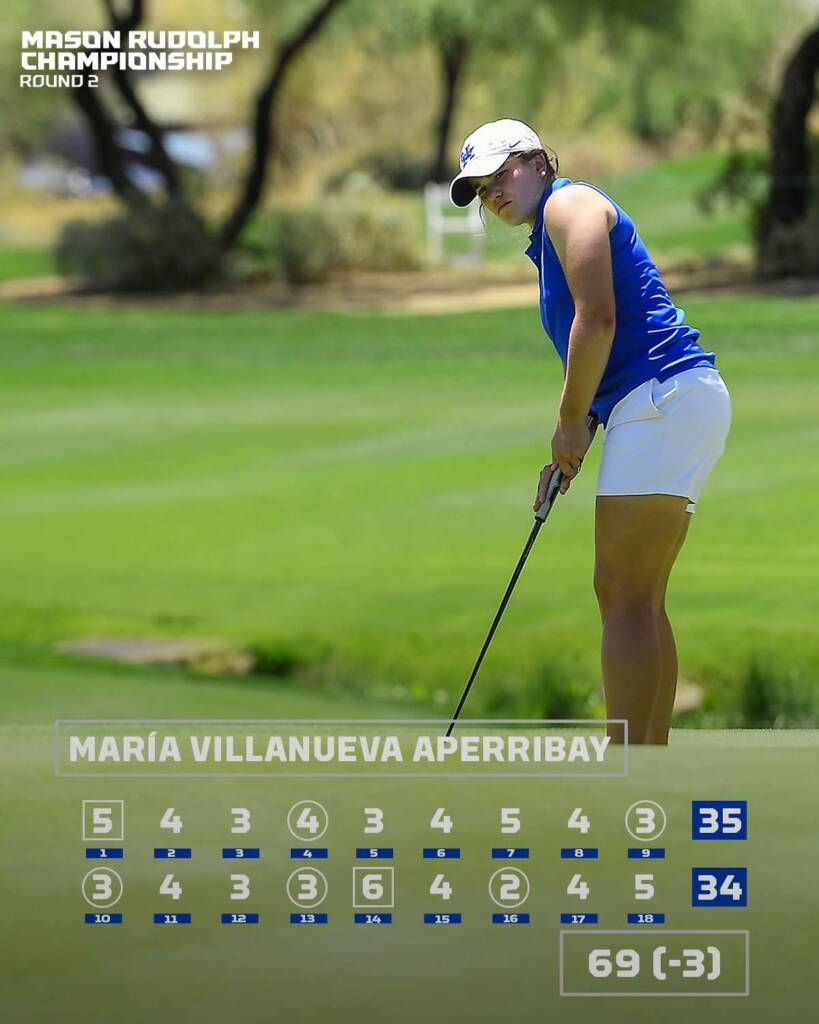 The final round tees off Sunday at 9 a.m. ET. Live scoring will continue to be available at Golfstat.com.
 
"It's always fun to put together an under-par round," UK head coach Golda Borst said. "We got off to a tough start and I was happy to see our team fight their way back with some birdies.
 
"This team is extremely capable and we saw parts of that today. We have a lot of great golf in us and once our putts really start to fall, we'll be very dangerous. But I'm so proud of their resiliency today. We limited our big numbers and we created a lot of opportunities. María and Laney stepped up today as well for us and it just makes me excited to think about what we are capable of as a team."
Castle was impressive for the second day in a row. After recording collegiate bests with a 66 and eight birdies on Friday, the 2021 U.S. Women's Amateur champion followed through with four birdies and a 70 in the second round.
 
The junior from West Columbia, South Carolina, got to 2-under par in Saturday's round with a pair of birdies to start her back nine and then parred the final seven holes. She is two shots back of Oregon's Hsin-Yu Lu, who is at 10-under par.
 
Castle's play this weekend continues the best stretch of her young career. Castle returned from a rib injury over the summer to win the 2021 U.S. Women's Amateur – knocking off some of the nation's top players in the process – and then helped the United States to a victory in the Curtis Cup in Wales.
 
In the season opener at the Wolverine Invitational earlier this month, Castle tied for 29th. Although she has seven top-20 finishes with two top-10 showings in college competition, she has not won a tournament as a Wildcat.
 
Frye has returned to her Southeastern Conference All-Freshman form and isn't far behind Castle. After beginning the season with an uncharacteristic 79 and 77 on a 36-hole opener in Ann Arbor, Michigan, she has done nothing but play well since, including on Saturday.
 
Frye finished the Wolverine Invitational with the first under-par round of the season by a Wildcat and then carded an even-par 72 in Friday's first round. Following her 3-under-par 69 on Saturday, she is tied for eighth at 3-under par.
 
The 69 marked a bit of a breakthrough for Frye. After posting a 70 four different times, the 69 marked a collegiate low. She broke through with an eagle on the par-4 17th hole, her second eagle on a par 4 in the last three rounds.
 
Junior María Villanueva Aperribay played a big part in Kentucky's team score in the second round and tied her 18-hole career low with a 69. Villanueva Aperribay penciled in a team-high five birdies on her scorecard and rebounded from a tournament-opening 77 to move into a tie for 36th place. She posted Kentucky's second-best stroke average in the spring of 2020.
 
Fifth-year senior Rikke Svejgård Nielsen and junior Marissa Wenzler each turned in 2-over-par 74s to round out the scoring for the Wildcats. Both finished strong with birdies late in their rounds. Svejgård Nielsen is tied for 52nd at 6-over par and Wenzler is tied for 65th at 8-over par. Svejgård Nielsen won SEC Scholar-Athlete of the Year honors in the spring and Wenzler won the Women's Western Amateur over the summer.
 
Kentucky is coming off a ninth-place finish earlier this month at the Wolverine Invitational. Expectations are high for the Wildcats after their breakthrough NCAA Championship run in the spring and a great summer individually. All five players who helped UK qualify for the NCAA Championship Finals for the first time in 29 years are back this season and in action this weekend.
 
The Mason Rudolph Championship field is a challenging one. With a considerable SEC presence – seven teams in all – five of the 15 teams in the field are ranked in the latest Women's Golf Coaches Association Coaches Poll.
 
This weekend's appearance will mark the second of four fall tournaments for the Wildcats.
 
For the latest on the Kentucky women's golf team, follow the team on Twitter, Facebook and Instagram, as well as on the web at UKathletics.com.