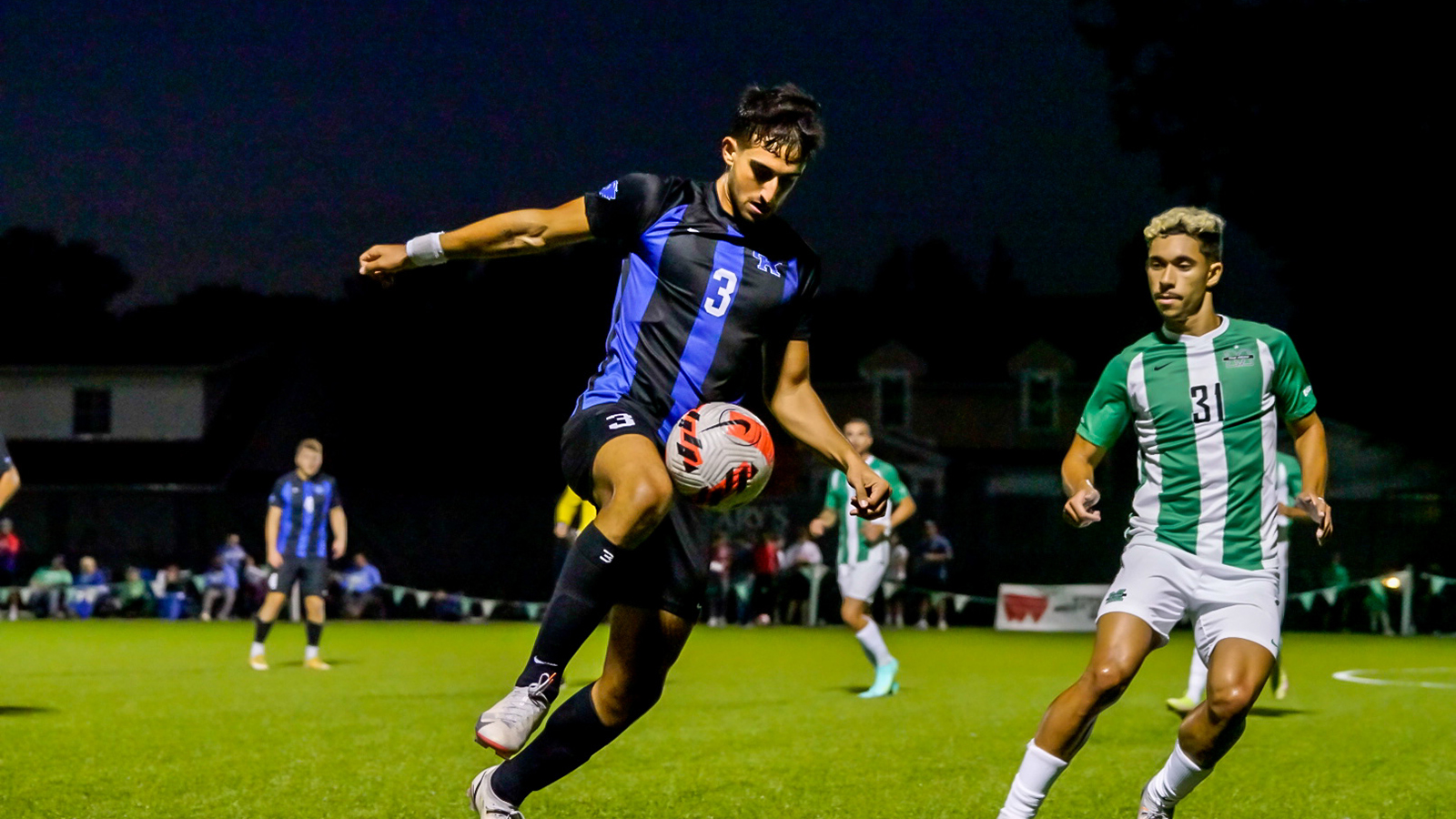 September 25, 2021 - 11:05 PM
No. 10 Kentucky Plays No. 5 Marshall to Scoreless Draw
HUNTINGTON, W.Va. – No. 10 Kentucky's second matchup with a ranked opponent from Conference USA ended much like the first, with the Wildcats playing No. 5 Marshall to a scoreless draw after two overtime periods on Saturday night at Hoops Family Field.
 
After resuming league play for the first time since a 0-0 result at then-No. 25 Coastal Carolina on Aug. 26, Kentucky moves to 5-0-2 (0-0-2 C-USA). Following Marshall's 3-3 tie with the Chanticleers on Sept. 4, the Thundering Herd move to 4-1-3 (0-0-2 C-USA).
 
In Saturday's physical contest that saw 32 fouls and four yellow cards combined between the sides, the Cats' defense held the Herd's offense scoreless for the first time all season. Kentucky outshot Marshall 8-6 with five tries on target, while the reigning national champion did not record its only shot on goal until the closing seconds of the first overtime period.
 
Robert Screen, Lucca Rodrigues, Luis Grassow, Mason Visconti and Bailey Rouse played all 110 minutes in the defensive effort. No player recorded more than one shot for the visiting team, with attempts by Rodrigues, Martin Soereide, Luke Andrews, Daniel Evans and Eythor Bjorgolfsson each landing on frame.
 
The shutout was the fifth of the season for first-year UK goalkeeper Jan Hoffelner.
 
Next, Kentucky will dip back into non-conference action with another road test midweek. The Wildcats will play at Dayton (3-4-2) on Wednesday at 7 p.m. ET.
 
Admission to all 2021 UK soccer matches at Wendell & Vickie Bell Soccer Complex is free to the public. For the latest on the Kentucky men's soccer team, follow @UKMensSoccer on Twitter, Facebook and Instagram, as well as on the web at UKAthletics.com.