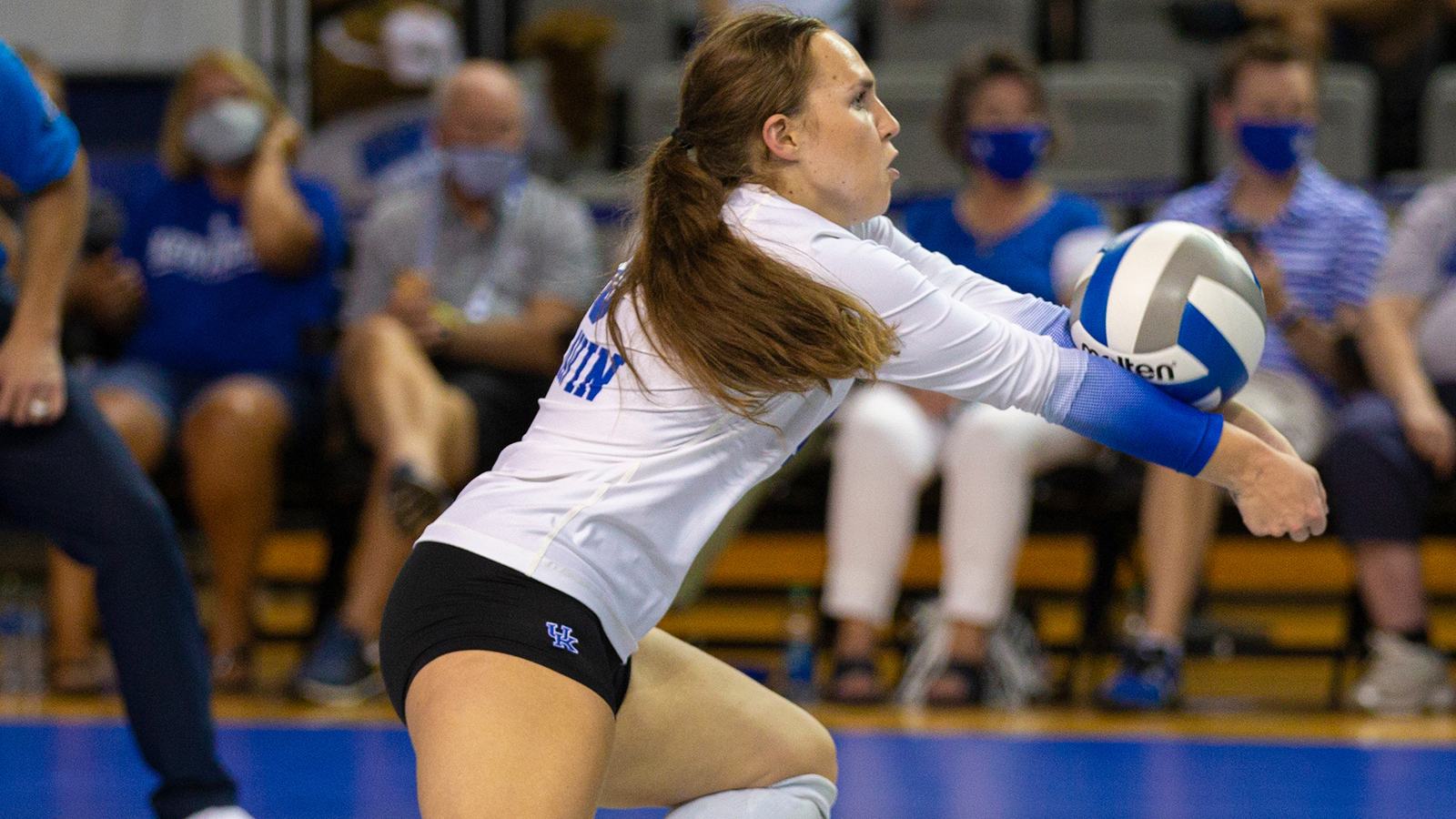 September 24, 2021 - 09:36 PM
Eleanor Beavin Continuing to Improve at Libero
Eleanor Beavin made her Kentucky debut at libero in the third set at Wisconsin. Since then, the freshman has latched onto the spot and has not let it go.
Beavin made her fourth consecutive start at libero on Friday as the Cats swept Missouri 27-25, 25-23, 25-23 inside Memorial Coliseum. And for the fifth straight match, Beavin notched double digits in digs.
UK head coach Craig Skinner likes the calm that Beavin brings to the position.
"She's composed. She doesn't let things bother her," Skinner said. "She doesn't look any different whether we're winning a point or losing a point. She weathers some storms and knows she's got to get ready for the next point and doesn't let anything bother her. I think you want that type of composure in a libero so the people around her are comfortable to play the next point. She does a really good job in that."
That calm has carried over to Beavin's teammates as well. Since Beavin made the move to libero, the Cats are 3-1, including a five-set win over nationally-ranked Stanford on Sunday. The only loss was a five-setter at No. 5 Louisville last week.
Beavin is thankful that she had some time to adjust to the college game upon her arrival on campus.
"I'm not going to lie, the beginning of preseason was a challenge," Beavin said. "Coming from high school to college, especially passing, which is one of the hardest things to do. The serves are a lot tougher."
She also got some game experience under her belt at defensive specialist before moving to libero, something that is paying off for Beavin as well.
"Starting as a DS I think was a good thing for me because I kind of got my toes wet and could experience what it was like," Beavin said. "But then when I got pushed to libero, it's a whole new responsibility but I felt prepared for it. I think being a DS then a libero really helped me in that aspect."
Beavin had 16 digs on Friday night, one shy of her career high, and the Cats needed every one of them as Missouri put up a tough fight.
"Tough match," Skinner said afterwards. "Even though we won three to zero, it was a tough battle."
While the Cats did not play up to their high standards, Skinner was pleased not only with the win but with the potential for the future.
"If you can win and not play your best, it does say a lot about what your potential is and what your possibilities are," Skinner said. "So, winning playing not playing exactly the way you want to is rewarding in one aspect. We've just got to do a better job preparing and starting out better."
That potential and those possibilities are even greater now with Beavin taking control of the critical libero position.