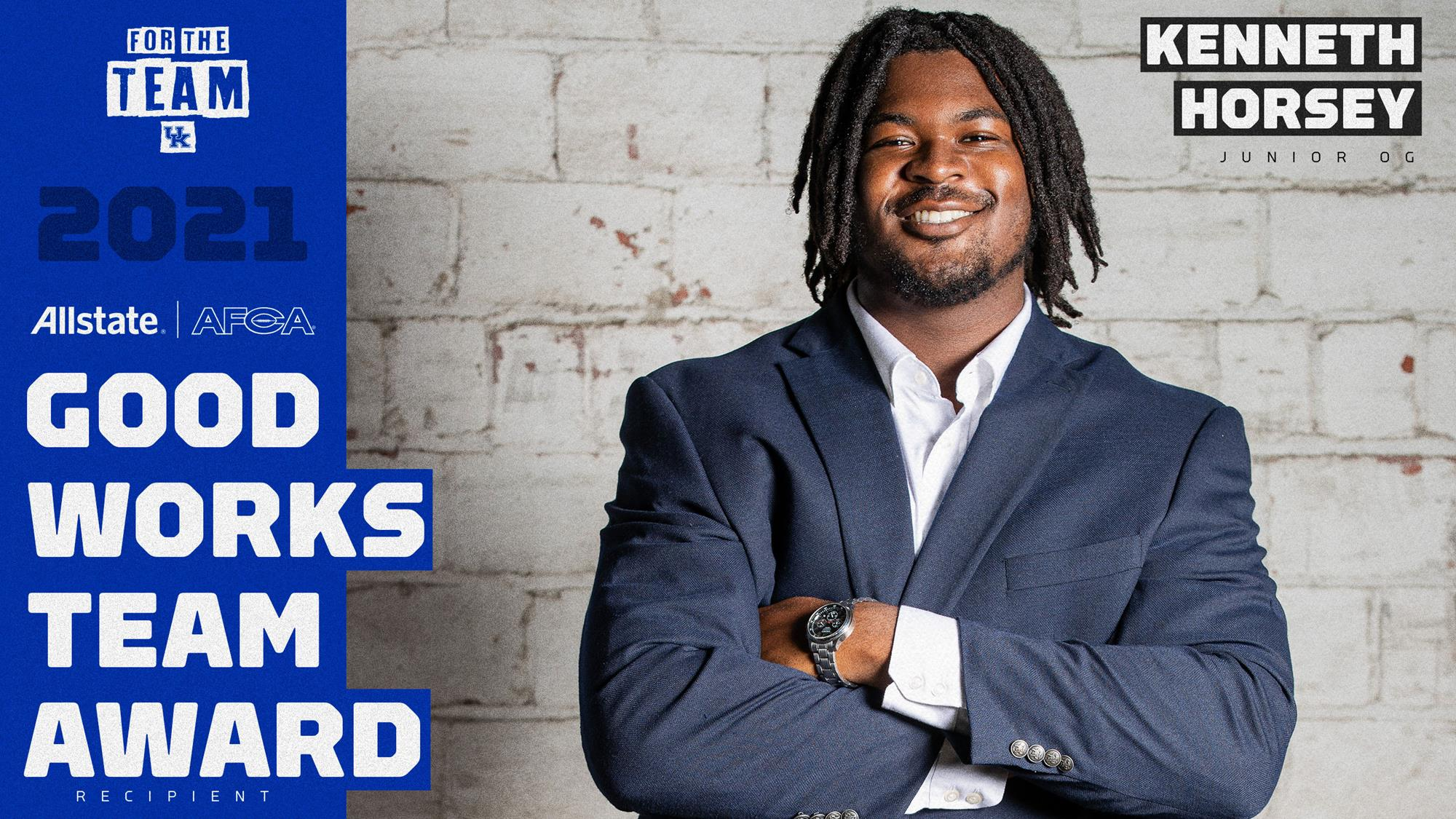 Junior offensive guard Kenneth Horsey is one of 22 student-athletes, including one of just 11 football players from the Football Bowl Subdivision, to be named to the 2021 Allstate American Football Coaches Association (AFCA) Good Works Team® , it was announced today. The team honors football players for their dedication to community service and the positive impact they have made on the lives of others.
 
Along with the honor, Allstate is pledging $1 million to be split among the Allstate AFCA Good Works Team, as well as their nonprofits of choice, for their remarkable commitment to community service. Made possible by new NCAA Name Image Likeness (NIL) rules, Allstate has an opportunity to financially empower athletes who serve their communities, opening the door to new possibilities for players and beyond.
 
This is the largest NIL investment yet for community impact by a college football sponsor—and insurer. Unlike other recent NIL announcements, Allstate is financially empowering players in recognition for their work in local communities, not just their performance on the field. Community leadership aligns with Allstate's values and is part of its longstanding commitment to creating positive societal change.
 
"We dedicate resources to financially empower people," said Terrance Williams, Good Works Team selection committee member and Executive Vice President and General Manager, Allstate Agency Distribution. "This historic decision allowing college athletes to be compensated for the use of their Name, Image and Likeness means Allstate can foster equity for these athletes who are community leaders."
Horsey, who hails from Sanford, Florida, has a remarkable comeback story that has inspired his community service work for heart health.
In the spring of 2018, before he was to arrive at Kentucky for his freshman season, he was complaining of a pain in his side. His parents rushed him to the emergency room where doctors ultimately found a growth on one of his heart valves. He went through open-heart surgery on April 8, 2018 and was even told by a few doctors that his football career was over. However, Horsey would not be deterred. He came to Kentucky and redshirted the 2018 season with a goal of earning a starting spot on Kentucky's offensive line, affectionately known as the "Big Blue Wall." In 2019, he saw action in four games and continued to train and prepare his body for the rigors of the Southeastern Conference. Since his surgery in 2018, he has lost 50 pounds and because of his hard work and dedication, has earned the starting left guard spot on the "Big Blue Wall." He started in eight games played in 2020, helping the Wildcats rank fifth in the Southeastern Conference in rushing offense (187.4) and is the current starter at left guard on the undefeated 2021 squad.
Because of his heart condition and how supported he felt through his surgery and recovery, he began volunteering with the Lexington chapter of the American Heart Association in 2020. Earlier this month, Horsey was even awarded the Finn Collier Service Award by the AHA in recognition of his work to support its lifesaving mission – to be a relentless force for a world of longer, healthier lives.
 
Here are a few of his community service events:
Spoke at 2020 Central Kentucky Heart Walk kick-off event
Spoke at 2020 UK Healthcare Heart Walk kick-off event
Dedicated his 2020 football season to Finn Collier, a seven-year-old who lost his life to heart disease
Participated in American Heart Month and National Wear Red Day (2020 and 2021)
Participated in the 2021 Central Kentucky Heart Walk Digital Experience (2021)  
Coordinated and planned a hands-only CPR training for the UK Football team and staff in the spring of 2021 (video to come)
Helped plan a Hands-Only CPR media availability on June 14 that promoted Hands-Only CPR awareness to the media for CPR Awareness Month
 
"Kenneth has been an incredible advocate for the mission of the American Heart Association," said Julie Lay, the regional communications director of the American Heart Association. "As a survivor himself, he has first-hand knowledge of the trials and tribulations heart disease can cause. He uses this knowledge to educate the community on what they can do to reduce their risk through his many platforms. Kenneth is an incredible asset to both our organization and our community, and the work he does truly helps us saves lives."
 
The Good Works Team was established in 1992 by the College Football Association, recognizing the extra efforts made by college football players and student support staff off the field. AFCA became the governing body of the award in 1997 and continues to honor college football players who go the extra mile for those in need. Allstate worked to present the award starting with the 2008 season.
 
The SEC leads all conferences with 80 selections to the Allstate AFCA Good Works Team since it began in 1992. The SEC is followed by the Atlantic Coast Conference with 49 selections and the Big 12 Conference with 38 selections. Georgia is in first place with 21 honorees to the Allstate AFCA Good Works Team. Kentucky follows with 17 honorees. Horsey is the fifth player under head coach Mark Stoops to be named to the prestigious team, including the third straight – Landon Young, 2019; Luke Fortner, 2020. He's also the third straight offensive lineman named to the team.
 
Kentucky's AFCA "Good Works Team" members:
1992    Doug Pelfrey                Kicker
1994    Leon Smith                    Wide Receiver
1996    Kurt Supe                    Defensive End
1998    Jimmy Carter                Kicker
1999  Seth Hanson                 Kicker
2000  Matt Layow                  Defensive End
2002  Antonio Hall                 Offensive Tackle
2004  Antoine Huffman          Cornerback
2006  Jacob Tamme               Tight End
2008  Tim Masthay                 Punter
2011  Jake Lewellen                Defensive End
2014  Max Godby                    Offensive Guard
2015  Landon Foster                Punter
2017  Courtney Love               Linebacker
2019  Landon Young               Offensive Tackle (Captain)
2020  Luke Fortner                 Offensive Guard
2021  Kenneth Horsey           Offensive Guard
 
Vote Horsey for the Captain
Vote for Horsey to be this year's Team Captain at ESPN.com/Allstate
 
Fans can vote for the 2021 Allstate AFCA Good Works Team captain once a day now through Monday, Nov. 22, 2021.
 
Throughout the season, fans can join the conversation using #GoodWorksTeam on their social media channels to learn more about these players and their stories.