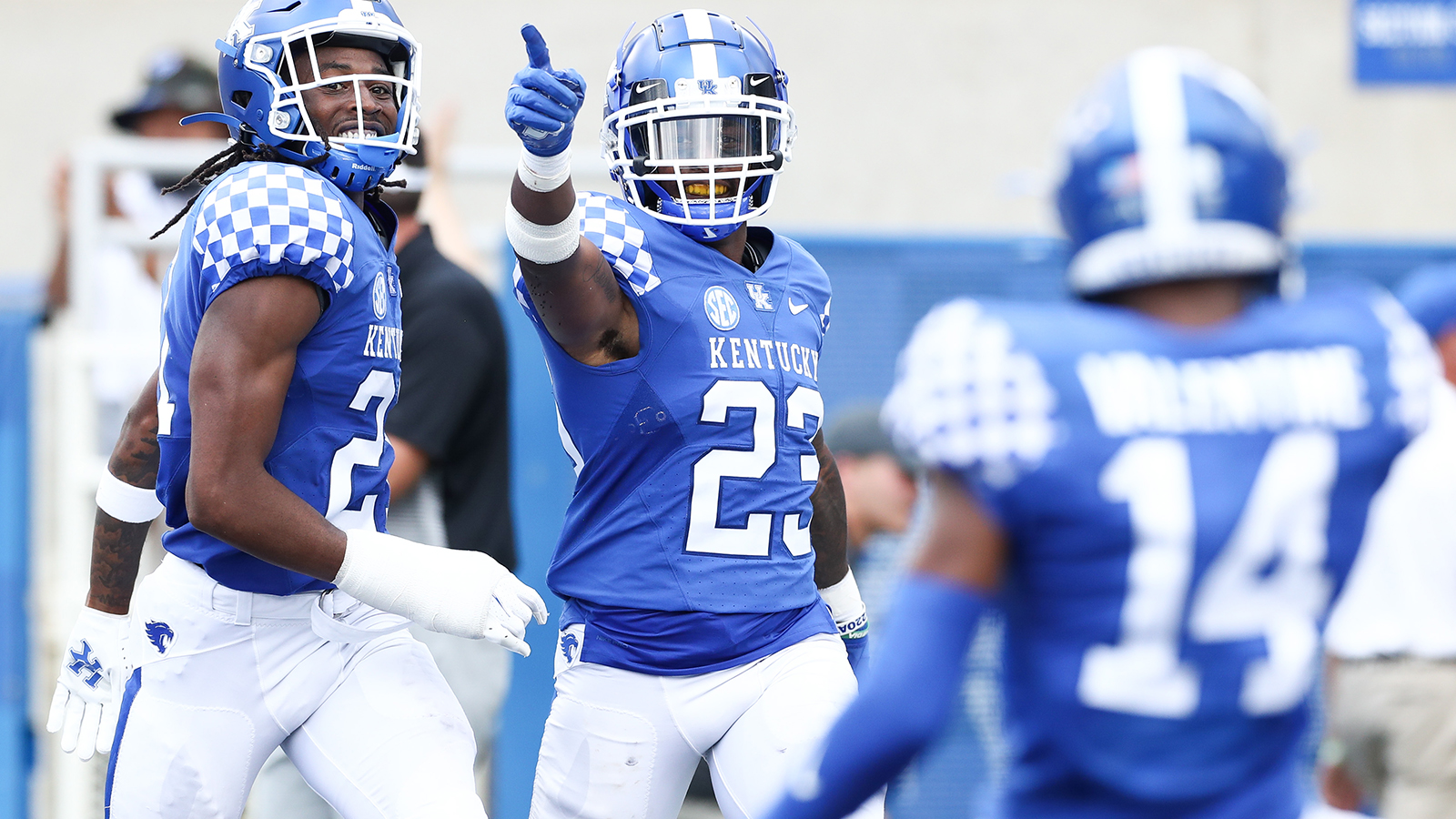 The Kentucky defense has played well overall this season. The Cats are sixth in the SEC and 20th in the country in total offense, giving up just 274.7 yards per game through three contests.
Kentucky has not allowed an opponent to score more than 28 points so far through three contests. The Cats are eighth in the SEC in total tackles.
All of those things are great but defensive coordinator Brad White is looking for something more from his unit. Specifically, he wants his team to create more turnovers.
"It's one of those things that we emphasize all the time, every week from spring ball to fall camp," White said. "And it's not as if the guys are saying they don't want to catch the interception or I don't want to strip the ball out."
So far this season, the Cats have only produced two – a Jacquez Jones interception against Missouri and the Tyrell Ajian interception against Chattanooga that Ajian took back 95 yards for a score.
While trying to create miscues by the opponent, the defense also must guard against trying to create turnovers instead of making the simple play.
"It's that fine line. There were some missed tackles that happened (against Chattanooga)," White said. "How much do you attack the football? Same thing on interceptions. You can dive and try to make the play but if you miss, then it's caught and it's a big play."
White knows that turnovers are not only important for the defense. They can also be very beneficial to the offense.
"Yes, there's a huge emphasis. We want to try to give the offense short fields but you have to do it within the scheme work," White said. "When the play's there to be made, we need to make it. Ty (Ajian) made it in that last game. We did not make it in the Missouri game down on the goal line. Those are huge opportunities that we have to take advantage of."
White made the point that creating turnovers it's not as simple as it might seem.
"I wish we could call a play that was a turnover play," White said. "But sometimes, they've just got to happen."
Senior defensive back Yusuf Corker is not quite sure why the team is not creating more turnovers. He says the defensive philosophy is very simple.
"At the end of the day, defense is see ball, get ball. So if I see the ball in the air, and it's in my area, you go get it," Corker said. "We've got to make more turnovers. I think we only have two so far and we could have had about six. We've just got to do a better job of creating turnovers."
Corker said that turnovers are definitely an emphasis for the Cats.
"It's always in the forefront of everybody's mind," Corker said. "In practice every day, we have this turnover circuit that we do before practice, so it's always on the coaches' minds and the players' minds."
With that point of emphasis in mind, the Cats will try to create more turnovers this week at South Carolina.