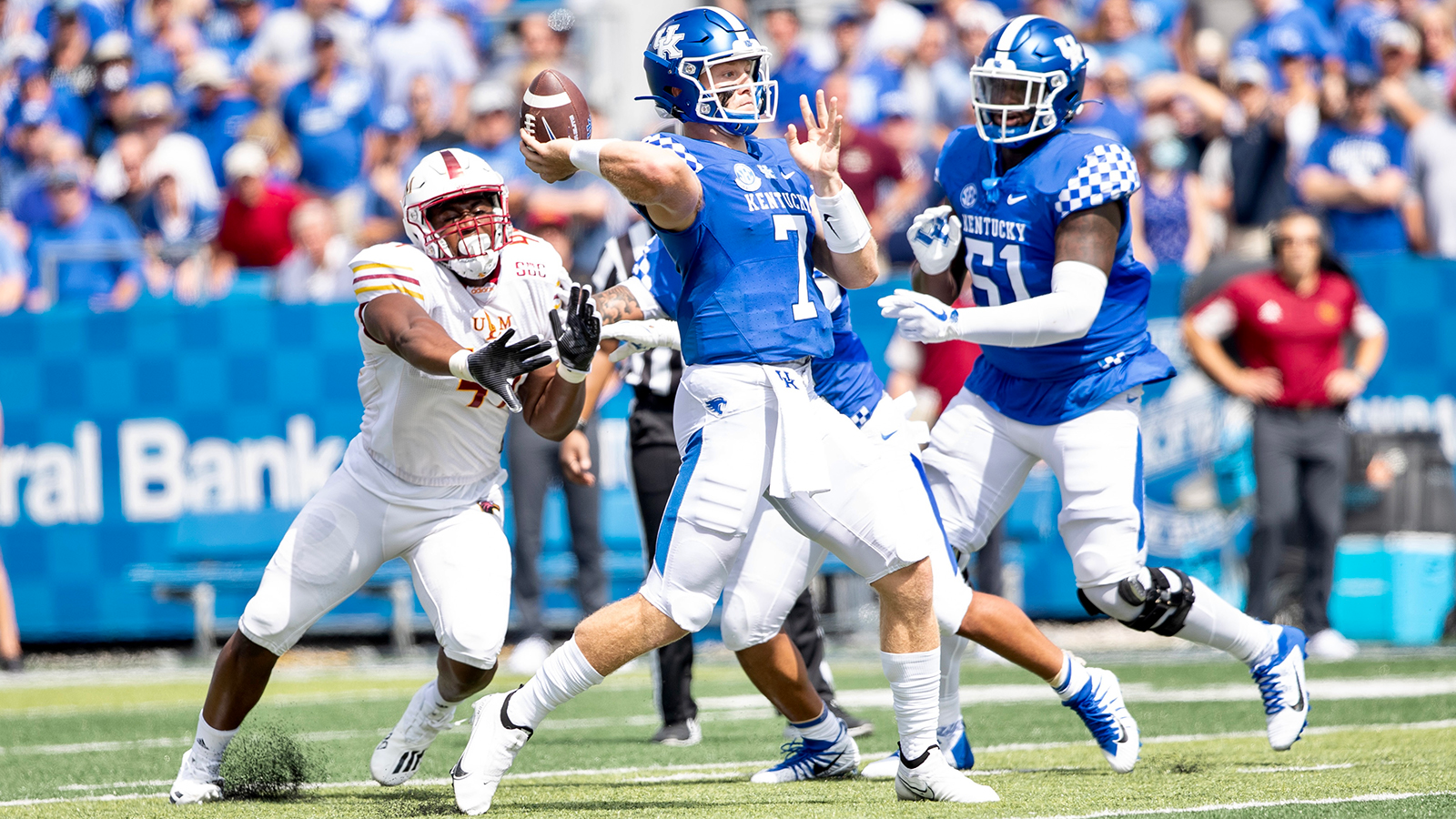 The Kentucky offense faced some challenges in last week's win over Chattanooga. The Cats struggled to run the ball and had a couple of turnovers but was still able to get the win.
This week, the Kentucky offense will face a different set of challenges when the Cats hit the road for the first time this season, facing South Carolina. In addition to being away from home, UK will face a large, loud crowd in Columbia.
Offensive coordinator Liam Coen hopes that his team will enjoy and embrace the tough environment at Williams-Brice Stadium on Saturday evening.
"I think it's one of those things that, if you love the game and you love to play, you get up for these kinds of games," Coen said. "To get on the road in a hostile environment against a great opponent, how could you not? I have no concerns about us being up for this game. I think the guys will rise to the occasion and go out and play a good, sound football game."
Coen knows that the Cats have a chance to do something special, in a special setting, this weekend.
"We have an opportunity here in front of us to put it all together against a really good opponent," Coen said. "We're going to need to put it all together for us to go out there and get a win against these guys."
Kentucky quarterback Will Levis got his first taste of what to expect during practice on Tuesday. The Cats had music and crowd noise blaring to try and simulate what they will experience on Saturday night. For Levis, he will embrace the challenge.
"We're expecting that (noise) and more when we get there," Levis said. "Obviously, we've heard all of the tales about it being a cool atmosphere and that their fans are really passionate. We're trying to use that as fuel and motivation going into the game."
Levis uses the noise to his advantage.
"I just enjoy the process, but there is that motivation to go out there and prove people wrong," Levis said. "I think the biggest thing, it's our first away game, so bringing the energy, bringing the focus. Obviously, coming off of how we performed this past week, it's just a reason for guys to prepare even more off the field."
To deal with the noise, the Cats have made a few adjustments, according to Levis.
"We're actually going to go to a clap (for the snap) this week," Levis said. "We have a few other options if we need to go to something else. It's something I did at Penn State so it's something I'm used to. Guys seem to like it."
And as for how the team will talk to each other amid all of the noise, Levis has a plan.
"It's overcommunicating, being loud with their calls, me in the huddle giving a loud and clear call," Levis said. "It's definitely really important."
As for the South Carolina defense that the Cats will face on Saturday, Coen has been impressed with what he has seen on film.
"They're tough, they do some really good things," Coen said. "They've got some guys that can up front, they've got some DB's that can cover in man coverage. They have some guys who can rush the passer up front, their linebackers are solid players."