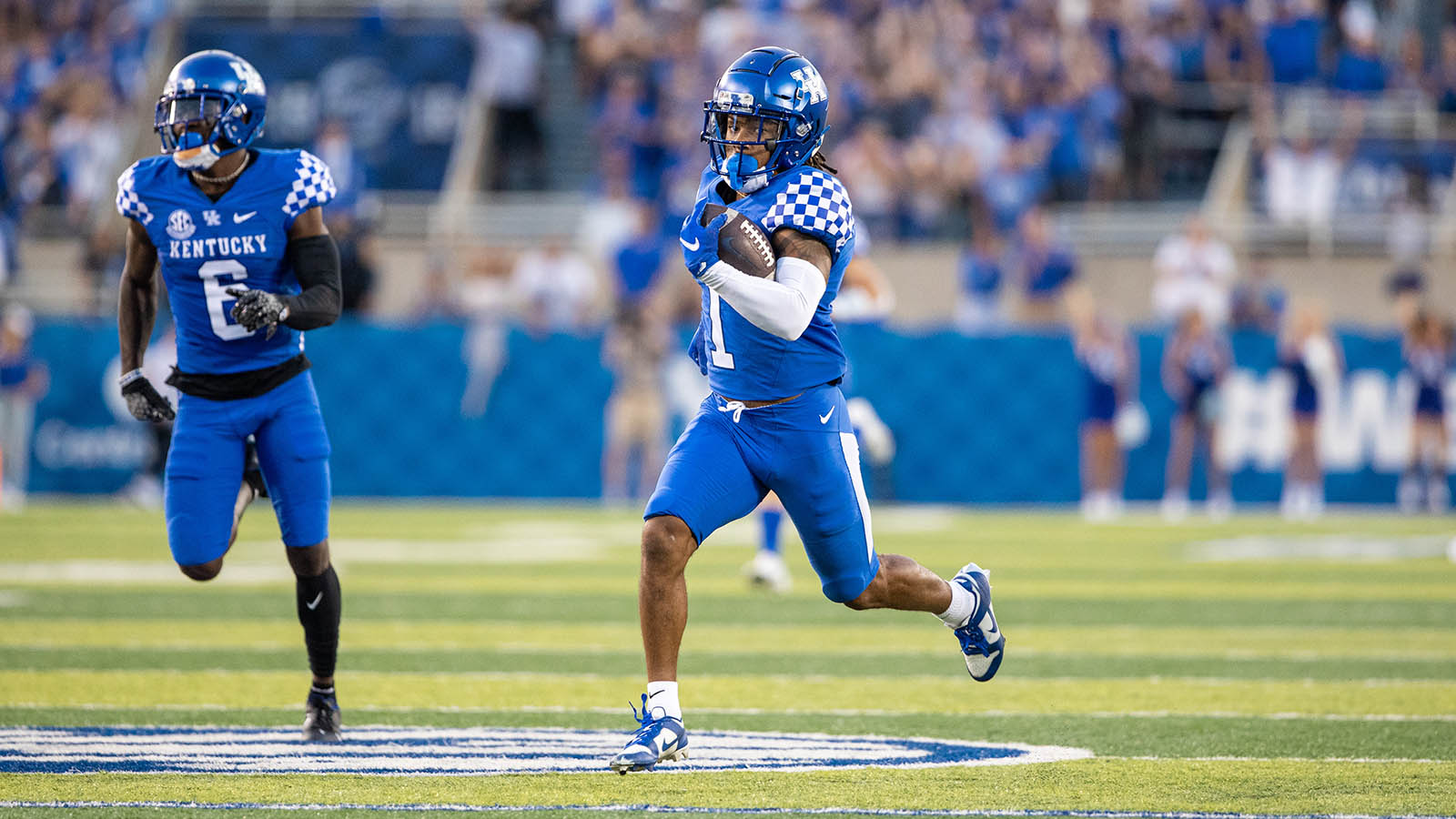 South Carolina's Williams-Brice Stadium is known as one of the loudest venues in the SEC. And that's where Kentucky will play on Saturday night as the Cats hit the road for the first time this season.
From the moment the Gamecocks step onto the field with "2001: A Space Odyssey" blaring in the background, to the playing (over and over again) of "Sandstorm", Williams-Brice is always an outstanding atmosphere. UK head coach Mark Stoops is very aware of this fact but welcomes the challenge.
"Looking forward to playing South Carolina. It's always a fun game. Very challenging," Stoops said. "Definitely a great environment down there on the road. They're doing a very good job, Coach (Shane) Beamer, with the change. You can see the energy and the excitement down there."
Beamer, the son of College Football Hall of Famer Frank Beamer, is in his first season in Columbia after successful assistant coaching stints at Oklahoma, Georgia and Virginia Tech. He was also an assistant coach at South Carolina from 2007-10.
The Gamecocks are 2-1 and 0-1 in the SEC after Saturday's 40-13 loss at Georgia. South Carolina opened the campaign with a 46-0 win over Eastern Illinois and a 20-17 win at East Carolina. Stoops likes what Beamer has done so far this season.
"They're playing good football," Stoops said. "We're looking forward to the challenge of going down there and playing them, trying to get another SEC East victory. Big game for us."
As for his team, Stoops said that the film of Saturday's 28-23 win over Chattanooga might not have been as bad as he expected.
"After reviewing the film, there were quite a few good things in there, believe it or not," Stoops said. "And many things that we need to clean up."
The UK head coach wants his team to learn that, when they are favored to win, they cannot simply go through the motions.
"We need to do a better job when we're put in that position," Stoops said. "There's going to come times, when you play 12 games, where there's going to be some ups and downs."
Kentucky thumped South Carolina 41-18 last year, but it was a Gamecocks' squad that was playing without several starters, that was dealing with COVID protocols and that had seen its head coach fired in the middle of the season.
The last time Kentucky went to Columbia, the Cats started Sawyer Smith at quarterback. The Cats lost 24-7 after amassing just 212 yards of total offense. But it was in that game that Lynn Bowden Jr. was moved to quarterback, a move that would prove to be productive for the rest of the season.
Stoops remembers Kentucky's 2017 visit to Columbia much better than his team's last trip. In that 2017 game, South Carolina struck early before Kentucky took control.
"First play of the game, bam, place erupts, goes nuts. We throw an interception first possession, bam, it goes nuts," Stoops said. "(But we) settle in, we take full control the rest of the first half."
And as for that electric environment at Williams-Brice Stadium, Stoops plans to discuss it with his squad.
"Making these guys aware of it," Stoops said. "We do have two classes, a significant amount of guys, that have not been in this environment. We're going to address it. I'm not going to overdo it but they have to understand."
The Cats have won six of the last seven games against South Carolina and will be looking to continue that solid stretch on Saturday. Handling the environment, as well as the first road trip, will be key to making that happen.