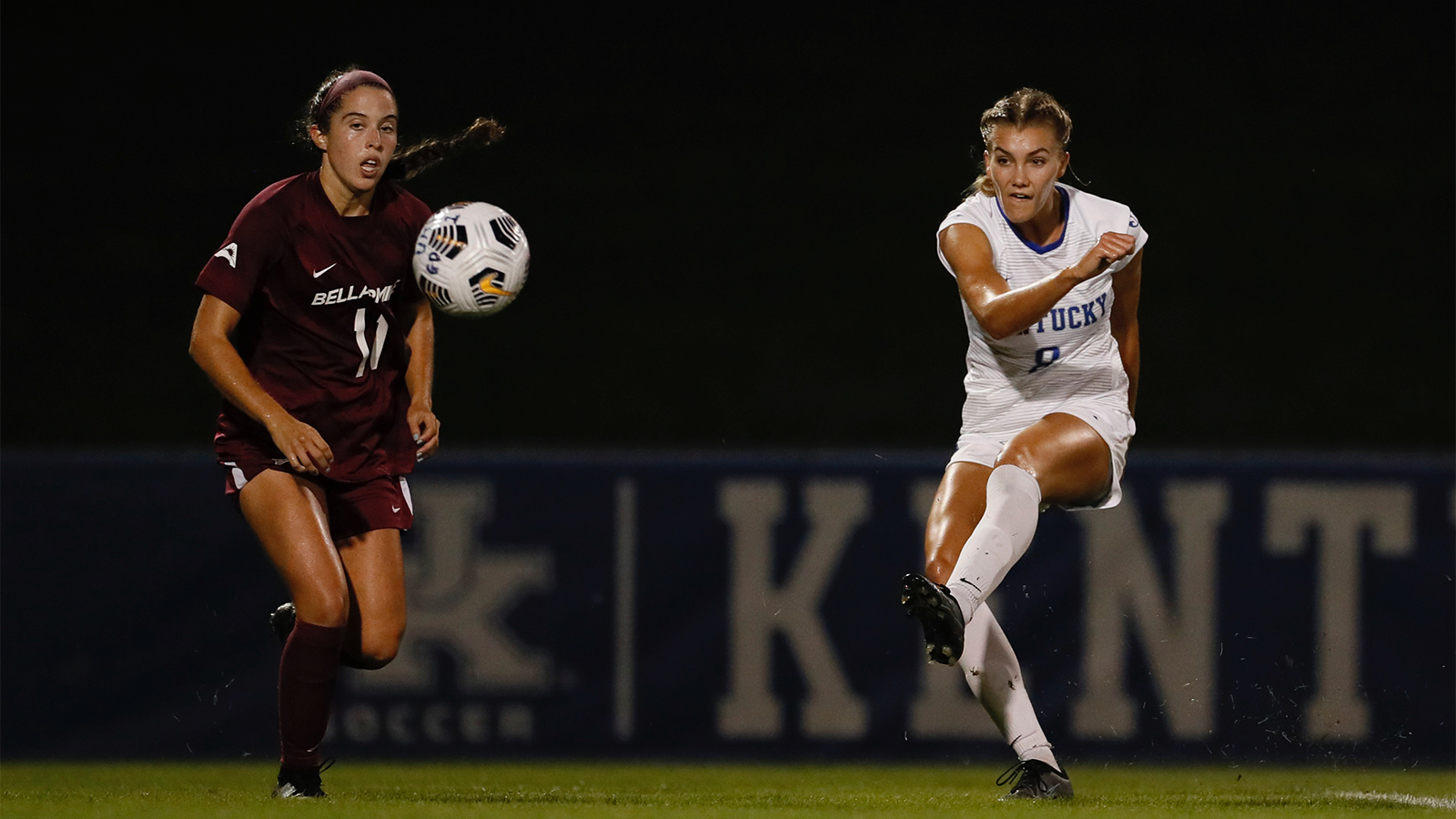 September 19, 2021 - 11:30 PM
Kentucky Shuts Out Bellarmine, 4-0, In Non-Conference Finale
LEXINGTON, Ky. – Recording its fourth shutout of the season, the University of Kentucky women's soccer team defeated Bellarmine, 4-0, on Sunday at the Wendell and Vickie Bell Soccer Complex to close out the non-conference slate.
With the win, the Wildcats improve to 6-2-2 on the year while Bellarmine drops to 2-1-5. 
After a few good looks throughout the first half, Hannah Richardson finally broke through to put the Wildcats on the board in the 30th minute after firing off a shot into the upper left corner. Richardson then doubled UK's lead four minutes later, sending one into the back of the net after an assist from Sara Makoben-Blessing. 
Richardson's two-goal effort was her third multi-goal performance of the season, as she also tallied a pair against both Louisiana and Oakland.
Kentucky then netted its third goal in a seven-minute span in the 37th minute. Another assist from Makoben-Blessing connected with Miranda Jimenez, who snuck between two Bellarmine defenders to send a shot into the bottom right corner from 25 yards out.
Heading into the break with a three-goal lead, the Wildcats' back line prevented the Knights from taking any shots in the opening frame.    
The Wildcats wasted no time extending their lead to four, scoring yet again 35 seconds into the second half. After receiving a throw in, Maria Olsen's strike from nearly 30 yards out slipped underneath Bellarmine's keeper for her first goal of the season. 
Kentucky's collective defense limited Bellarmine to just three shots during the entire match while the Wildcats had 19 attempts, including nine on goal. Jimenez and Richardson had three shots apiece, and UK also held a 4-0 advantage over the Knights in corner kicks.
The Wildcats resume Southeastern Conference play on Thursday, Sept. 23 when they travel to Gainesville to take on Florida at 6:30 p.m. ET at the Donald R. Dizney Stadium.
For the latest on the Kentucky women's soccer program, follow @UKWomensSoccer on Twitter and on Instagram, on Facebook, and on the web at UKathletics.com.