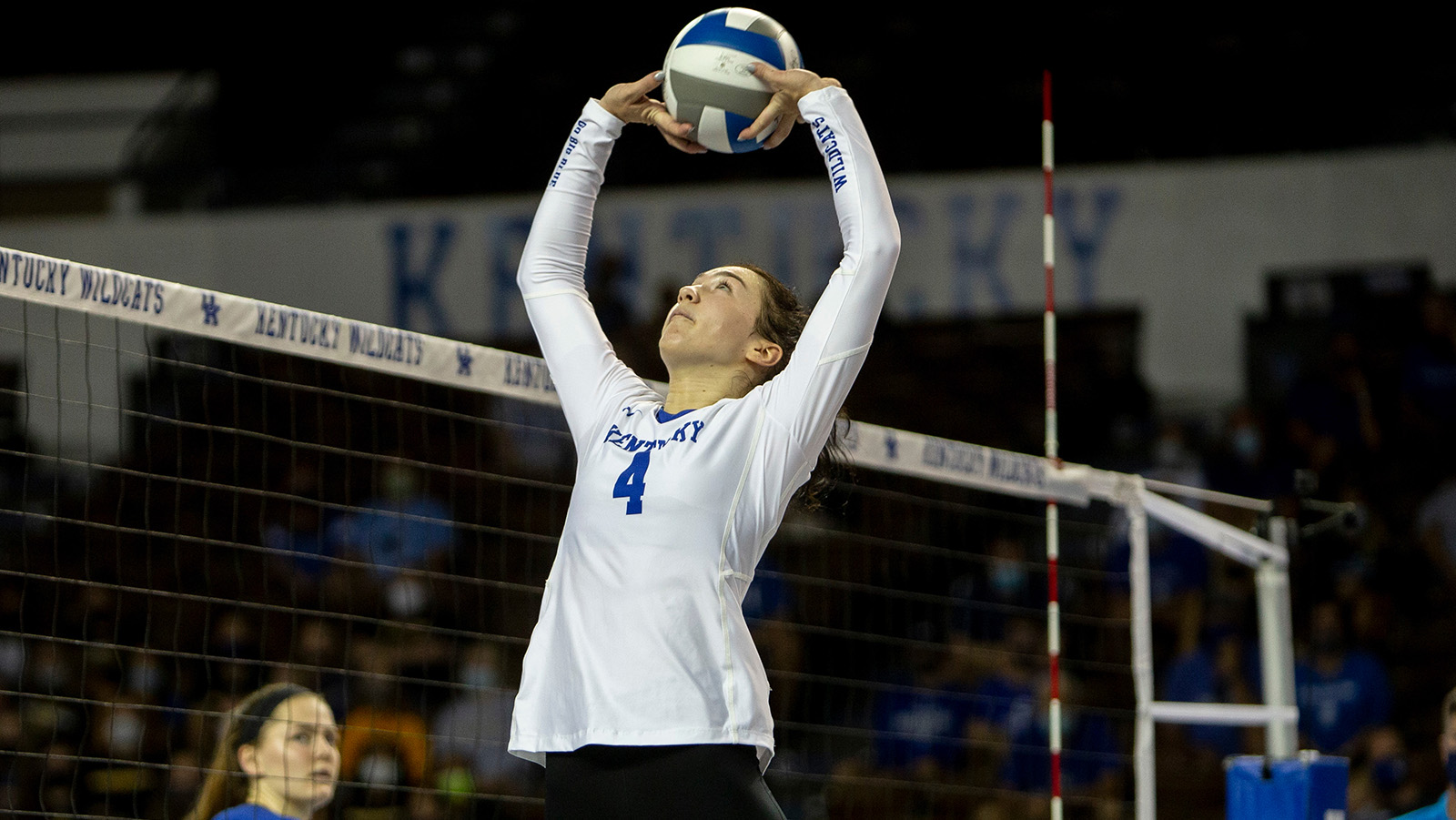 September 19, 2021 - 05:36 PM
Tough Early Schedule Paying Dividends for Young Cats
It was just about five months ago that the Kentucky volleyball program won the NCAA title for the first time. Therefore, 2021 Wildcats are saddled with the label of defending national champions, even though this is a much different team.
That fact has been evident early in the season as the Cats have replaced All-Americans with freshmen at some very important positions, including setter and libero.
Combine the youth movement with a brutal early schedule and the Cats found themselves 6-3 staring at a match against No. 16 Stanford, which came to Memorial Coliseum on Sunday.
In a classic match between two outstanding teams, it was youthful Kentucky that came away with a five-set victory over Stanford, led by a number of those younger players, who continue to improve with each match.
Sophomore Madi Skinner had a career high 24 kills, while freshman setter Emma Grome set a new career best with 58 assists. Freshman Eleanor Beavin had double-digit digs for the fourth consecutive match, notching 11 in Sunday's win.
The Cats have been focused on getting past mistakes and moving on, according to Grome.
"One thing we've been focusing on is focusing on the next point and staying aggressive," Grome said.
Her head coach agrees.
"Probably just composure and being able to move on to the next point," Skinner said. "We need to be thinking about what we're doing and not worry about the last point."
Kentucky's early schedule has included matches at No. 2 Wisconsin and at No. 5 Louisville. The Cats have also faced other talented teams, like Creighton and Marquette, during the pre-conference portion of the scheudule. UK head coach Craig Skinner is starting to see the tough scheduling pay off.
"You don't know what a fifth game feels like against a Top 10 team until you're there," Skinner said. "We got an idea of that Wednesday (at Louisville) and improved today."
Grome thinks playing in those tough matches, especially on the road, is paying off for the Cats.
"It definitely been great playing against a lot of top teams right away in a short amount of time," Grome said. "It's been a challenge but it's helped us grow a lot."
Junior Azhani Tealer knows that playing in tough situations can be beneficial for this team.
"We're really young, so we kind of have to learn what it takes to win," Tealer said. "Being in those environments shows us that we're going to have to dig our feet in."
While the team continues to grow, there are still little mistakes that happen with young teams. On Sunday, there were a couple of occasions where miscommunication allowed the ball to reach the court on the UK side of the net when it probably should not have. Skinner knows his team is still figuring some things out.
"Those are definitely things that are easy to fix," Skinner said. "We're smart enough, have a high enough IQ that we'll figure that out. Playing next to each other, knowing what each person does, how they respond in certain situations."
The experience of playing against tough teams in tough environments is paying off for Kentucky in big ways. The latest evidence came on Sunday with the Cats pulling out a five-set marathon win over Stanford.