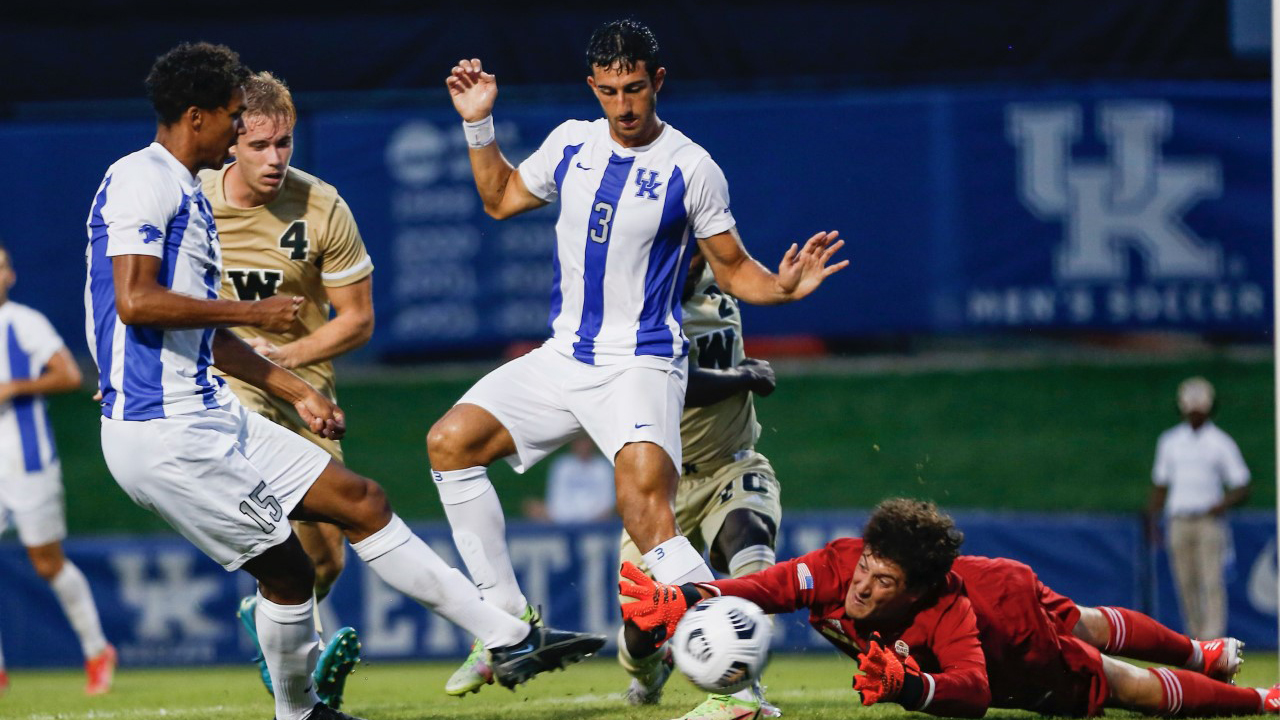 September 19, 2021 - 09:47 PM
Wildcats Earn Fourth Shutout in 1-0 Win Over Western Michigan
LEXINGTON, Ky. – No. 14 Kentucky kept its undefeated start to the season intact with a 1-0 victory over Western Michigan on Sunday at Wendell & Vickie Bell Soccer Complex.
 
The shutout was the fourth of the season for goalkeeper Jan Hoffelner and the Kentucky backline of Robert Screen, Luis Grassow, Lucca Rodrigues and Oliver Juul, while forward Brock Lindow scored the game winner with the first goal of his senior campaign.
 
After a lightning delay that postponed kickoff for nearly two hours, the match got off to a slow start with a scoreless first half. The Wildcats led the shot count 6-4 at the break, though Hoffelner was forced to make the stanza's only two saves.
 
After intermission, Kentucky upped the offensive output to a 9-3 advantage in shot attempts. The stalemate on the scoreboard was finally broken in the 74th minute when Screen played a long cross to Rodrigues, who fired away his only try of the evening. The ball rebounded off the hands of Western Michigan keeper Isaac Walker, only for Lindow to put the Broncos away with a rocket to the back of the net from the goal area.
 
Among Kentucky's 15-7 edge in total attempts, the Cats led 5-3 in shots on target. Cameron Wheeler anchored the offensive output with a game-high-tying three shots, while Lindow, Marcel Meinzer, Bailey Rouse and Martin Soereide each tried two. Rodrigues, Juul, Luke Andrews and Jansen Wilson hoisted one shot apiece.
 
Kentucky is set to resume Conference USA action with the first of two straight matches away from home. The Wildcats will travel 129 miles eastward to Huntington, West Virginia, on Saturday, taking on sixth-ranked reining national champion Marshall (3-1-2) at 7 p.m. ET.
 
Admission to all 2021 UK soccer matches at Wendell & Vickie Bell Soccer Complex is free to the public. For the latest on the Kentucky men's soccer team, follow @UKMensSoccer on Twitter, Facebook and Instagram, as well as on the web at UKAthletics.com.