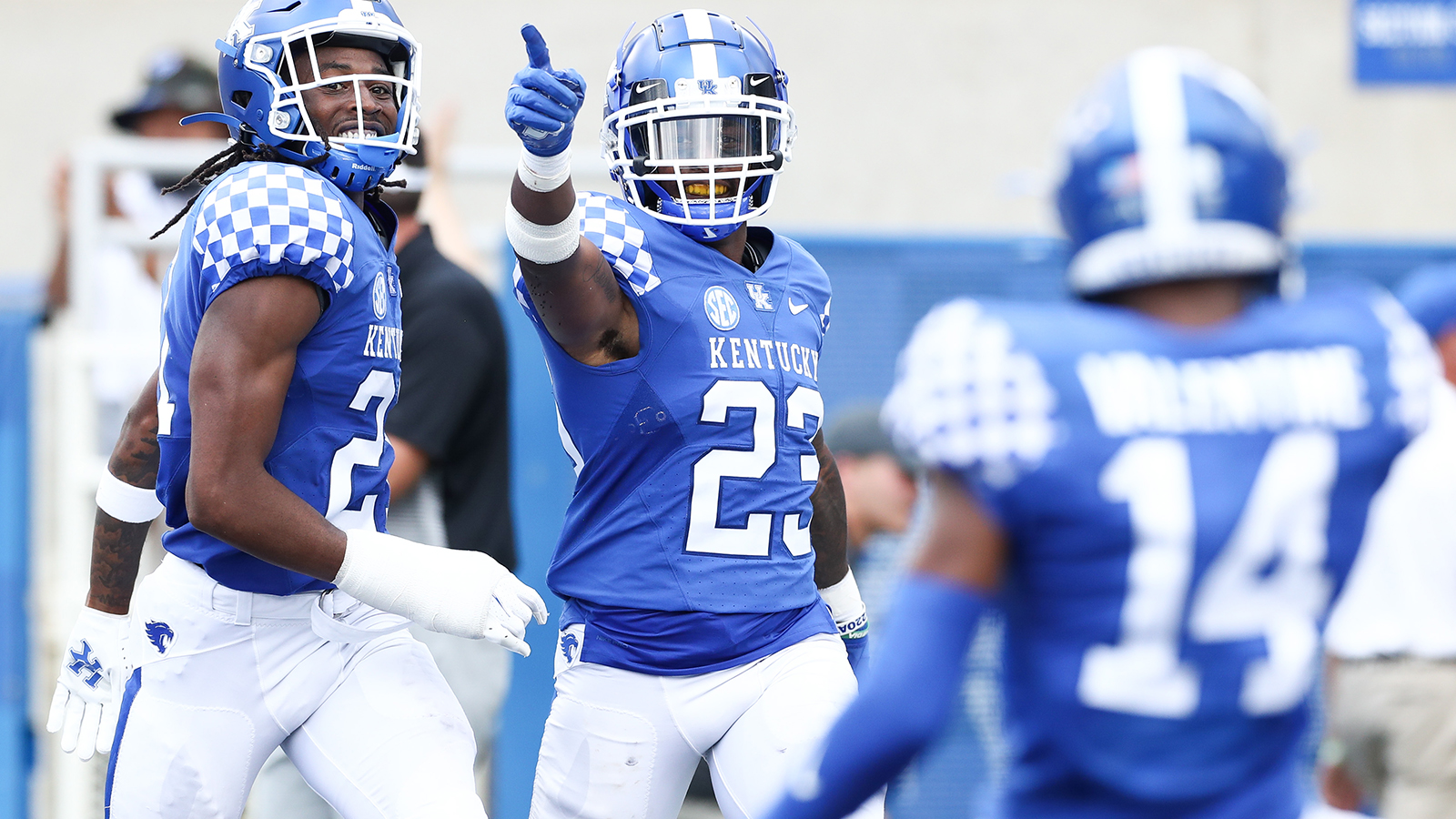 Good teams find a way to win when they are less than their best. That's what happened to Kentucky on Saturday, as the Cats, despite not playing their best game, held on to beat Chattanooga 28-23 at Kroger Field.
UK head coach Mark Stoops puts it simply.
"You've got to be good enough to win when you're not at your best," Stoops said. "You have to respect the game, and I talk about it daily, respecting the game, respecting — the game, this game we love, is about preparation."
As for that preparation, the UK head man was not happy with how he got his team ready.
"You could live with it if you do your absolute best in preparation," Stoops said. "I'm not happy with myself on that and I've got to find a better way to motivate them."
Kentucky grabbed an early 7-0 lead on Saturday only to see Chattanooga respond with a touchdown of its own on the following drive. That Cats took a 14-7 lead in the second quarter and had a 14-10 advantage at the break.
From there, the Mocs kicked a pair of field goals to grab a 16-14 lead before Kentucky got two touchdowns in a span of less than three minutes, to lead 28-16. The biggest of those scores, and the play that sealed the UK win, was a 95-yard interception return for a touchdown by Tyrell Ajian.
After racking up over 500 yards of total offense in each of the first two games, UK was held to 348 on Saturday. Still, the Cats made just enough plays to win, the sign of a good team.
Stoops saw one key difference in today's game against the first two games of the season.
"We made mistakes in all the games, but they played extremely hard (the previous two)," Stoops said. "I don't know. I've got to look at the film. I mean, it felt a little flat to me. I mean, when you start and you give up a touchdown drive early and it just starts that aggravation."
Stoops wants his team to get better from Saturday's effort.
"You have to always learn. In wins and in losses you learn," Stoops said. "You learn about this team, about our situation, our current situation, where we're at, what we're doing. You're always trying to grow and learn. If they could use that as a learning opportunity then fine. I can't get in every one of their heads. I try. I promise you I work hard at motivating them and getting them ready to go and I need to try harder and find the right words and get them to respond."
The bottom line is the bottom line – the Cats are 3-0 for the fourth time in five years. And winning games is what Kentucky is trying to do.
"You can never apologize for a win," Stoops said. "I liked (the team) last week when we won and I like them this week.
"Obviously the best thing about this, sitting right here, is we're 3-0," Stoops said. "But not very pleased, just got to be better in all areas starting with myself."
But it's better to be learning and improving from a win than from a loss, which is where Kentucky is once again this week.