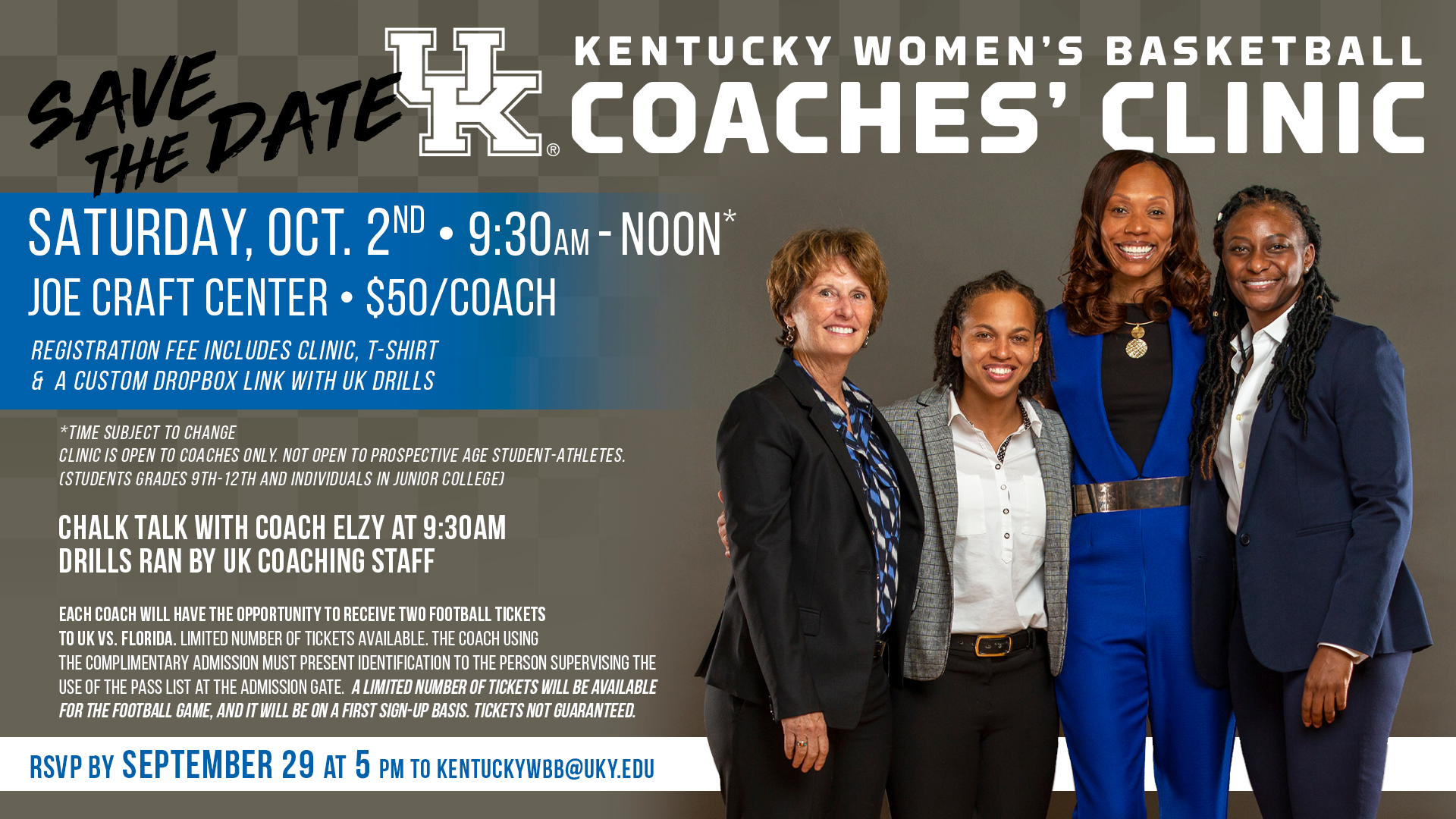 September 14, 2021 - 10:45 AM
Women's Basketball Coaches' Clinic
The University of Kentucky women's basketball coaching staff will host a coaches' clinic on Saturday, Oct. 2nd from 9:30 a.m. to Noon ET at the Joe Craft Center, featuring the entire women's basketball coaching staff, which has over 80 years of collegiate coaching experience.
 
The clinic costs $50 per coach and interested coaches should register online through the link above, and in addition RSVP to kentuckywbb@uky.edu by Wednesday, Sept. 29th at 5 p.m. ET. The clinic is open to coaches only.
 
Coaches that attend the clinic will have a chance to learn from UK head coach Kyra Elzy associate head coach Niya Butts, assistant coaches Gail Goestenkors and Amber Smith, Special Assistant to the Head Coach Lin Dunn , Player Development Director Daniel Boice and more. Together, the coaching staff has over 80 years of Division I coaching experience and has been a part of 35 NCAA Tournaments, including eight Final Fours, four national championships and one WNBA championship.
 
High school and two-year college coaches will also have an opportunity to attend the Kentucky-Florida football game at Kroger Field.  A limited number of tickets are available, so please be sure to let the women's basketball office know in your RSVP email if you would like to attend the football game which will be occurring after the clinic.  NCAA rules permit you to bring one guest. Tickets not guaranteed with registration.