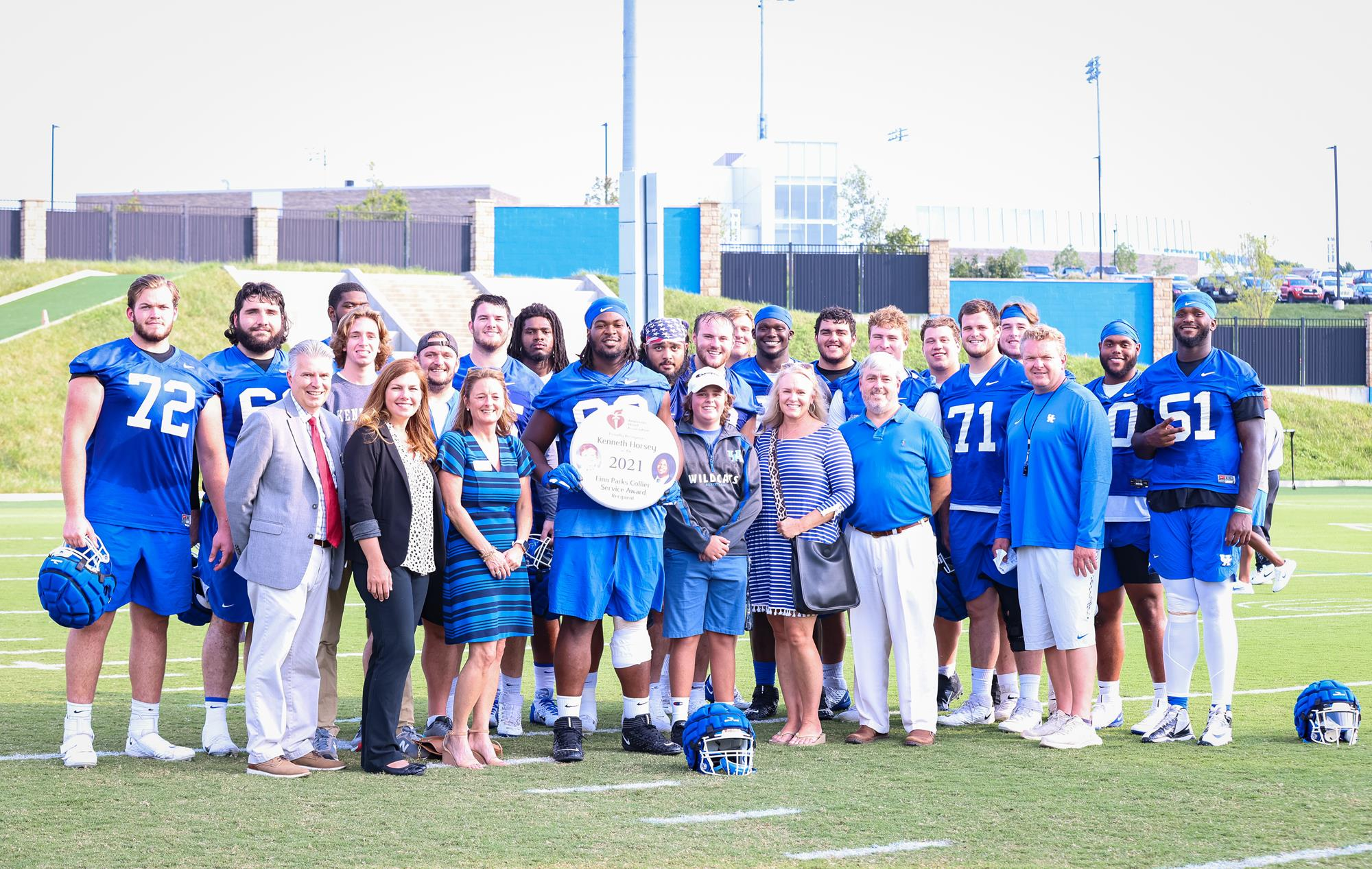 Junior offensive guard Kenneth Horsey has been awarded the Finn Collier Service Award by the American Heart Association in recognition of his work to support its lifesaving mission – to be a relentless force for a world of longer, healthier lives.
 
The Finn Collier Service Award was created in memory of Finn Collier, a fierce advocate for the American Heart Association who lost his battle with heart disease at just seven years old. The award honors children and young adults who go above and beyond to support the lifesaving mission of the American Heart Association. 
 
"We are thrilled that Kenneth received the Finn Collier Service Award, and we are grateful to the Central Kentucky American Heart Association for memorializing Finn in this way," said Finn's parents, John and Tricia Collier.  "Finn loved spreading awareness and raising funds for research, and we feel Kenneth is carrying on Finn's commitment."
 
Horsey, who hails from Sanford, Florida has a remarkable comeback story that has inspired his community service work for heart health.
 
In the spring of 2018, before he was to arrive at Kentucky for his freshman season, he was complaining of a pain in his side. His parents rushed him to the emergency room where doctors ultimately found a growth on one of his heart valves. He went through open-heart surgery on April 8, 2018 and was even told by a few doctors that his football career was over. However, Horsey would not be deterred. He came to Kentucky and redshirted the 2018 season with a goal of earning a starting spot on Kentucky's offensive line, affectionately known as the "Big Blue Wall." In 2019, he saw action in four games and continued to train and prepare his body for the rigors of the Southeastern Conference. Since his surgery in 2018, he has lost 50 pounds and because of his hard work and dedication, has earned the starting left guard spot on the "Big Blue Wall." Even a broken left hand, which required surgery during pre-season camp in 2020, did not get in the way. He started in eight games, helping the Wildcats rank fifth in the Southeastern Conference in rushing offense (187.4). Currently, the Wildcats are 2-0 and have piled up more than 500 total yards in each of the first two games of the season for the first time in school history.
 
"If we can spread awareness and teach just the basics of heart health, I feel like I've done my job and I feel like I've committed to the goals of spreading awareness and saving lives," Horsey said.
 
Because of his heart condition and how supported he felt through his surgery and recovery he began volunteering with the Lexington chapter of the American Heart Association in 2020. Here are a few of his community service events:
Spoke at 2020 Central Kentucky Heart Walk kick-off event
Spoke at 2020 UK Healthcare Heart Walk kick-off event
Dedicated his 2020 football season to Finn Collier, a seven-year-old who lost his life to heart disease
Participated in American Heart Month and National Wear Red Day (2020 and 2021)
Participated in the 2021 Central Kentucky Heart Walk Digital Experience (2021)  
Coordinated and planned a hands-only CPR training for the UK Football team and staff in the spring of 2021 (video to come)
Helped plan a Hands-Only CPR media availability on June 14 that promoted Hands-Only CPR awareness to the media for CPR Awareness Month
 
"Kenneth has been an incredible advocate for the mission of the American Heart Association," Julie Lay, the regional communications director of the American Heart Association said. "As a survivor himself, he has first-hand knowledge of the trials and tribulations heart disease can cause. He uses this knowledge to educate the community on what they can do to reduce their risk through his many platforms. Kenneth is an incredible asset to both our organization and our community, and the work he does truly helps us saves lives."
 
Horsey is currently on the watch list for the Wuerffel Trophy, given to the nation's top community servant, and the Allstate American Football Coaches Association Good Works Team.
 
More than 350,000 out-of-hospital cardiac arrests occur each year in the United States. Immediate CPR can double or triple a person's chance of survival. Unfortunately, bystanders only perform CPR 46% of the time because they are not confident in their ability. With Hands-Only CPR, it takes just two steps to save a life: 1. Call 911. 2. Push hard and fast in the center of the chest. To learn more, visit heart.org/cpr.  
 
For the latest on the Kentucky football, follow @UKFootball on Twitter, Facebook, Instagram and on the web at UKathletics.com.