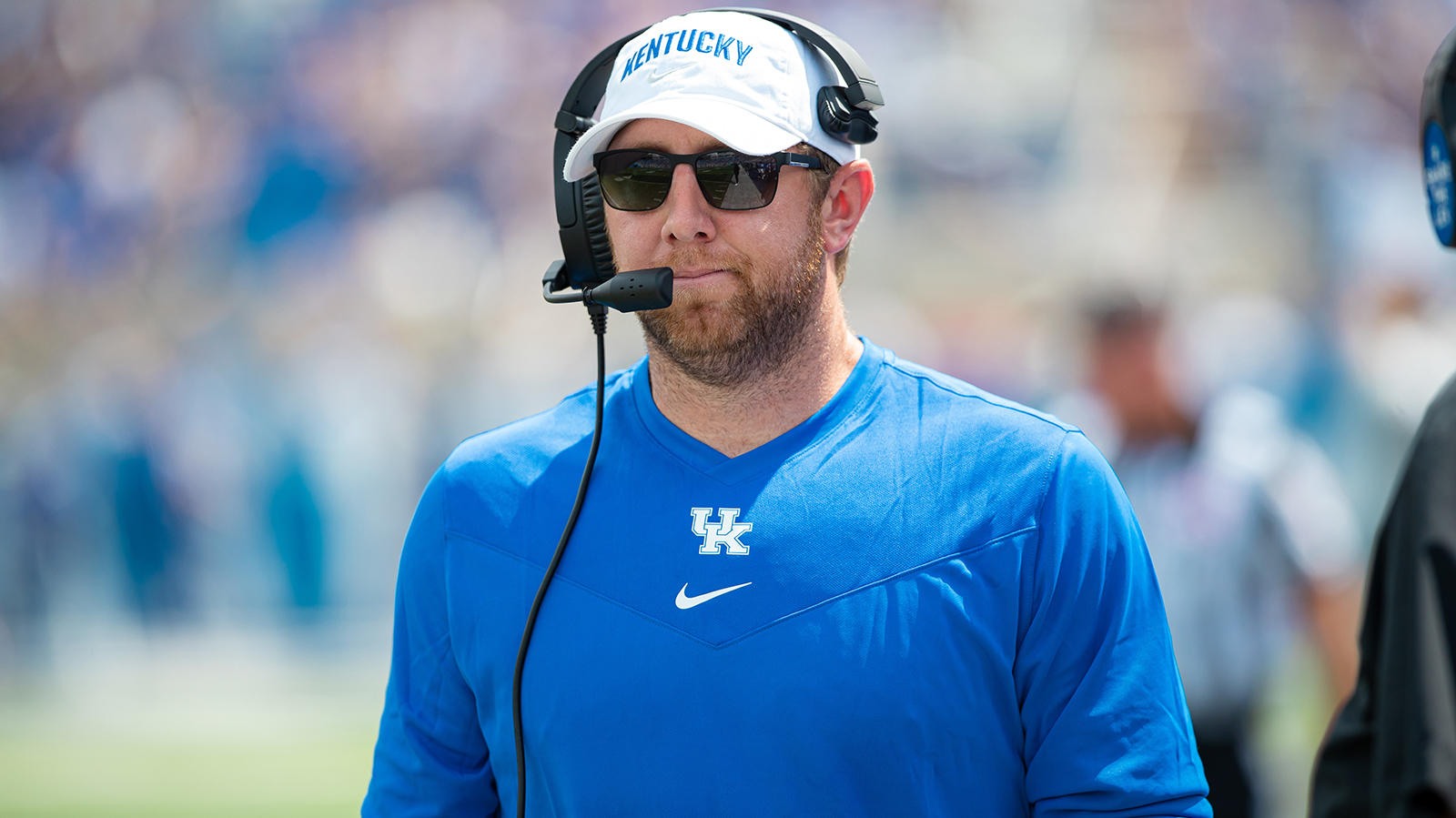 In Kentucky's season-opening win over Louisiana-Monroe, the Cats showed an aerial attack not seen in the Bluegrass for many years. However, the architect of that onslaught, UK offensive coordinator Liam Coen, was not completely satisfied with his unit's performance.
Yes, quarterback Will Levis threw for more than 300 yards. Yes, both Josh Ali and Wan'Dale Robinson had more than 100 yards receiving. But Coen wanted more.
His hopes were that, against Missouri, his team would be able to run the ball more effectively than they did against ULM.
"It was nice. Last week, I said we had to run the ball better," Coen said. "That was obviously the focal point of the week."
And it wasn't only that the Cats were able to run the ball. It was how they ran the ball that pleased Coen.
"It was definitely nice to see our guys win the line of scrimmage, do it in a manner of which there was no contest and that's what you want," Coen said. "You want to be able to run the ball when we want to be able to do it and throw it absolutely when we want to but also when we need to."
That is just a small part of Coen's overall offensive plan.
"My philosophy is variety in the run game," Coen said. "Being able to have our go-to that we want to still get to but we want to be able to scheme people up not only in the pass game but in the run game and I think that's something our athleticism up front allowed us to do this past weekend."
Coen made it even more simple.
"If we own the line of scrimmage this week, everything else will take care of itself," Coen said.
The one blemish on last week's game was Chris Rodriguez Jr., despite rushing for over 200 yards and scoring three touchdowns, fumbled not once but twice going into the end zone. Coen could not put his finger on exactly why that happened.
"It's that relaxation right as you're crossing the plane (of the goal line)," Coen said. "He's been put in that situation, now let's see what he does in that situation again."
That led to a particular focus in Tuesday's practice. It's the one thing Coen definitely wants to improve upon this week.
"Ball security. That was our biggest focal point today," Coen said. "We did a ball security circuit with all the skill players today, everybody went through it. Three stations, three drills. You clean that part up, you feel like we played a pretty clean game."
Coen knows that the Cats need to be on their toes this week, facing a solid Chattanooga defense.
"This is a good defense," Coen said. "They play together, they play sound, they play hard. These guys have played a lot of football and played a lot of football together. They don't give up a ton of big plays."
Coen and the Cats will hope to build on their first two performances and put the run and pass game together at the same time.