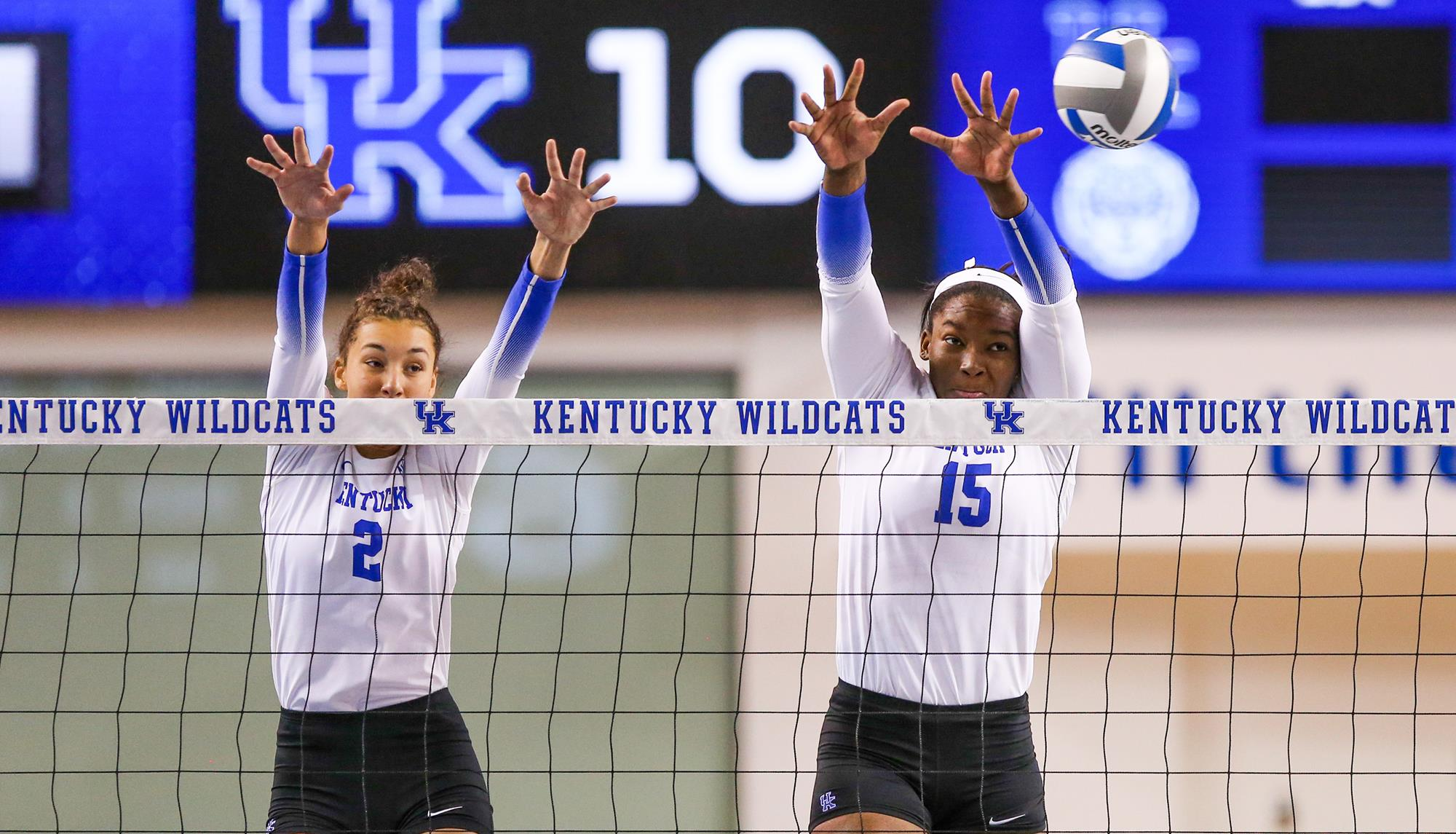 September 14, 2021 - 02:59 PM
Cats, Cards Set for Top 10 Showdown
When thinking of the hotbeds of college volleyball, the Commonwealth of Kentucky might not be the first place people would consider. But upon closer inspection, they probably should.
In the latest AVCA rankings, three teams from the Bluegrass State are ranked in the nation's Top 25 and two are ranked inside the top eight.
Those two teams, fifth-ranked Louisville and number eight Kentucky, will meet on Wednesday night in the Derby City to renew their intrastate rivalry.
The fact that both teams are ranked so highly would have seemed improbable, if not impossible, when Craig Skinner arrived as UK head coach 17 years ago.
"How cool is it that we're both in the Top 10?," Skinner said. "I would not have imagined that. When I first got here, only 60 percent of the high schools in the state had the sport."
However, with that high ranking comes a big challenge, one that Skinner hopes can benefit his team.
"Another great opportunity week for Kentucky volleyball. We've learned a lot so far and we'll continue this week," Skinner said. "(This) may be the best Louisville team we've played since I've been at Kentucky."
What is it that makes Louisville so good?
"They're very balanced, very athletic," Skinner said. "They have one of the best setters in the country and they have experience."
And while Kentucky has had all the better of it lately, winning the last seven matches and nine out of 12 during Skinner's tenure, the UK head coach knows that none of that matters on Wednesday.
"No previous records, matches, teams have any bearing on this one," Skinner said. "I'm sure they're saying the same thing."
The Cats are coming off a 1-1 road trip, having dropped a four-set match at No. 2 Wisconsin before topping previously unbeaten Marquette. Skinner liked what he saw from his team on the road trip.
"We learned about ourselves and made some changes," Skinner said. "We saw some fight and resiliency that we just haven't had to see to this point. Our team was very upset in the locker room. They thought they should have been playing a fifth set to have a chance to win. That says a lot to our coaches."
Sophomore Madi Skinner continues to improve each time out. She had 16 kills against both Wisconsin and Marquette and has recorded double-digits kills in each of UK's last seven matches. Craig Skinner is pleased with what Madi Skinner is bringing to the team.
"She's a gamer. She does things in matches that she has not done yet in practice," the UK coach said. "There's an intensity level about her that's pretty impressive. Her physical abilities are second to none. She's very intentional about working on things, she wants to get better."
Skinner is also seeing a lot of good things from freshmen defensive specialist/libero Eleanor Beavin and setter Emma Grome.
"It's not often that two freshmen are starting for a Top 10 program in those two positions, so to have freshmen as setter and libero is unique," Skinner said. "But they've proven themselves and they've proven their mettle and their mental capacity to perform. We're definitely impressed with their abilities so far."
After showing quite a bit of toughness over the weekend in Wisconsin, the Cats will need to do the same on Wednesday night against a talented Louisville team.