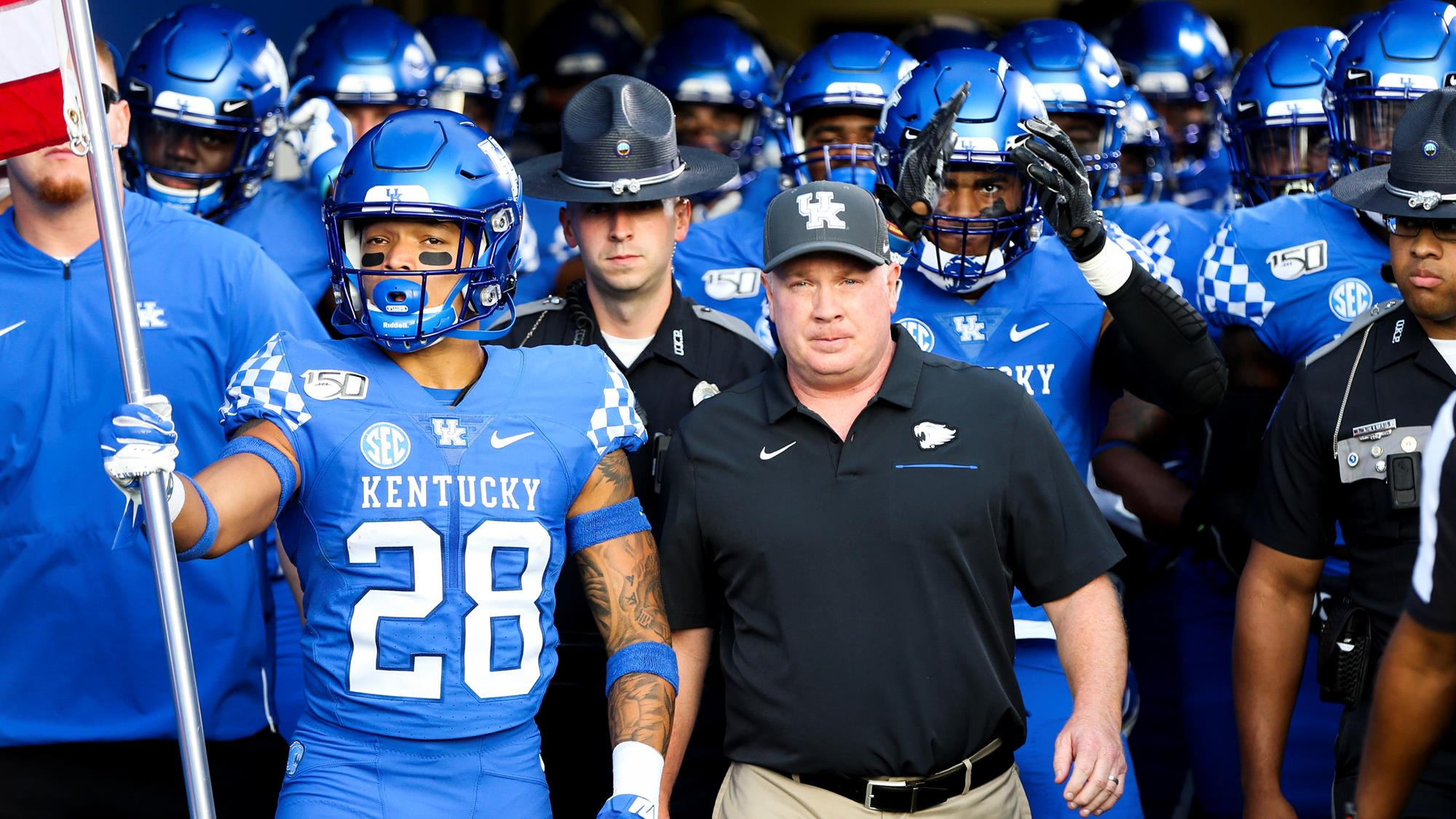 Kentucky head coach Mark Stoops has built his program largely by worrying about his own team rather than the opposition. However, Stoops and his teams always have a healthy respect for their opposition.
Perhaps that's why the UK head man balked at a particular question on Monday at his weekly press conference. When asked if this week's game against FCS Chattanooga could be a breather for his team, Stoops answered quickly.
"I would never use the word, you would never hear me use the word 'breather'. That's not in our vocabulary," Stoops said. "The only thing we're interested in is pressing on and moving forward. Any great team, no matter what the competition level is, plays to the best of their ability."
Stoops and his Cats are coming off a 35-28 win over Missouri on Saturday night at an electric Kroger Field. And while Kentucky enjoyed the fruits of their labor on Sunday, the UK head coach knows it's now time to get back to work.
"We have so much to do. So much work to get caught up on," Stoops said. "It's always exciting for me on Mondays because, win or lose, it's on to the next opponent."
That next opponent is Chattanooga, one of the preseason favorites to win the Southern Conference this year. The Mocs have Stoops' full attention.
"This team was picked to win their league," Stoops said. "You know they're talented and can do some good things."
However, Stoops and his staff will try to clean up some mistakes from the last couple of weeks as they prepare for this week's contest.
"It's about us this week. Much the same, we need to concentrate on ourselves," Stoops said. "We have to focus on ourselves. No matter who we're playing, you're going to always hear me talk about us. We have respect for everybody we play but it's about us."
Stoops likes what he has seen as his team has started the season 2-0, especially on the offensive side of the ball. However, he knows there is still work to be done.
"I like the consistency of where we're at," Stoops said. "We're not there yet but the fact that you can move it that well against an SEC East opponent says a lot."
As for the team as a whole, Stoops has a similar outlook.
"We've got a lot of good football ahead of us," Stoops said. "So, I'm very encouraged and looking forward to this challenge here this week."
That challenge will not only involve preparing for Chattanooga but also continuing to improve in every area of the game.