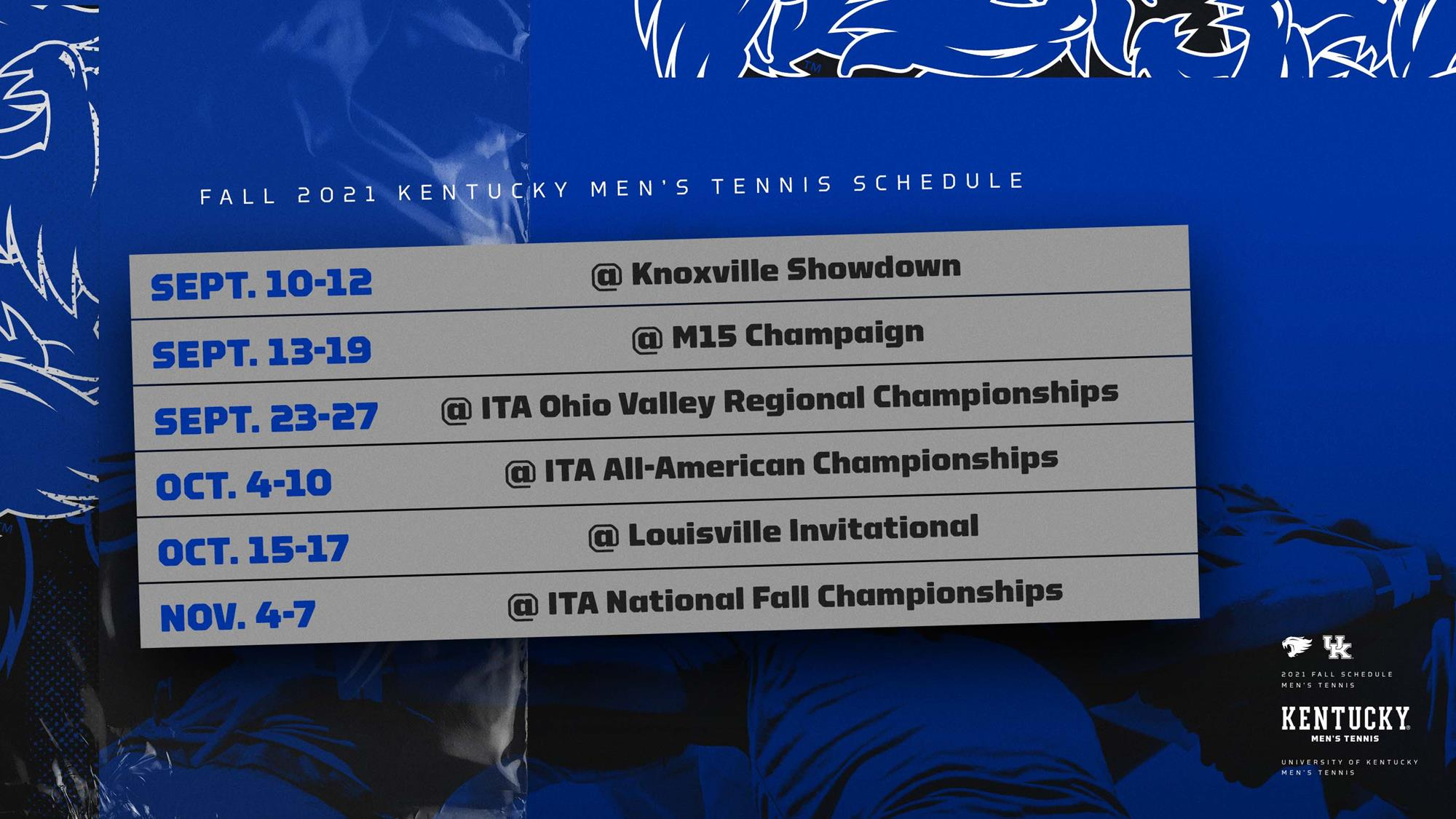 September 10, 2021 - 04:50 PM
UK Men's Tennis Unveils Fall 2021 Schedule
LEXINGTON, Ky. – Less than three months after closing the book on its previous season, the Kentucky men's tennis program is set to kick off its fall 2021 slate with the Knoxville Showdown this weekend.
 
In his 10th season at the helm, head coach Cedric Kauffmann and the Wildcats have revealed a five-installment ITA tournament schedule that also features an ITF professional competition.
 
The Knoxville Showdown will run Friday through Sunday on the University of Tennessee campus. Afterwards, the team will waste no time heading to the M15 Champaign at the University of Illinois, which lasts next Monday through Sunday, Sept. 19.
 
Kentucky will return to official collegiate play in Knoxville with the ITA Ohio Valley Regional Championships on Sept. 23-27, followed by the ITA All-American Championships in Tulsa, Oklahoma, on Oct. 4-10.
 
The Cats' only contest in the Commonwealth of Kentucky will take place Oct. 15-17 at the Louisville Invitational, as the fall schedule ends with a hopeful spot in the ITA National Fall Championships on Nov. 4-7 in San Diego.
 
Four Wildcats were featured in the ITA Preseason Rankings last Tuesday, including top-ranked reigning ITA National Player of the Year Liam Draxl. Reigning two-time ITA All-American Gabriel Diallo earned the No. 13 spot in the preseason singles rankings, while sophomore Joshua Lapadat checked in at No. 71 and newcomer Francois Musitelli landed at No. 105.
 
Diallo and Musitelli earned a preseason doubles ranking, as well, coming in at No. 37.
 
For the latest on the Kentucky men's tennis team, follow @UKMensTennis on Twitter and Facebook, @kentuckymenstennis on Instagram, and on the web at UKAthletics.com.