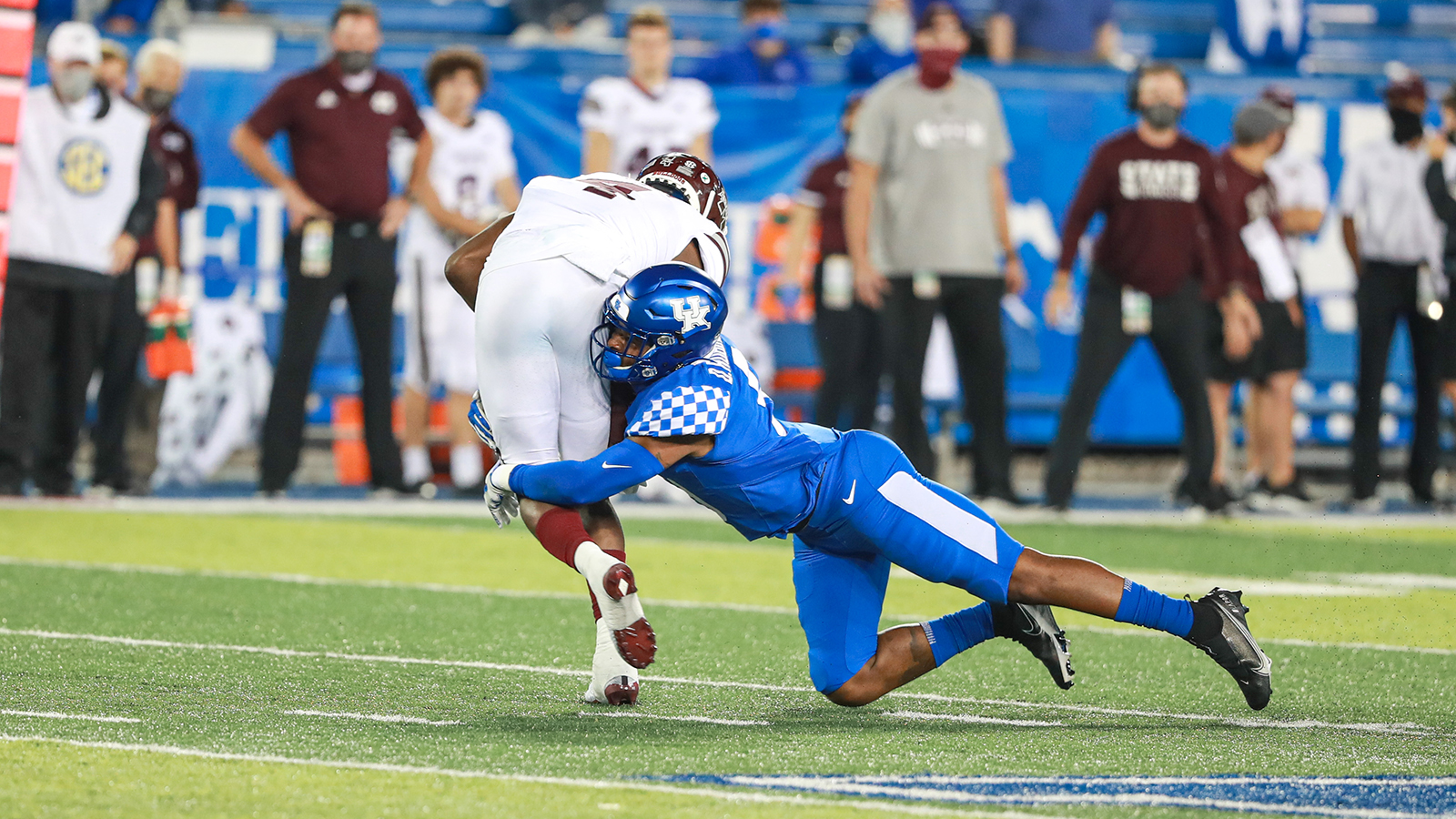 The Kentucky defense put up some very solid numbers in Saturday's win over ULM. The Cats allowed just 87 total yards in the game, including just 17 yards on the ground.
So the numbers themselves are impressive. But what did UK defensive coordinator Brad White see when he watched the film?
"A couple of things. One, I'd like to start faster. Obviously, giving up a touchdown on the first drive of the game is never ideal. I like the way they responded, though," White said. "Two, we need to get turnovers, we didn't get any turnovers. And three, down the stretch, after that first drive, we sort of settled down and did a decent job on third down. But that first drive was extended by two third down plays. We had a chance to get off early."
This week's challenge will be much greater as SEC East foe Missouri comes to town. The Tigers dominated time of possession in last year's 20-10 win over the Cats in Columbia.
White recalls his unit struggling with a couple of aspects of that game.
"The first thing that jumps out is third down," White said. "Any time you have 20 third downs, that's not good and the percentage we gave up (conversions) was worse. We've got to do much better. We've got to turn the ball over. We didn't get any (turnovers) last year against Missouri. We need to be able to provide the offense a short field to work with."
White knew from the beginning of last season's game that something was not quite right, something he intends to fix this week.
"Overall, I thought we came out flat," White said. "We kind of picked it up as the game went along but we didn't play with the same intensity that we need to play with. That's something we've emphasized all week."
The key to stopping the Missouri offense will be containing quarterback Connor Bazelak. White has a great deal of respect for the Tigers' signal caller.
"He understands where to go with the ball, he understands their offense and he's really efficient," White said. "He doesn't make a lot of bad decisions. He's very poised in the pocket. He understands what they're asking within their offense. He's a really good deep ball thrower. He puts it in really good spots for his receivers to catch it."
In last week's win, the Cats were able to get to the quarterback early and often. UK had six sacks and two quarterback hurries in the game. Getting that kind of pressure on Bazelak will be tough, but also necessary.
The Cats hope to improve on last week's effort and to redeem themselves for last season's tough loss at Missouri in the process.