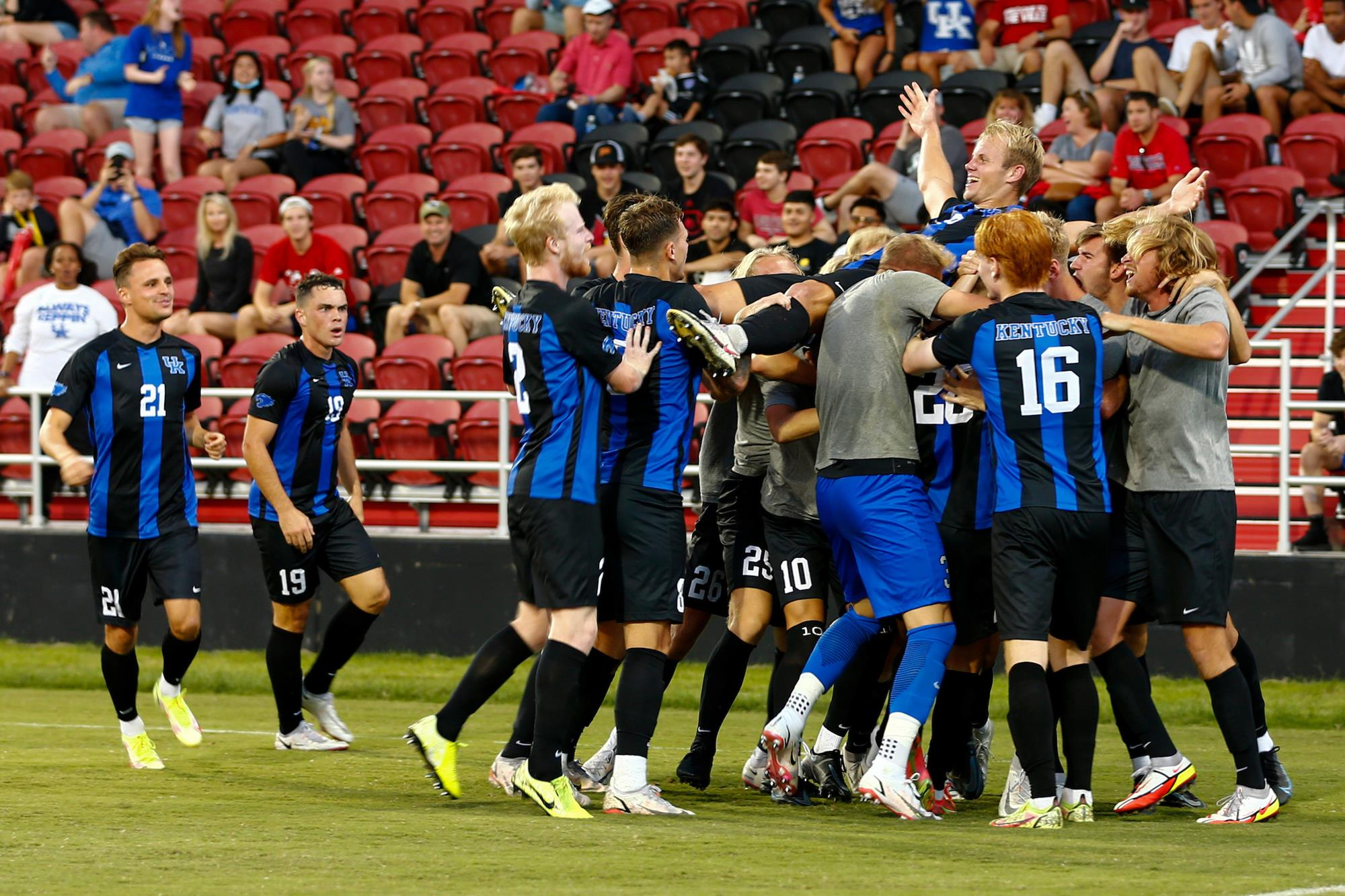 September 7, 2021 - 11:52 PM
No. 17 Kentucky Wins 3-1 at Louisville
LOUISVILLE, Ky.?–?No. 17 Kentucky came back from a goal down in emphatic fashion, winning 3-1 on the road at Louisville for the first time since 2012 on Tuesday.  
The Wildcats won their second in a row against the Cardinals. Kentucky improved to 3-0-1 this season. Louisville dropped to 2-2-0. 
Graduate transfer Cameron Wheeler equalized for Kentucky on 24 minutes, an own goal gave the Wildcats the lead just before halftime and Eythor Bjorgolfsson scored Kentucky's third in the last 10 minutes. 
Kentucky conceded a goal for the first time through four games this year in the early going. Aboubacar Camara broke the deadlock in the fifth minute. Graduate keeper Jan Hoffelner had gone 270 minutes without letting in a goal.  
Wheeler was brilliant in his return to Louisville. The graduate transfer got Kentucky on level terms in the 24th minute, using his right foot to score off the post from just inside the box on some strong transition play. 
The Wildcats took the lead just before the break, benefitting from a Louisville own goal. Freshman Oliver Juul's long throw in landed off the back of a UofL defender, leaving the keeper flat footed as the ball found the back of the net.  
Bjorgolfsson sealed the victory nine minutes before full time, scoring from a tight angle. He has scored three goals early in the young season. 
The fixture was a characteristically intense rivalry affair in the 27th meeting between the two biggest universities in Kentucky. Each team was issued with 13 fouls throughout the contest. Six yellow cards and one red were issued. 
The Wildcats return to the Wendell & Vickie Bell Soccer Complex on Sunday where they will take on Duquesne (3-1). The two programs last faced off in 2016, which was the first all-time meeting, Kentucky won 1-0 at home. 
Admission to all 2021 UK soccer matches at Wendell & Vickie Bell Soccer Complex is free to the public.