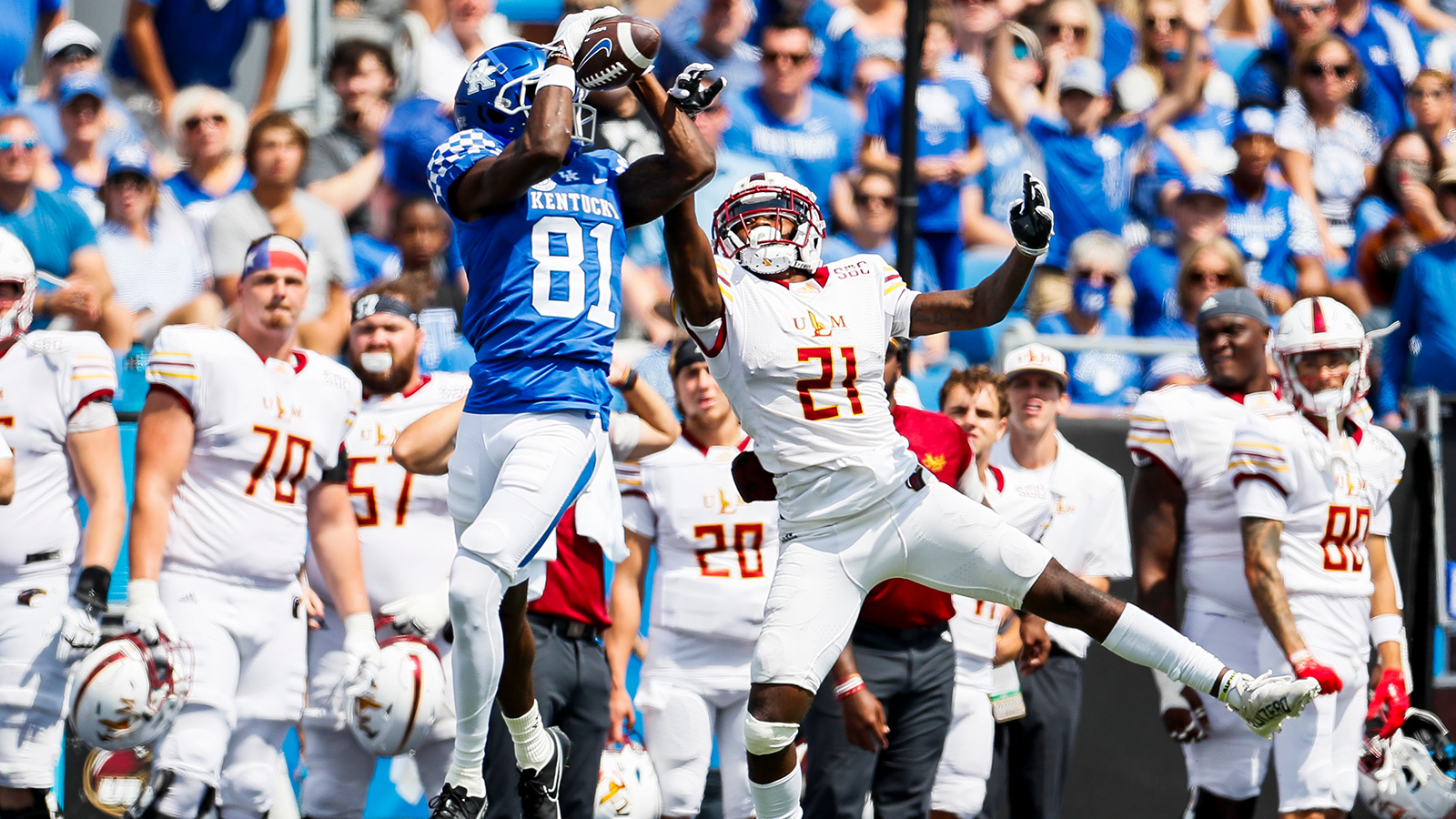 Through three seasons at Kentucky, wide receiver Isaiah Epps has always been known as a big play threat. However, Epps had seen limited opportunities to show his talent for a couple of reasons.
First and foremost, the Kentucky offense has been very much run-based during Epps' career in Lexington. That limited the number of chances that Epps would have to touch the ball in any given game.
Secondly, Epps has battled lower body injuries during his time at Kentucky. Those injuries have resulted in a pair of surgeries for the speedster.
Coming into the season, Epps had played in 32 games, catching a total of 20 passes for 194 yards and no touchdowns.
So it may have come as somewhat of a surprise when Epps tied a career high in receptions (three) and set a career best in yards receiving (83) in Saturday's UK win over ULM.
Epps, however, was not surprised.
"I just have a lot of confidence right now," Epps said. "I've been in the program a few years. I can pick up things pretty quick. Just having confidence, that's where it all comes from."
Epps is also enjoying having a quarterback with a big arm in Will Levis.
"It's pretty amazing. He's made some strides since he's been here," Epps said. "Just knowing that he's going to find me and I can do my job and he's going to do his."
As for overcoming his injuries, Epps knows that his time in blue is running short.
"There's no time to waste," Epps said. "I kind of had to get over some of those fears and just make sure I'm staying in the training room and do everything on my end."
One of the highlights of Saturday's win was a 57-yard bomb from Levis to Epps. The wideout really enjoyed his career-long reception.
"It felt good. It's been a long time coming," Epps said. "It felt good to finally connect and make a big play."
Kentucky offensive coordinator Liam Coen has been trying to build Epps' confidence but loves what he sees from him every day.
"He's just a steady, consistent guy that I really love working with," Coen said. "Super contentious and we're just trying to continue to build his confidence. He did it on his own on Saturday."
Epps was one of three main targets for Levis on Saturday. Josh Ali caught five passes for 136 yards and Wan'Dale Robinson had five receptions for 125 yards. Ali, Robinson and Epps combined for 344 receiving yards.
In Coen's new offense, Epps just gives the Cats another weapon in the passing game. And when he's called upon, the newly confident Epps now knows that he can deliver.