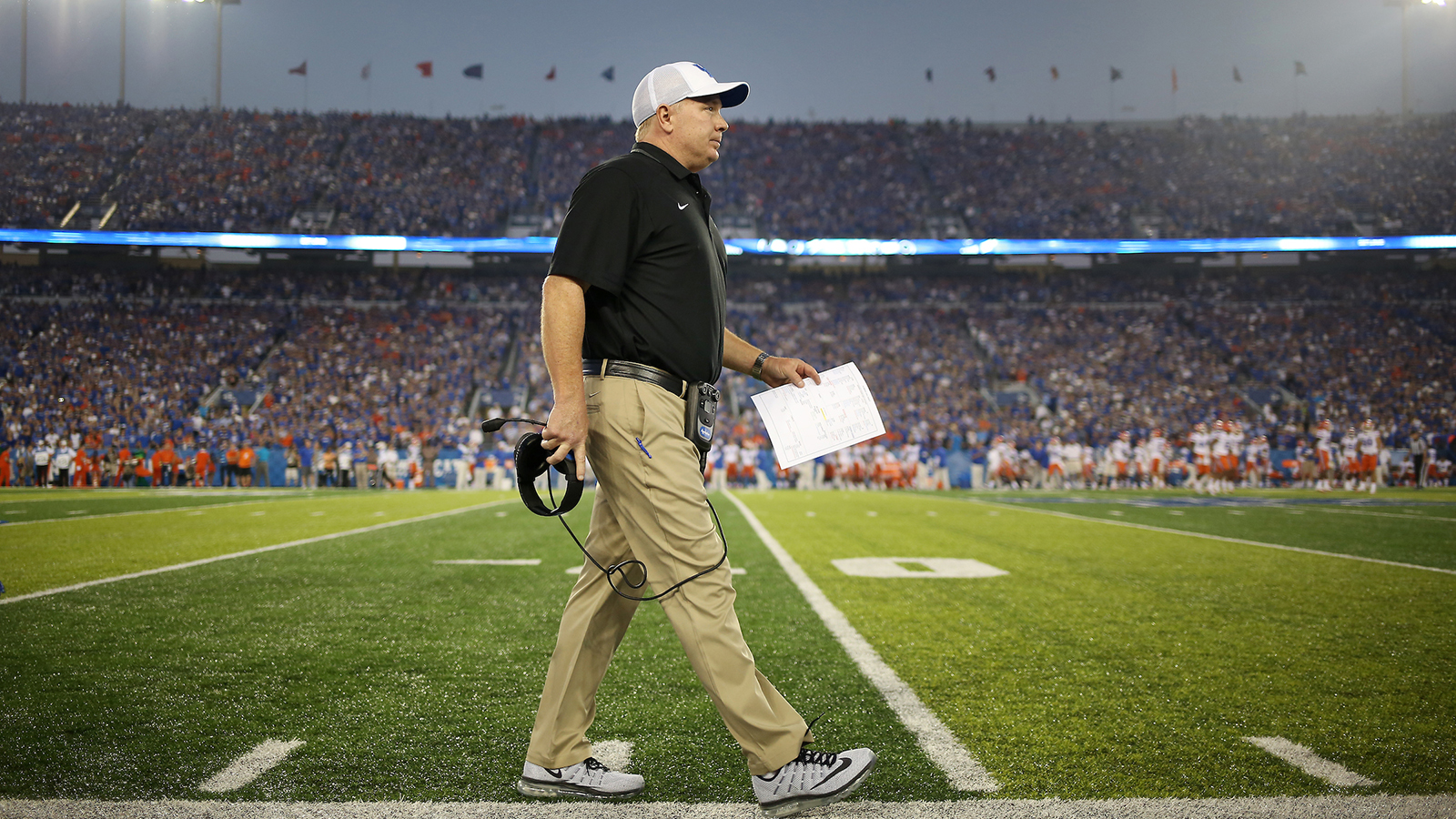 Kentucky football head coach Mark Stoops has built the UK program on a blue-collar, tough mentality. So the UK coach is not happy when the Cats' opposition is tougher than his team.
That's what happened last year when UK lost to Missouri 20-10 in Columbia. And Stoops did not like it. At all.
"I didn't like the way that they played more physical than us a year ago," Stoops said. "That is uncharacteristic. I don't particularly like that. We need to be much more physical this year."
Stoops placed the blame for his team's effort squarely on his own shoulders.
"I sense that they were much more prepared to play last year than we were," Stoops said. "And that's on me. I can promise you that's not going to happen again."
The numbers tell the tale of what seemed like a lopsided game. Missouri dominated the stat sheet, holding the ball for 43 minutes and 10 seconds, while Kentucky had just 16:50 in time of possession. The Tigers, racking up 421 yards to UK's 145. Missouri had 26 first downs, while Kentucky had just eight. MU rushed for 220 yards while UK had just 95 yards on the ground. And, perhaps most back-breaking, the Tigers were 10 of 20 on third down and four of five on fourth down.
How was Missouri able to dominate the game in such a way?
"They play hard. They're a well-coached football team," Stoops said. "They keep you off balance. They certain did a year ago. They had a lot of drives a year ago that, they worked for them. They had 20 points but it felt like 40 by the way they controlled the ball."
The Tigers opened this season by topping Central Michigan 34-24 at Faurot Field in Columbia. Running back Tyler Badie had 203 yards rushing and a touchdown in the game, while quarterback Conner Bazelak connected on 21 of 32 through the air for 257 yards and a pair of touchdowns in the win.
Kentucky is coming off a season-opening 45-10 win over Louisiana-Monroe on Saturday at Kroger Field. Stoops was pleased with how his team played, while still finding plenty on which they can improve.
"A lot of good things to build on but a lot of work to do," Stoops said. "There's a lot of things we can improve on. We made mistakes but we made them going fast."
Quarterback Will Levis, making his first start for the Cats, connected on 18 of 26 through the air for 367 yards and four touchdowns, with one interception. His primary targets were Josh Ali (five receptions, 136 yards, one touchdown) and Wan'Dale Robinson (five catches, 125 yards, two touchdowns). Running back Chris Rodriguez Jr. had 125 yards on 19 carries and a touchdown.
Stoops knows that his team must play better than it did last week, and much better than it did last year in Columbia, to win against Missouri.
"They did an excellent job against us a year ago," Stoops said. "We have a lot of things to improve on to play them, to beat this team. It's going to be a big game, at home. It's going to be a big challenge."
It's a challenge that Stoops will have his team better prepared for this time around. Especially in the area of physicality.