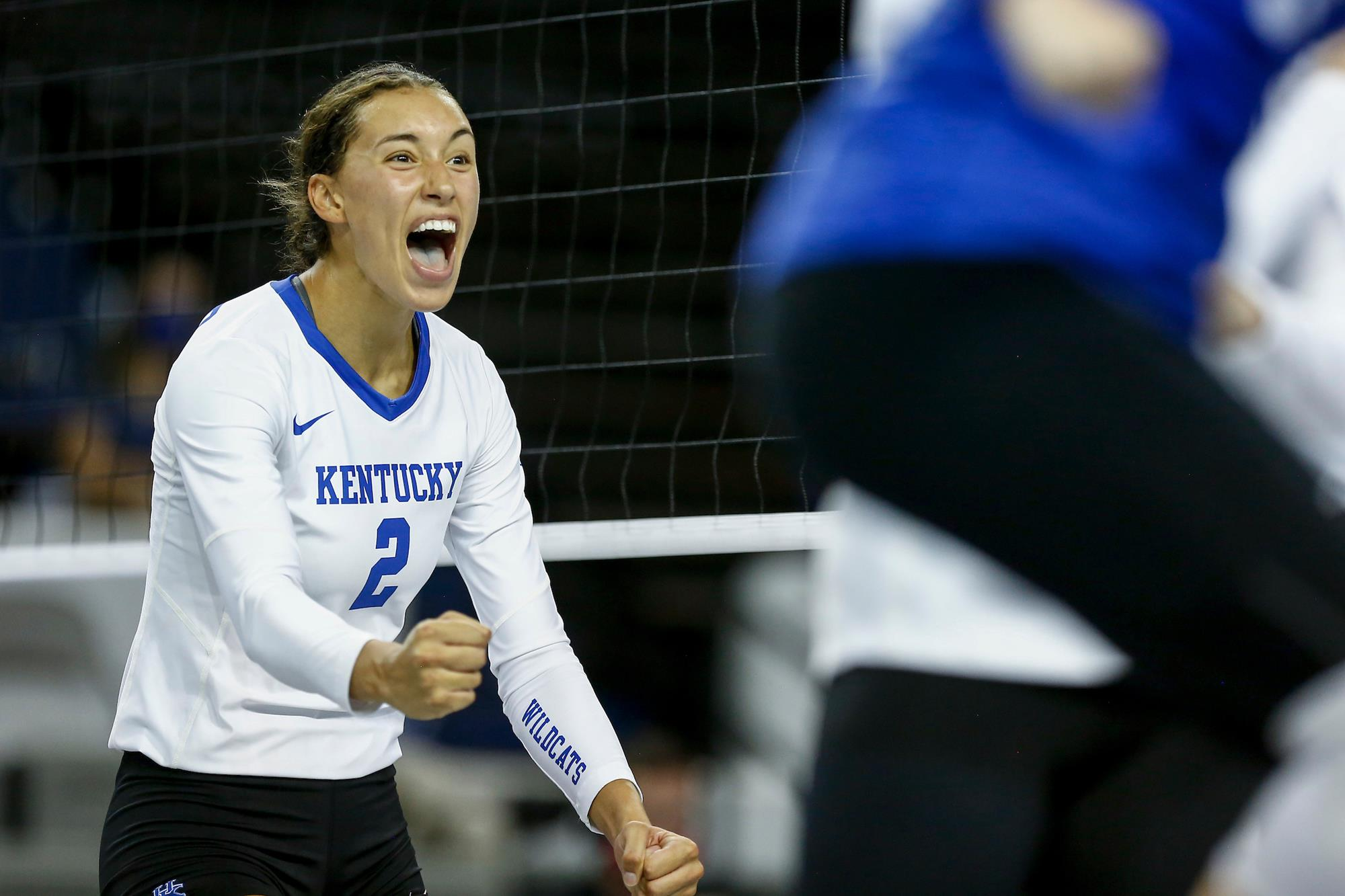 September 4, 2021 - 09:40 PM
Goetzinger's Stand-Out Night Enough to Sweep Southern Cal
LEXINGTON, Ky. – A solid night from sophomore middle blocker Elise Goetzinger with nine kills, two blocks and hitting above .500 sent the No. 3 Kentucky Volleyball team past Southern California 3-0 (25-15, 25-12, 25-22) on Saturday night inside Memorial Coliseum.
 
Both Madi Skinner and Alli Stumler had double-digit kills for Kentucky with Skinner recording 12 and Stumler with 11. Both sophomore opposite Reagan Rutherford and Goetzinger had nine kills in the match, one shy of double-figures.
 
Freshman setter Emma Grome led the Kentucky offense to a .340 hitting percentage with 34 assists and three aces. Libero Riah Walker had 11 digs in the match to lead all UK players with Grome adding in eight.
 
With the win, Kentucky improves to 5-1 on the season. The Wildcats will next play at No. 2 Wisconsin on Friday night at 9 p.m. ET live on the Big Ten Network.
 
Creighton with a 3-0 record won the 2021 Bluegrass Battle. Kentucky took second place with a 2-1 mark. Southern Cal (1-2) took third with Northern Iowa (0-4) finishing fourth.
 
Set One
Three-straight aces by freshman Emma Grome forced Southern Cal into their first timeout of the set with UK doubling up the Women of Troy, 8-4. Kentucky ballooned the lead to 15-8 midway through the first set thanks to an attack error by USC and a thunderous kill by Alli Stumler on an extended rally from the left pin. Kentucky continued to slowly pull away from USC as they ran the lead to as many as nine points at 20-11 and saw out the final points of the frame to win 25-15. Azhani Tealer led the way with four kills as UK hit .312. Reagan Rutherford had four digs and Emma Grome had 11 assists on UK's 14 kills in the set.
 
Set Two
Madi Skinner stayed on fire in the second set as a kill from the left pin pushed UK's lead to 9-5 and the Wildcats made USC burn an early timeout in the set. Kentucky then began to ride the arm of Alli Stumler who logged her fifth kill of the match and the lead grew to 14-8 as USC made a setting change following that point. Kentucky then ran away with the rest of the set, claiming a 25-12 win in the second frame behind a .577 hitting percentage and holding USC to .056 in the frame. Skinner upped her kills total to eight by the end of the second set and Goetzinger was an offensive bright spot as well, logging seven kills on 12 swings and hitting .417.
 
Set Three
After trailing in the early part of the third set for the first time all match, Elise Goetzinger helped spur a 6-0 run and Southern Cal was forced to stop the run and called their first time after UK turned an 8-6 deficit into a 13-9 lead. USC creeped back into things to tie the set at 14-14, the first tie since it was 8-8 in the earlier parts of the set. Kentucky then went on a crucial run of winning four of six points to reinstate its lead to 20-17 and Southern Cal called its final timeout. Kentucky got a kill from Stumler to push its lead to 24-20 and it set up four match points for UK. After USC won back-to-back points to cut it to 24-22, UK called a timeout. The match ended in UK's favor on a Stumler kill from the left side and UK closed out the sweep.
 
Follow along with the Wildcats on Twitter, Facebook and Instagram, and on the web at UKathletics.com.