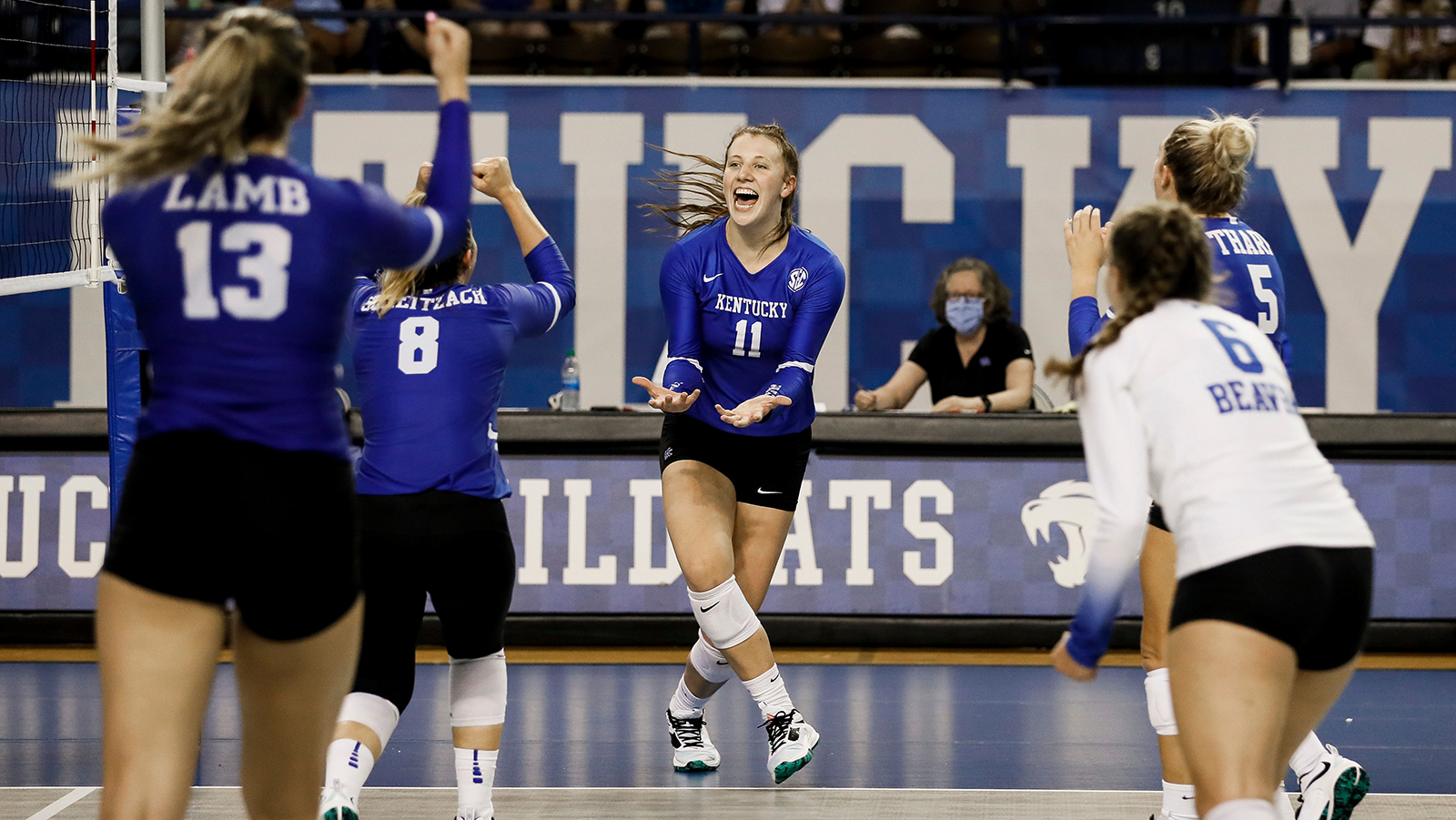 September 4, 2021 - 09:36 PM
Goetzinger, Sophomores Help Volleyball Cats Bounce Back
After losing for the first time this season on Saturday morning, the third-ranked Kentucky volleyball team had two choices. They could either let the loss linger and affect their performance on Saturday night or they could use the loss as motivation.
Turns out it was the latter for the Cats, who swept USC 25-15, 25-12, 25-22 in Saturday evening's match at Memorial Coliseum.
Kentucky lost to Creighton in straight sets on Saturday morning and needed to bounce back from being swept for the first time in nearly two years. The Cats were able to do that behind a trio of talented sophomores.
Madi Skinner continued her torrid play of late. The Katy, Texas, native had 12 kills and just one error on 22 swings (.500). She added three digs, two block assists and a service ace.
Reagan Rutherford also stood out for the Cats on Saturday night. The lefty had nine kills and two errors on 17 swings (.412). Rutherford added five digs and a block assist.
Elise Goetzinger had one of the best matches of her career in Saturday evening's match. She had a career high nine kills in the match, with just two errors on 14 swings (.500). The Blue Mounds, Wisconsin, native added a solo block, a block assist and a dig to the cause.
UK head coach Craig Skinner was pleased with the way his team bounced back.
"Proud of the way we responded tonight," Skinner said after the match. "Very good response from our players."
Skinner knows how important it can be to have multiple options perform well on the court and how much these sophomores mean to this team.
"Elise had a great night offensively, hitting .500, nine kills. Madi Skinner, Reagan Rutherford, big nights offensively to help us," Skinner said. "We're going to have to rely on a variety of people in different scenarios against good teams."
For Goetzinger and the Cats, getting back on track was something they had to do.
"I think part of that was just getting back to how we play Kentucky volleyball," Goetzinger said. "Just getting back to the rhythm of UK volleyball, having a really good warm-up, having a really good practice before hand led to success tonight."
Goetizinger has been working on her timing with freshman setter Emma Grome, and it showed in Saturday night's match.
"We knew going in we would most likely have one-on-ones in the middle. Emma really saw that and made use of it tonight," Goetzinger said. "Over the past month and a half, we've really worked extra reps after practice connecting with our setters, especially since she's a freshman. That really came into play tonight."
Kentucky leaves the weekend with its first loss of the season but Skinner is not disappointed in his team.
"If you would have asked me on August 8th, if after the first six matches we would be 5-1, I'd say that was a pretty good start," Skinner said. "Obviously, we're disappointed in not winning this morning but for us to be able to respond the way we did tonight, against a Pac-12 team, you've got to feel good about it."
And the trio of sophomores had a big part in the Cats leaving Memorial with a good feeling on Saturday.