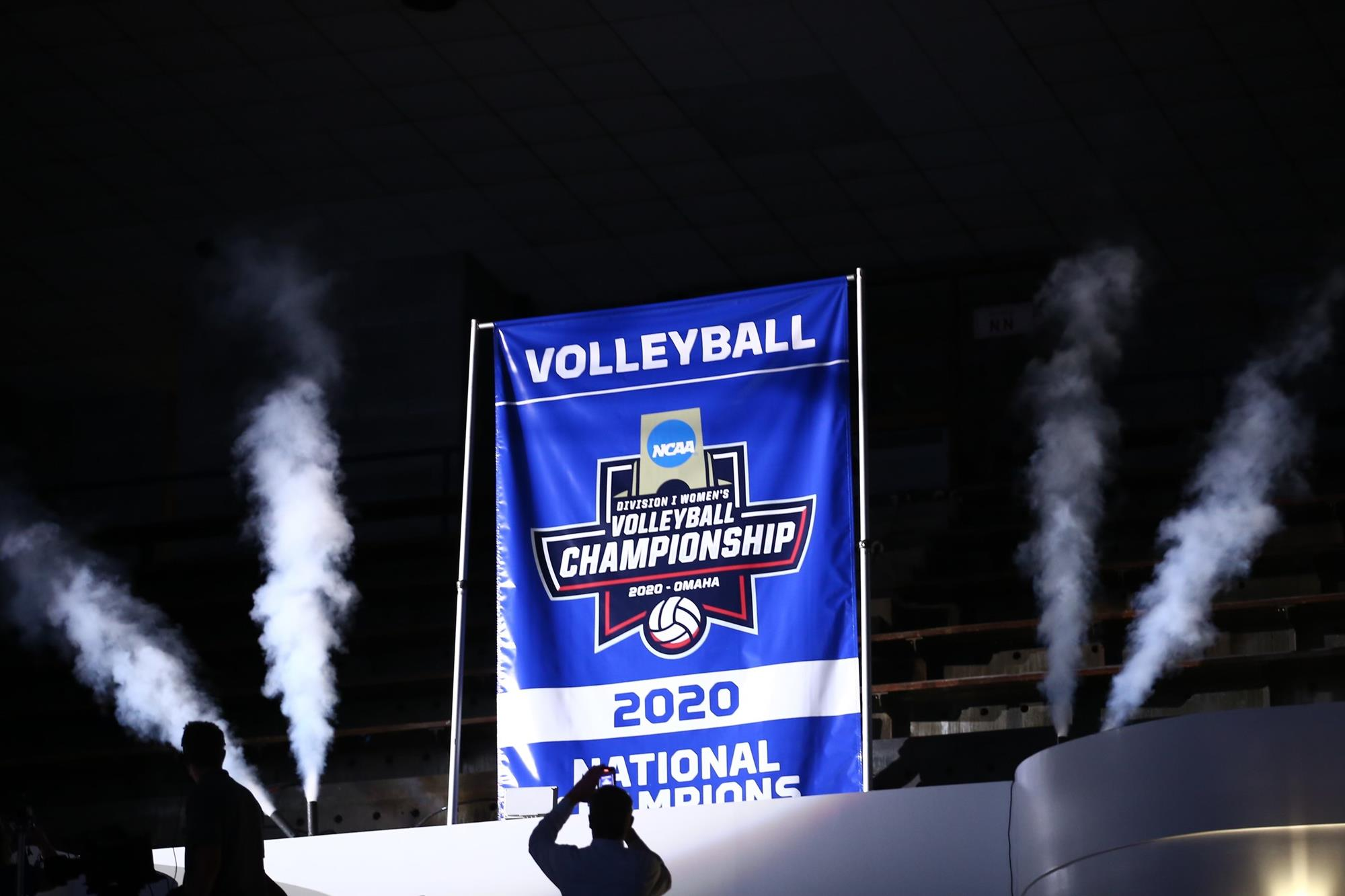 September 3, 2021 - 10:35 PM
Night of Champions Magnified in Emphatic 3-0 Sweep of UNI
LEXINGTON, Ky. – The No. 3 Kentucky Volleyball team captured its fourth-straight win to open the 2021 season Friday night, sweeping the Northern Iowa Panthers 3-0 (25-5, 25-17, 25-19) on a night where Madi Skinner had 12 kills on 13 swings and the Wildcats unveiled their 2020 NCAA National Championship banner in Memorial Coliseum.
 
Three Wildcats were in double-figure scoring Friday night with Skinner launching 12 kills and Azhani Tealer logging 11 kills along with Alli Stumler's 11 terminations.
 
Kentucky held UNI to .048 hitting in the match with 23 kills, 19 errors on 84 swings and zero service errors. UK's Riah Walker and Lauren Tharp both had a sensational night with 10 digs each and freshman Eleanor Beavin logging eight in her first match inside Memorial Coliseum.
 
Tealer made a difference at the net all night for the Wildcats as she had six blocks and Madi Skinner had five blocks to go alongside Tealer as well.
 
Kentucky will play two matches Saturday afternoon, beginning at 10:30 a.m. ET vs. Creighton on the SEC Network+. Admission is free.
 
Prior to the match, University President Dr. Eli Capiloito, UK AD Mitch Barnhart and Southeastern Conference commissioner Greg Sankey were on hand to participate in the banner unveiling and Barnhart presented Sankey with a 2020 NCAA Championship ring inbetween the first and second sets.
 
Set One
Kentucky hit .800 in the first set and held UNI to -.318 as they took the opening frame in 25-5 fashion. Skinner had six kills on seven swings in the first set and UK recorded six blocks, with five alone coming from Azhani Tealer. UK went on a 17-2 run in the middle of the set to balloon the lead to as many as 20 in the frame.
 
Set Two
After trailing for the first time all match in the beginning of the second set at 3-2, the Wildcats ran off five points in a row to prompt Northern Iowa into its first timeout of the set. Inside the 5-0 run, Azhani Tealer had three kills, two on plays in the middle of the net and freshman Madi Skinner pumped her sixth kill to the floor, as well. Nice plays by Maddie Berezowitz, Sophie Fischer, Erin Lamb with Cameron Scheitzach pulling the strings offensively ended the second set with Kentucky taking it, 25-17.
 
Set Three
Kentucky won set three, 25-19 with five kills coming off the arms of Azhani Tealer on just eight swings. UK hit a match-low .289 in the third set and was outhit, but the Wildcats were cleaner in the set to score points as UK took the frame by six points.
 
Follow along with the Wildcats on Twitter, Facebook and Instagram, and on the web at UKathletics.com.