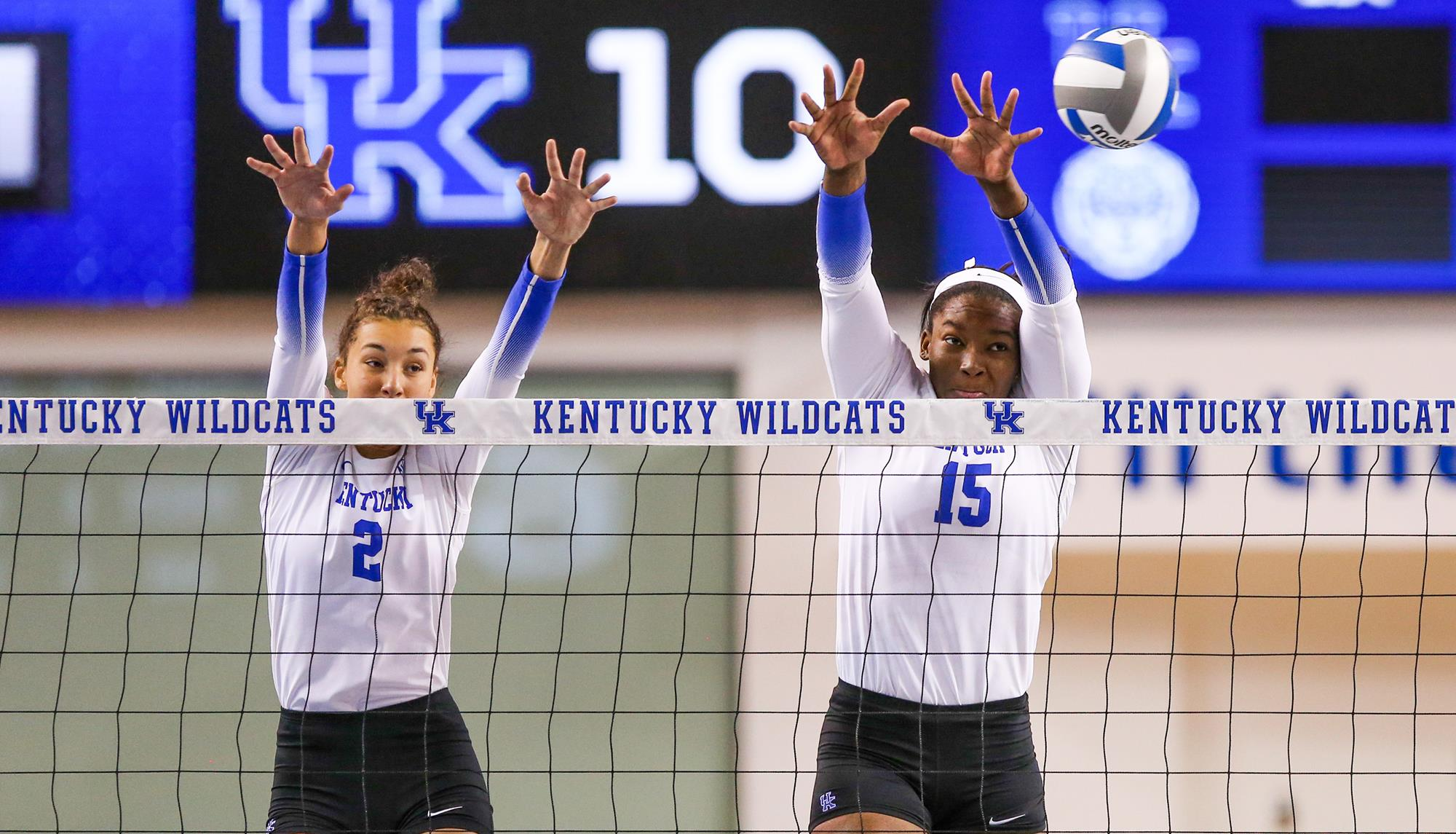 September 3, 2021 - 09:58 PM
No Letdown for Volleyball Cats After Banning Unveiling
The Kentucky volleyball team unveiled its 2020 national championship banner on Friday night inside Memorial Coliseum before its match against Northern Iowa. Many times in that situation, teams are set up for a letdown in the contest that follows.
Kentucky had no such problems. In fact, the Cats put on a dominant performance, especially in the first set, in winning their fourth straight match to begin the season.
The Cats raced out to a 17-3 lead in the first set, eventually winning it 25-5 behind a blistering offense that hit .800 in the set and a stout defense that held Northern Iowa to a negative hitting percentage.
Junior Azhani Tealer, sophomore Madi Skinner and freshman Emma Grome were in the middle of everything in the first set. Tealer had five block assists, two kills and a service ace in the set victory. Grome, meanwhile, directed the offense with 10 assists and added three block assists of her own. Skinner had six kills on seven swings, two block assists and a dig.
UK head coach Craig Skinner liked his team's execution early in the match.
"I talk a lot about our defense and in the first set, our defense was very present," Skinner said. "It's so hard to prepare for a good defense for another team. Some of the digs these guys made were really impressive and I don't know how many blocks we had but it seemed like a lot."
In the second set, the Cats had a bit of a tougher time, but did win 25-17. It was Tealer who stepped up big in the second set with four kills on five swings.
Kentucky would win the third set 25-19 to close out the match. Skinner would have four kills in the final set on her way to a dazzling 12-0-13 (.923) hitting performance. She added five block assists, tying her career high, on what was a special night for her.
Skinner could not remember if she has ever played better than she did on Friday.
"Not really. I felt like I had a hot hand tonight. I just felt good tonight. We've been working hard in practice, working on connections with (Grome), so I just felt good tonight."
Tealer finished with 11 kills on 16 swings with no errors (.688) and six block assists. Senior Alli Stumler had 11 kills and two aces in the match.
In addition to the blocking, the Cats had two players with 10 digs. Senior Lauren Tharp, who made a couple of acrobatic plays on defense, had 10 as did sophomore libero Riah Walker.
Altogether, Craig Skinner likes the defense that his team is playing.
"We have the ability to block we definitely have the ability for floor defense."
And those two things, along with a couple of really hot hands, prevented any letdown on Friday night.