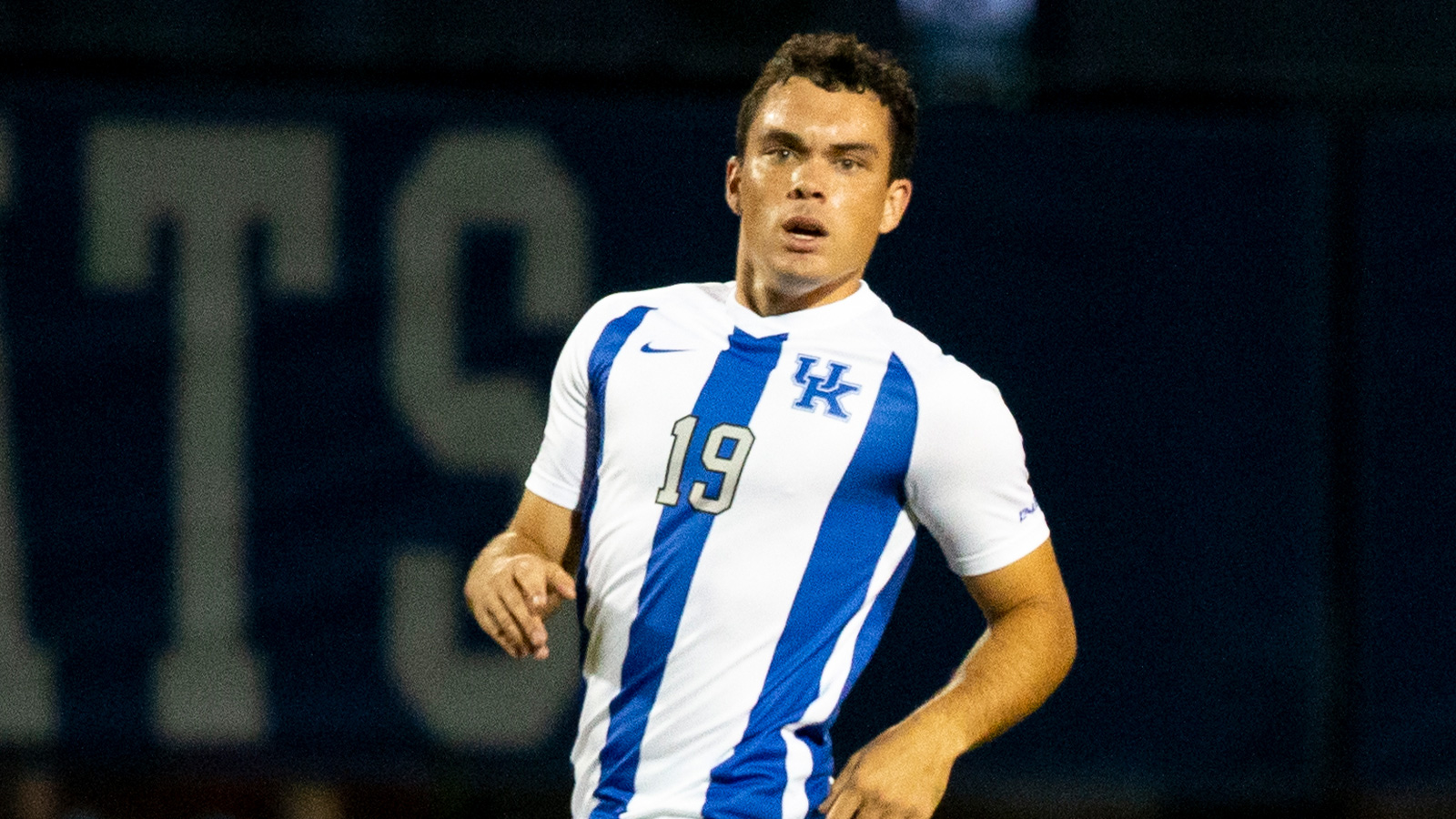 September 3, 2021 - 10:10 PM
Luke Andrews Goal Helps UK Men's Soccer Edge Notre Dame
LEXINGTON, KY. – Graduate transfer Luke Andrews' first goal in a Kentucky shirt was the difference as the No. 21 UK men's soccer team won its second game in a row, 1-0, over a college soccer powerhouse Notre Dame program on Friday in front of a joyous crowd of 1,589 at the Bell. 
Goalkeeper Jan Hoffelner did not need to make a save as he and the back line of Robert Screen, Lucca Rodrigues, Luis Grassow and Oliver Juul kept a clean sheet for the third game in a row to start the season. 
Kentucky improved to 2-0-1 this season. Notre Dame dropped to 1-2-0. The Wildcats avenged a 1-0 loss in South Bend, Ind., to start the 2020 season. 
The Wildcats were on top from the start, outshooting the Fighting Irish 7-3 in the first half and 13-6 for the game. Daniel Evans was particularly lively forcing saves multiple times in the early going.
Evans nearly scored in the 19th minute on a break at the top of the box, after Martin Soereide and Eythor Bjorgolfsson combined along the right side to unlock the Notre Dame defense. Rodrigues nearly scored right before the interval sailing a half-volley over the crossbar after a brilliant cross found the graduate transfer Brazilian unmarked inside the box. 
The WIldcats had the best of possession and chances throughout the game. The hosts' work was rewarded 71 minutes in. Oliver Juul's long throw into the box found Bjorgolfsson, whose shot was deflected into Andrews's vicinity and he hammered it into the back of the net from close range. 
The Wildcats next travel to Louisville for the renewal of their in-state rivalry that has become an annual fixture for the Tuesday after Labor Day. The kickoff is set for 7:30 p.m. ET at Lynn Family Stadium. 
Admission to all 2021 UK soccer matches at Wendell & Vickie Bell Soccer Complex is free to the public. For the latest on the Kentucky men's soccer team, follow @UKMensSoccer on Twitter, Facebook and Instagram, as well as on the web at UKAthletics.com.