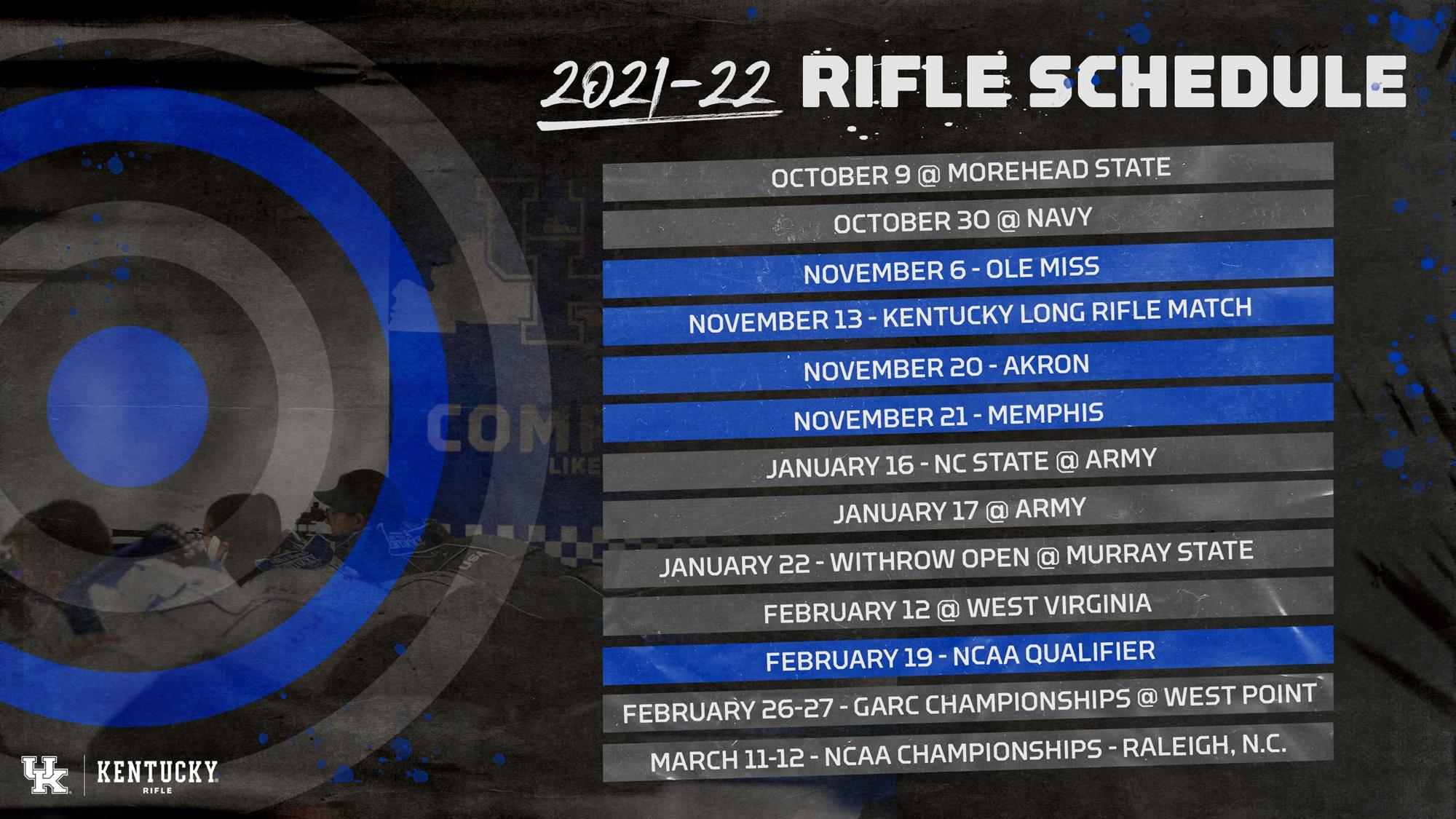 LEXINGTON, Ky. – The University of Kentucky rifle program, which claimed its third national championship in the spring of 2021, has announced its schedule for the upcoming 2021-22 season.
 
Entering its 35th season under head coach Harry Mullins, the squad will feature some exciting matches in Lexington. UK is scheduled to host Ole Miss, Akron, Memphis and the Kentucky Long Rifle Match this fall. The spring will see Kentucky host an NCAA Qualifier inside the Barker Hall Rifle Range.
 
The 2021-22 slate begins October 9 with UK traveling to compete at Morehead State, followed by an Oct. 30 showdown at Navy. Kentucky's home opener will be Nov. 6 against Ole Miss, which will start a four-match homestand for the Wildcats. The following weekend, UK will host the annual Kentucky Long Rifle Match with Morehead State and Murray State and the following day on Sunday, Nov. 14, UK will host Memphis. UK concludes the fall with Akron at home on Nov. 20.
 
All four spring matches for Kentucky will be on the road, starting with a doubleheader at Army on Jan. 16-17. UK will compete against NC State on Jan. 16 and Army on Jan. 17. UK will compete in the annual Withrow Open at Murray State on Jan. 22 and conclude regular-season competition at West Virginia on Feb. 12.
 
Postseason competition begins Feb. 19 with UK hosting an NCAA Qualifier. The Great America Rifle Conference Championships will be at West Point on Feb. 26-27, while the NCAA Championships will be in Raleigh, North Carolina on March 9-12.
 
It was a banner season for Kentucky in 2020-21, earning the 2021 NCAA Rifle National Championship. It was the third national title for Mullins and the Kentucky program. The Wildcats also claimed the team championship in 2011 and 2018. UK's three titles are tied for third most among all Division I programs with Tennessee Tech and TCU.
 
Kentucky earned the team championship after posting a 4731 overall team score with a 2352 in smallbore and 2379 in air rifle. Kentucky's team score was the highest in championship history since the event went to 120 shots per competitor from 160 shots in 2005.
 
The Wildcats return seven letterwinners from last season in Richard Clark, Mason Hamilton, Mitchell Nelson, Emmie Sellers, Will Shaner, Jaden Thompson and Mary Tucker. All contributed all season long during Kentucky's 2020-21 title run.
 
Shaner and Tucker were consensus first-team All-America honorees last season. Tucker was the smallbore, air rifle and overall NCAA national champion last season, while Shaner finished second in air rifle. Both qualified for the United States to compete in the 2020 Tokyo Olympics and brought home medals. Shaner became the first American male to bring home gold in the 10m air rifle event, while Tucker won silver in the mixed team air rifle event and finished sixth in women's 10m air rifle.
 
Several newcomers will compete for Kentucky this fall. Kayla Kalenza (Fort Mill, South Carolina), Allison Buesseler (Forest Lake, Minnesota), Victoria Kopelen (Fairfax, Virginia) and Mackenna O'Mara (Harmony, Pennsylvania) have joined the roster.
 
More information on attendance at Kentucky rifle matches this season will be released later this month.
 
For more information on the Kentucky rifle team, visit UKathletics.com or follow UKRifle on Twitter, Instagram and Facebook.