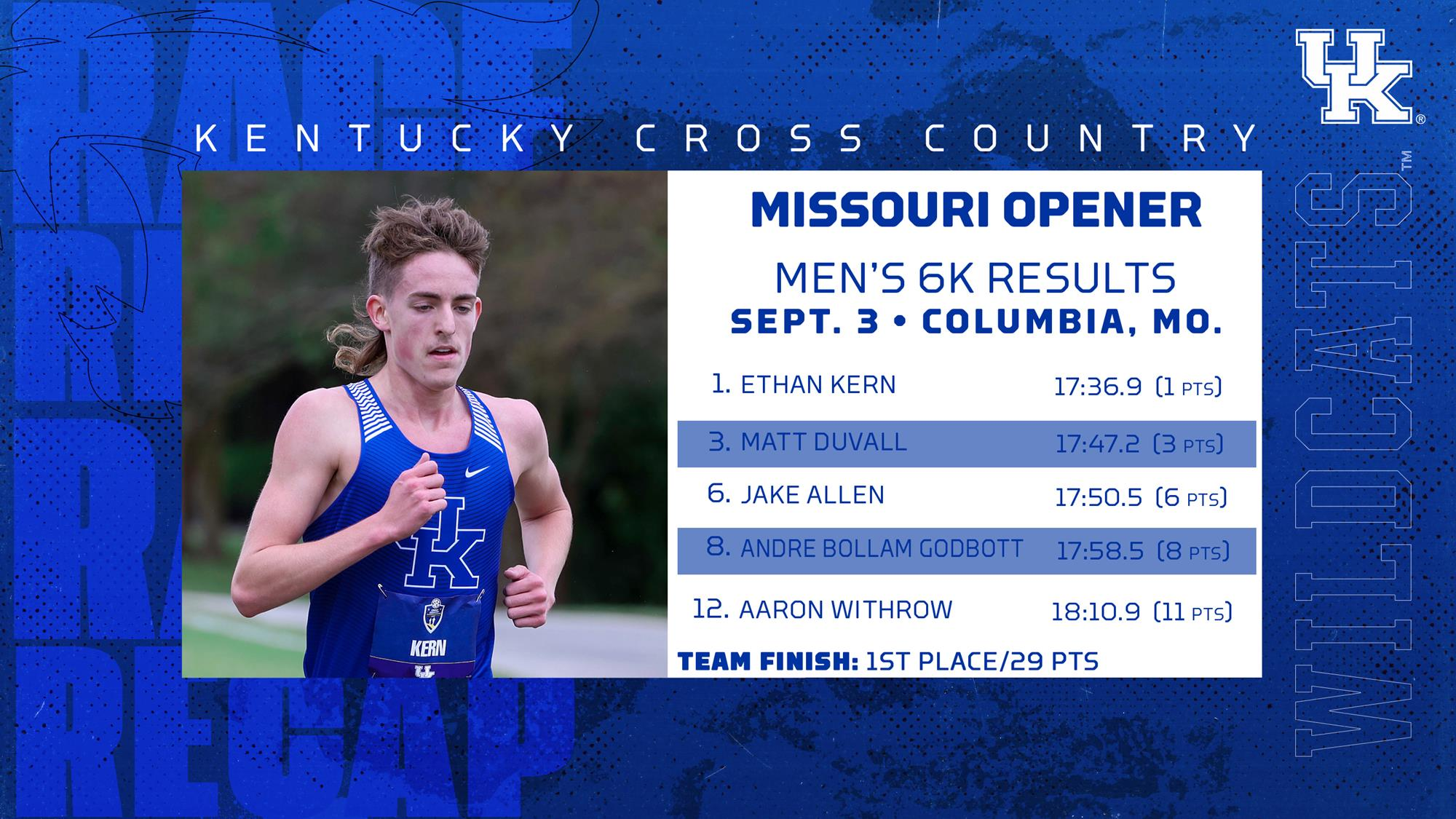 September 3, 2021 - 11:36 AM
UKXC Men Win Missouri Opener, Defeat Reigning SEC Champs
COLUMBIA, Mo. – The University of Kentucky men's cross country team won the Missouri Opener, held at the Gans Creek Recreation Area on Friday morning. Sophomore Ethan Kern finished first in the men's race and the women's team placed fourth. 
The men ran the 6K and finished with 29 points, including four Wildcats in the top 10, earning a win over the reigning SEC Champs, Arkansas. They also beat host Mizzou and Vanderbilt. 
Kern won the race for the men in convincing fashion with a time of 17:36.9, closely followed by teammate and Matt Duvall in third (17:47.2). Duvall finished 15th at 2020 SEC Championships, earning the SEC Freshman of the Year award.
Jake Allen and Andre Bollam-Godbott were also in the top 10 for the men, finishing sixth (17.50.5) and eighth (17:58.5) respectively. 
Perri Bockrath highlighted the women's 5K for Kentucky, finishing ninth with a time of 17:28.3. 
Kaitlyn Lacy followed Bockrath with a 13th place finish and 17:33.6 run. Rachel Boice finished 21st (17:46.8). 
Overall, the men's team had seven top-25 finishers and the women had four. 
Next up is the Commodore Classic for both the UKXC men and women in Nashville Tennessee on Friday, September 17. 
Follow along with the Cats on Facebook, Instagram, Twitter and at UKathletics.com.